Prepare yourself for a Paxman grilling
As 'University Challenge' hits its 50th birthday, Simmy Richman and Kate Wills put you to the test with a fiendish quiz. (But, since we're not all Oxbridge material, we've thrown in a few clues along the way)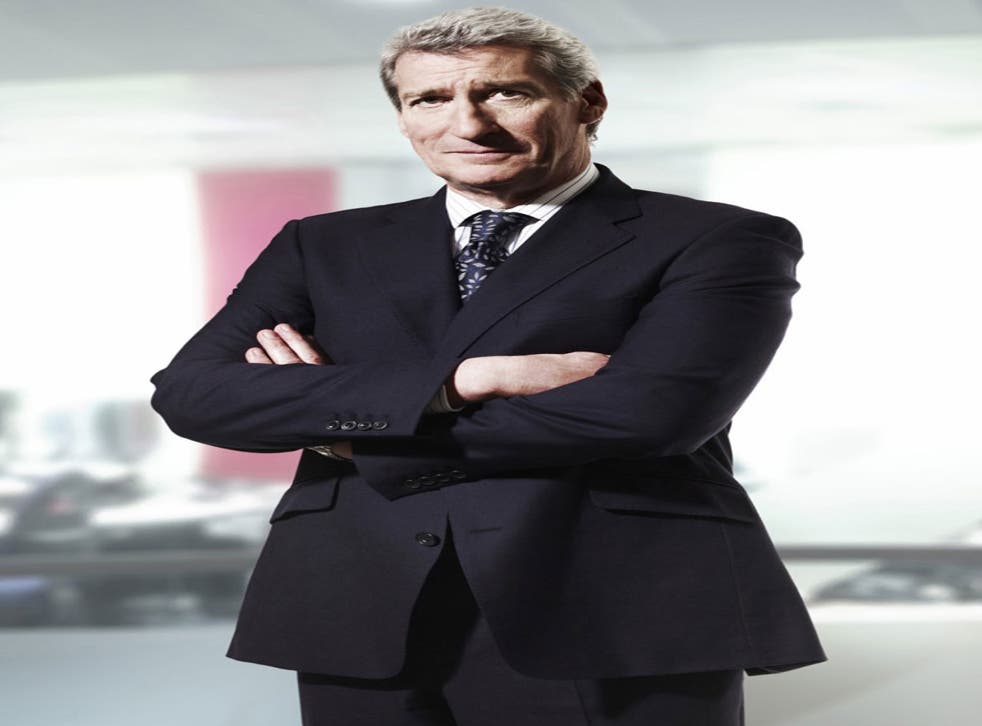 1. Your starter for 10: Can you answer original presenter Bamber Gascoigne's favourite question? If A stands for artichoke, B for because, C for curriculum and D for do, what might E be for?
And now some questions on famous moments. You may confer…
1A Which decade had the most celebrity contestants, including Miriam Margolyes, Malcolm Rifkind and Julian Fellowes?
1B Which famous atheist suggested in 1998 that A-levels should be scrapped and replaced by University Challenge-style tests?
1C Who won in the University Challenge Red Dwarf special – the cast or the fans?
2. Starter for 10: The highest score ever was 520, notched up by University College, Oxford in 1987. But which university did they beat?
You may not confer, one of you may buzz!
Your bonus questions are on rule-breaking.
2A In 2009, Gail Trimble, dubbed "the human Google", was disqualified because her teammate Sam Kay had already left university. To do what?
2B Manchester University was banned from the contest in 1975 because contestants did what in answer to every question?
You all look blank – I'll have to hurry you.
2C When a contestant uttered a four-letter swear word in frustration, Gascoigne (inset right) quickly covered it up by pretending he'd said the name of which German composer?
3. We're going to take a music round now. Your starter for 10: which avant-garde string quartet, famous for covering songs by Kraftwerk, performs the show's jaunty theme tune?
3A Bamber Gascoigne wrote a musical in 1957 called Share My Lettuce, but which famous dame starred in it that year?
Access unlimited streaming of movies and TV shows with Amazon Prime Video Sign up now for a 30-day free trial
Sign up
3B Which "Ace" rock band performed in the "Bambi" episode of The Young Ones, which spoofed University Challenge?
Oh, do come on!
3C When a contestant incorrectly identified a song as "Puppy Love", Jeremy Paxman snapped back, "Well, at least you didn't say 'How Much Is That Doggie in the Window'!" But what was the song?
Anyone want to take a guess?
4. Another starter question now: the correct answer was British Army regiments. But what did one hapless student guess that Cheesemongers, Cherrypickers, Bob's Own and the Emperor's Chambermaids referred to?
I'm sorry – if you buzz, you must answer!
Your bonus questions are all literature-related.
4A Which Scottish actor played Brian Jackson in the film adaptation of David Nicholls's 2003 novel, Starter for Ten?
4B Which novelist with a "devil may care" attitude to "writing like Ian Fleming", chain-smoked his way through the programme in 1972?
4C The Unseen University Challenge is a quiz book based on which writer's comic fantasy book series?
5. Your picture round now. Fingers on buzzers, no conferring. In 1972, winners were awarded etchings by which British sculptor?
5A Which children's TV characters were named correctly in a picture round, leading Paxman to ask the team, "Have you no shame?!"?
5B When asked "What is this?", Lydia Wilson replied "an oak leaf". What did she insist Paxman should have asked her?
5C Showing a picture of a man and his dog, of which US president did Paxman cheekily point out, "The dog's the one on the right"?
6. Your starter is on maths. Multiply the number of 'University Challenge' presenters by the number of contestants by the number of years the show was off air.
Come on, I have to hurry you!
Your bonuses are on the person who (excluding the presenters) has appeared on University Challenge the most times.
6A What character did Stephen Fry play in the BBC comedy series Blackadder?
6B For what did a young Fry spend three months in prison?
6C In 1991, Fry published his first novel. What was its title?
7. Another starter question. Quickly now. What did Paxman say that any team which scores more than 300 points needs to do?
Your bonus questions are about politicians and politics.
7A Competing in a House of Commons team, who claimed that his buzzer was malfunctioning in 2003?
7B Which contestant said of Paxman: "It's easier for me, I'm trying to answer as many questions as possible; the politician is trying not to answer his questions"?
7C Which former MP for Maidstone and the Weald asked Paxman if he was "dumbing down" on a July 2011 cover of Radio Times?
8. A student was asked which part of the body these Old English words referred to: thuma, towcher, long-man, lech-man and little-man. The correct answer was fingers, but what did he guess?
These bonus questions are all about the show's current presenter.
8A Which satirical comedy featured a cameo from Paxo in 2007?
8B What eurozone issue did Paxman describe as "like bad kebab vomiting"?
8C Which newly elected MP did Paxman famously ask if he was "proud to have got rid of one of the very few black women in Parliament"?
9. Fill in the blank here. In 2001, a student from Downing College, Cambridge claimed to be researching a PhD about
----- peasants in 16th-century England.
Your bonuses are on memorable contestants.
9A What made James Archer, a student from King's College, Cambridge stand out from the crowd in 2008?
9B What do former contestants Charles Oakley and Matthew Dolan have in common?
9C What made Ida Staples's appearance for the Open University team in 1997 so memorable?
Time is ticking away now. Answer as soon as you buzz.
10. Which Undertones song contains the lyric: "He thinks that I'm a cabbage / Cos I hate 'University Challenge'"?
Your bonuses are all anagrams. Unscramble these words to come up with winning teams' names.
10A IS SEXY DENS US
10B ERECT LIES
10C RICH CUPS RIOTS
11. Which former presenter of 'Have I Got News for You' asked the questions for the BBC's Comic Relief specials?
Your bonuses are all about the University Challenge set.
11A Where does the team captain always sit?
11B What have been the background colours of the programme since 2004?
11C What was a team from London's Goldsmiths College banned from using as a mascot as a protest against police procedures in 2011?
12. What was the name of the 1992 BBC theme night that led to the revival of 'University Challenge'?
Your bonuses are about University Challenge: Professionals. Can you guess which team won the following contests?
12A Ministry of Justice vs Comedians?
12B Scottish Parliament vs Welsh Assembly?
12C Royal Naval College vs Women's Institute?
One minute left. I have to hurry you.
13. Another starter. What do David Baddiel, Clive Anderson and Emma Freud have in common?
The bonus question is on the creation of the programme.
13A What was the name of the American show that University Challenge was based on?
AND THERE GOES THE GONG!
ANSWERS: 1 Any answer beginning with E would have continued the sequence. The contestant guessed "Elephant". 1A The 1960s (Margolyes in 1963, Rifkind in 1967, and Fellowes in 1969). 1B Richard Dawkins. 1C The fans. 2 Reading. 2A Become an accountant. 2B Said the names of revolutionary leaders. 2C Schmidt. 3 The Balanescu Quartet. 3A Maggie Smith. 3B Motorhead. 3C Elvis Presley's "Hound Dog". 4 Homosexuals. 4A James McAvoy. 4B Sebastian Faulks. 4C Sir Terry Pratchett. 5 Elisabeth Frink. 5A The Wombles. 5B What is it for? The answer he was looking for was the National Trust sign. 5C George W Bush. 6 112. 6A Melchett. 6B Credit card fraud. 6C The Liar. 7 "Get out more." 7A Lembit Opik. 7B Alex Guttenplan. 7C Ann Widdecombe. 8 Penis. 8A The Thick of It. 8B The Greek crisis. 8C George Galloway. 9 Fornicating. 9A His orange Mohican hairstyle. 9B Both now set questions for the show. 9C At 73, she was the oldest contestant to appear. 10 'My Perfect Cousin'. 10A Sidney Sussex (1971). 10B Leicester (1963). 10C Corpus Christi (2005). 11 Angus Deayton. 11A The third seat from the left. 11B Blue and purple. 11C A kettle. 12 Granadaland. 12A Ministry of Justice. 12B Scottish Parliament. 12C Women's Institute. 13 All were reported to be in line to present the show before Paxman was confirmed. 13A College Bowl.
How did you fare?
Remember, it's 10 points for a correct starter and 5 points for each correct bonus question. Answers BELOW. And now it's goodbye from us. Goodbye!
Maximum points available: 315 250+ No flies on you!
150-250
Well done. You just came up against a stronger team.
50-150
Well done. You squeaked home.
Less than 50
Now you're just being silly!
Join our new commenting forum
Join thought-provoking conversations, follow other Independent readers and see their replies