Sofia Helin on 'The Bridge' and why she based Saga Noren on a cross between Dirty Harry and a goat
Sofia Helin, who plays Saga Noren in 'The Bridge', tells Gerard Gilbert she based the misfit on a cross between Dirty Harry and a goat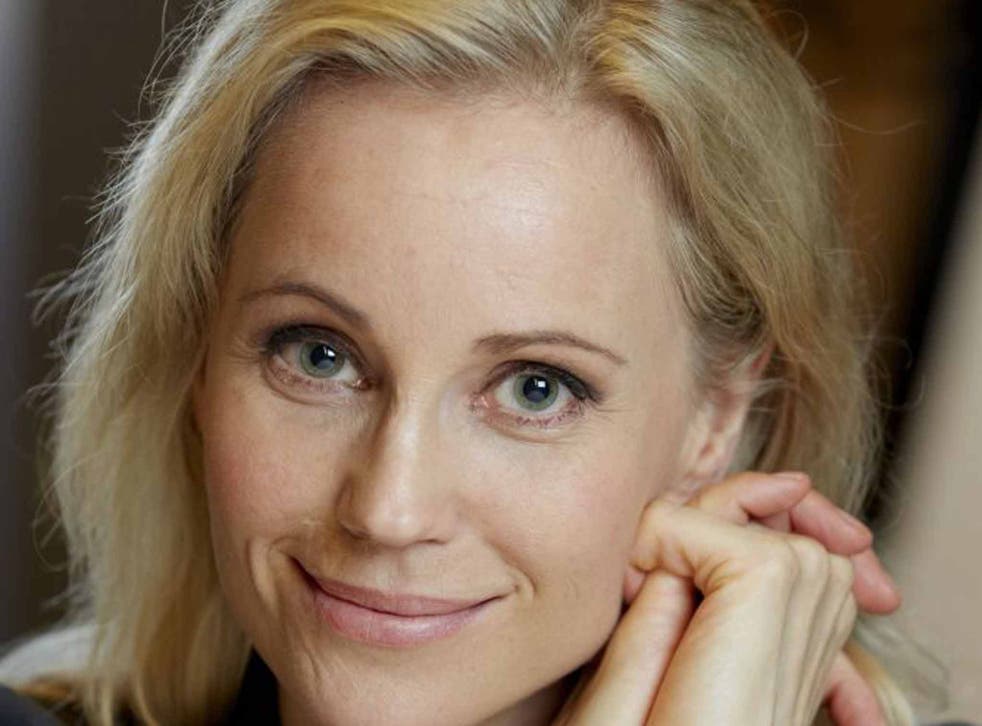 When Sofia Helin first started playing Saga Noren, the abrupt, unintentionally rude Malmo detective in The Bridge, she assumed that her character would be unpopular. The exact opposite has been the case however, and viewers across the world have taken this brilliantly unusual anti-heroine to their hearts.
In the flesh – carefully made-up and wearing a dress – Helin looks and feels a world apart from Saga, with her leather trousers and drab olive greatcoat, her blonde hair matted and a look of incomprehension on her face when thrown into any situation that requires social niceties. Her character sits somewhere on the Asperger's spectrum, although the script is careful not to diagnose her.
"To me she has Asperger's," says Helin firmly, between scenes being filmed in the National Gallery of Denmark, in Copenhagen. "There is a documentary series on Swedish television at the moment about people with Asperger's trying to do a play together. It's really beautiful and I get so touched by it."
It has been nearly two years since the second series of The Bridge – in which Danish and Swedish detectives join forces to investigate crimes that cross both jurisdictions – was shown on British television, the story ending with Saga reporting her Danish colleague, and arguably the nearest person she has to a friend, Martin Rohde (played by Kim Bodnia) to his superiors. She had deduced that he had poisoned Jens, who had murdered Martin's young son in the season-one finale.
She could easily have turned a blind eye to what most Bridge fans would have described as a justifiable homicide, so why dob in Martin to the authorities? Was it because he had delved into Saga's family history and discovered that her mother had Munchausen syndrome by proxy and had tried to kill Saga's sister?
"No it's not because of that," says Helin in a voice much softer than Saga's. "I think it's because she's so much ruled by rules and if she wouldn't have turned him in she could have lost her police licence. I – I mean she – had to do it. Her life to be is to be a cop and if she can't be a police officer any more she can't live. So it touches the most sensitive part of her."
Danish actor Bodnia wasn't happy about these developments for his character and unexpectedly quit the show between series, necessitating series writer Nikolaj Scherfig to redo the first four episodes. Helin is sanguine about her co-star's departure – indeed believes it may be for the best.
"I think it was good because his story kind of came to an end since I put him in jail," she says. "So the other alternative wasn't very tempting... to try to get him out of jail in some strange way. So this was a more radical and interesting way to go."
The Bridge being predominantly a Swedish-Danish co-production, it will come as no surprise that Saga is once again partnered with a Copenhagen detective, whose identity is only gradually revealed. "It takes a while before he... this person... shows up," says Helin. "It takes her to a new level of relationship. I think Saga has lost faith in relationships, so it will surprise her."
Access unlimited streaming of movies and TV shows with Amazon Prime Video Sign up now for a 30-day free trial
Sign up
Helin, who is 43, grew up in a small village midway between Stockholm and Gothenburg. After drama school in Stockholm, Helin was almost immediately cast in a Swedish soap, Rederiet – a kind of Nordic version of the 1980s British shipboard melodrama Triangle. She moved into film, was nominated for a Guldbagge, the Swedish equivalent of a Bafta, for Masjavlar, in which she played a daughter returning home to celebrate her father's 70th birthday, and by the time The Bridge came along, she was a familiar face to Swedish audiences.
Helin's way in to Saga has been tortuous, including seeing her as a goat ("The first director when we met for the first time to rehearse, she saw I had wooden shoes and suddenly she started thinking about a goat") and as Clint Eastwood's Dirty Harry – interestingly the same character on which Sofie Grabol initially based her Sarah Lund detective character in The Killing.
"I know Saga quite well now," says Helin. "But to begin with it was hard… It was kind of turning my brain upside down, inside out, and then I could suddenly see the way she is thinking, and now I can hear her tone." It's a tone beloved by the The Bridge's British admirers – both comic and touching, while showing that her condition makes her an extraordinarily effective police officer, capable of seeing patterns that her colleagues might miss.
The condition plays havoc with her social life – her most recent boyfriend finally had enough of her habit of reading autopsy reports in bed and her no-nonsense approach to copulation. "My favourite moments for Sofia are when she has sex, especially in season one," says Scherfig. "We hadn't written it that way, but the sex she had and the way that she went into it, you hadn't seen that before in film."
Like Sarah's jumpers in The Killing, Saga's 1970s Porsche has its own cult following, with blogs and internet forums paying homage to the sports car, with debates about the exact model raging online. Is it an American import, a 912E, or a 1977 Porsche 911S? "All I can say is that it's very hard to drive," says Helin. "It's so old."
The hotly anticipated third season begins with the Danish and Swedish police joining forces once more when the Swedish founder of the first gender-neutral kindergarten in Copenhagen is found murdered.
Just one spoiler though – we finally get to meet some of Saga's family. "Yeah, her mother, and that's kind of a nightmare for Saga," says Helin. "She has this terrible syndrome, Munchausen by proxy. The only person in the world she's scared of is her mother."
'The Bridge' returns on BBC4 on 21 November
Join our new commenting forum
Join thought-provoking conversations, follow other Independent readers and see their replies