Star Trek at 50
On the enduring legacy of Gene Roddenberry's classic television creation - set to boldly go where no man has gone before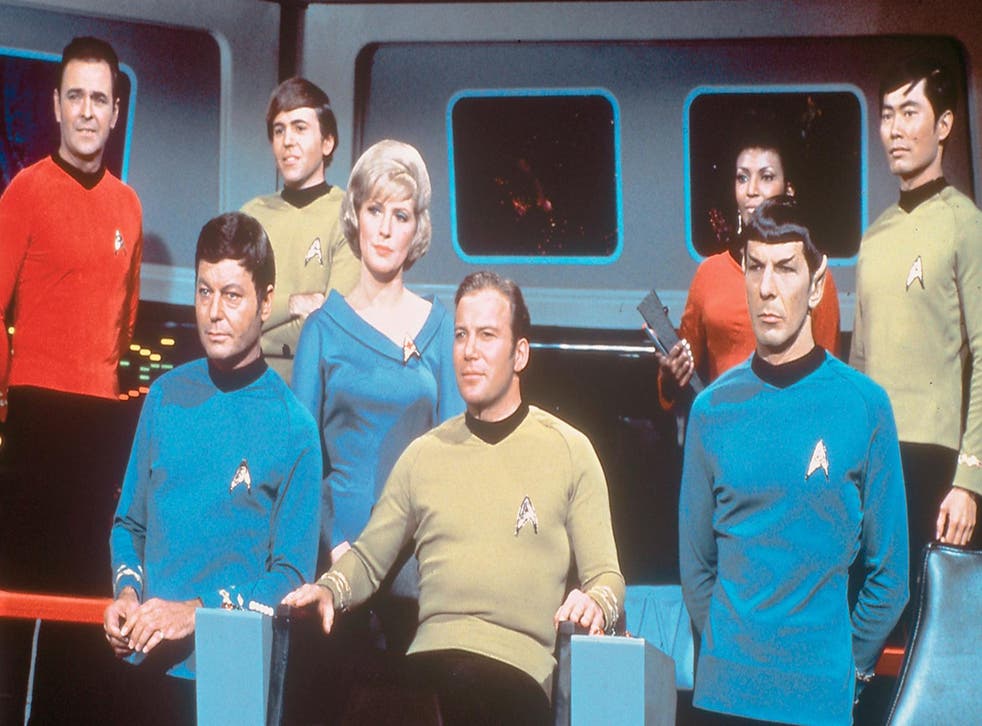 When actor George Takei was co-starring opposite John Wayne in war movie The Green Berets (1968), Wayne insisted on calling him by the name of the character he played aboard the Starship Enterprise. "I was playing Lieutenant Sulu in Star Trek, but in The Green Berets I was playing Captain Nim. He kept calling me Captain Sulu. I said, 'no, I am a lieutenant,' and he said, 'no, you're a captain in my movie,'" Takei recalls.
It's a small but revealing anecdote that underlines how quickly Star Trek – celebrating its 50th anniversary this year – seeped into popular consciousness. Even John Wayne was a fan.The irony is that Star Trek wasn't considered a blockbuster success when it first aired on US TV in 1966. It ran for three seasons and 79 episodes. The series was considered moderately popular but, by 1969, it had come and gone. Its place in the schedules was taken by detective series, Ironside.
"In the end, NBC made a simple decision that a different show could appeal more efficiently to viewers," Lance Parkin writes in his new biography of Star Trek creator Gene Roddenberry.
Fifty years on, Star Trek has developed into a full-blown cult – and a hugely lucrative one. The anniversary is being celebrated all over the world. A new movie, Star Trek Beyond, is released this weekend and is expected to do spectacular business. After all, it is produced by long-term Star Trek enthusiast JJ Abrams who, last year, wrote and directed Star Wars: The Force Awakens.
There is also a new documentary, For The Love Of Spock, about Leonard Nimoy, the actor who played the pointy-eared Vulcan. Star Trek activity is carrying on this summer across the universe – and one of the epicentres of the 50th-anniversary celebrations will be in Blackpool, Lancashire. Paul Gregg of Apollo Resorts Blackpool, behind a Star Trek Film Festival at Blackpool's Opera House and a huge exhibition running throughout the summer, says Star Trek could be worth at least £50m to the local economy in the seaside town.
The exhibition is bringing the deck of the Starship Enterprise to Blackpool as well as many of the props and original costumes. An app has been designed that will allow visitors to listen to commentary from Star Trek actors and experts. Part of the Blackpool illuminations will be dedicated to the show. Dr Maggie Aderin-Pocock, English space scientist and presenter of The Sky At Night, will be in town to explain how Star Trek changed her life.
"I think what we've realised is that as much as there is a huge Star Trek following of 'Trekkies', there is a huge closet following of Star Trek as well from people who don't necessarily want to admit to being 'Trekkies', but still enjoy the movies and all things Star Trek," says Gregg.
That's a point endorsed by British actor and comedian Simon Pegg, who has co-written the new Star Trek movie. Star Trek, he emphasises, isn't just for the converts. When interviewed recently at CinemaCon, Pegg said: "You have to bring in new people at the same time as satisfying the old people, the long-term fans. If something becomes too inside, it is not going to let people in. Star Trek is so inclusive. It is always about bringing people together, that is what the story is about."
For non-devotees, the appeal of Star Trek can be hard to fathom. One of the main reasons for its initial popularity is simply the fact that it was so easy to see. Once the original TV series finished, it was syndicated across the US, and shown again and again on local TV stations. In the UK, too, it was hard to avoid.
Star Trek Beyond IMAX Featurette
When George Takei was cast as a young actor in Star Trek, he saw the appeal of the Starship Enterprise as lying in its multi-ethnic crew. The sci-fi series may have been camp and a little preposterous (with all those Klingons on the starboard bow) but it also provided an idealised vision of the US. Asian Americans and African Americans worked alongside white Americans. There was no prejudice. The series chimed with changing social and political attitudes in the late Sixties.
For young viewers who watched reruns in the Seventies and Eighties, the opening theme (by Alexander Courage) itself induces a sense of awe and nostalgia. Space, the final frontier ... to explore strange new worlds ... to boldly go where no man has gone before – Captain Kirk's wonderfully portentous words are heard over the music as the Starship Enterprise soars through space.
Viewers were fascinated by the gizmos and production design – the sliding doors, personal computers and cellphone-style walkie talkies. One of the pleasures of watching the old episodes now is in seeing how technology has caught up with the Enterprise. "Star Trek has lasted so long that we can now watch the series on devices that make Kirk's communication devices look rather clunky," Lance Parkin notes.
Since NBC cancelled the series in 1969, Star Trek has continued to mutate and grow. There have been 13 Star Trek movies and several spin-off TV series. The main characters and the actors who played them have long since become household names, as familiar as the main protagonists in long-running soap operas. This was underlined by the huge outpouring of grief both when Leonard Nimoy (Spock) died last year and when Anton Yelchin, the young star who played Chekhov in the new movies, was killed in a freak car accident earlier this summer.
Picture preview: The 45th anniversary Star Trek art exhibition 

Show all 10

The old cast members all meet together at Star Trek conventions. Nichelle Nichols, who played Lieutenant Uhura, was Best Lady at Takei's wedding to his husband while Walter Koening, who played Chekov, was best man. "We really are good friends," Takei insists.
Even the bitching between Takei and his old co-star William Shatner (Captain Kirk) seems to be tongue in cheek. At the Comedy Central roast for Shatner a few years ago, Takei took great pleasure in telling his co-star that his name is pronounced 'Tak-ay", not "Tak-eye, as you've insisted in pronouncing it for the last 40 years. Remember, Tak-ay, like in toupée."
Takei's attitude toward Shatner appears to be one of exasperated affection. Takei likens him to the "crazy, eccentric uncle" that turns up at family gatherings. "We have to take him with a grain of salt."
Fifty years after Kirk and his crew first hit the screens, the Star Trek franchise is more popular than ever and catchphrases like "Beam me up, Scotty" (never actually used in the series) are instantly recognisable. This is a cult that shows absolutely no sign of fading.
'Star Trek Beyond' is released on 22 July. The Star Trek Film Festival takes place at Blackpool Opera House 24-30 July, Star Trek: The Exhibition, on the Golden Mile in Blackpool, opens daily throughout the year. Lance Parkin's biography 'The Impossible Has Happened: The Life And Work Of Gene Roddenberry' is published by Aurum Press
Join our new commenting forum
Join thought-provoking conversations, follow other Independent readers and see their replies