Hiding pineapples and a tattooed foot: How Taskmaster brought theatrical silliness to the comedy panel show
The Greg Davies-fronted show is a hit for Channel 4 after making the leap from Dave, but execs took some convincing that it could work, creator Alex Horne tells Isobel Lewis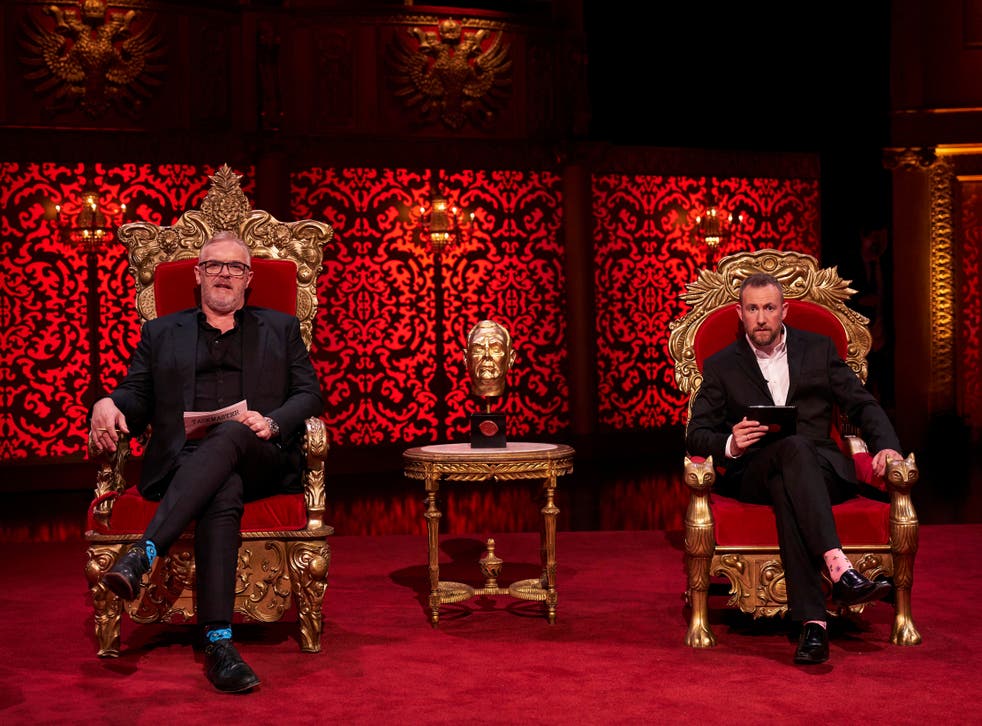 What do a song from Dick and Dom, a laminator, and a golden bust of comedian Greg Davies have in common? They've all been prizes onTaskmaster, the Bafta-winning TV series with a cult following that has breathed new life into the comedy panel show format.
In the six years since it began, Taskmaster has become an institution, airing for 10 series and spawning a podcast, book and board game, as well as a celebrity spin-off special and numerous international versions. It's a seriously impressive feat, made all the more so by the fact that the show was rejected for years before finally finding its home on UK TV channel Dave. There it lurked for nine seasons from 2015 to 2019, gaining a loyal army of supporters before making the jump to Channel 4 last year, where its 11th series begins this Thursday. 
On paper, Taskmaster sounds almost formulaic, yet it's anything but. Over a series, five comedians compete in a collection of tasks set by the tyrannical Taskmaster, Davies, accompanied by musical comedian Alex Horne. A typical challenge is hard to describe, but some classics have included pushing three exercise balls to the top of a hill single-handed, making a music video for a nursery rhyme, and ordering a pizza without saying the word "pizza" or any of the ingredients. They're filmed in front of a live audience, and judged by Davies, while Horne, the show's mastermind, is his lackey – nicknamed "little Alex Horne" – who sits on a slightly smaller chair next to him. The sobriquet is playfully applied – Horne is 6ft 2 to Davies's towering 6ft 8 – but he tells me that even after 11 series, the imposing Davies still has the power to make him feel "weak and giggly". "He has a funny effect on people," says Horne.
When Taskmaster first aired on Dave in 2015, it received a five-star review from The Times and was declared "one of TV's funniest, most unexpected comedies" by Den of Geek. There it bubbled away, a word-of-mouth sensation among those who knew it and a welcome breath of fresh air in a genre that was feeling a little stale. The biggest panel shows of the mid-2010s – Mock the Week, QI, 8 Out of 10 Cats – had been on our screens with relatively unchanged formats for years, with little room for originality. In Harry Enfield and Paul Whitehouse's panel show sketch, interchangeable comedians called Russell and Andy would shout, "Oh my god, the Daily Mail" while a lone female journalist looked uncomfortable, which felt like a pretty fair parody of the genre.
While Horne says he is a huge fan of Would I Lie to You, he had found himself getting "a bit bored of watching people behind a desk", when even the wackier panel shows like Never Mind the Buzzcocks or Shooting Stars were fairly static in their set-up. Instead, he decided to take the panel show outside the confines of the studio, allowing the prerecorded challenges to be filmed at the Taskmaster house in Chiswick as well as in local train stations, parks and fields. There was still a live audience element, but the show felt more active.
Horne looked to game shows such as Eighties Japanese cult hit Takeshi's Castle and the BBC's Challenge Anneka for inspiration. His central thesis was that comedians would be funny even when making jokes wasn't the priority. "We kept saying to them, 'You don't have to do jokes, you just need to do these tasks as best you can and you will be funny,'" he says. "That was quite a big thing for me, just to enable them to be themselves."
With the challenges being wacky and theatrical, it comes as little surprise to learn that Taskmaster originated at the 2010 Edinburgh Fringe, with 20 comedians given a year to complete their tasks, and the results announced during a boozy live show in the early hours of the morning. The tone was set during the first ever challenge, when the contestants were asked to try to deposit the largest amount of money into Horne's bank account. Everyone went for less than a fiver, apart from stand-up Mark Watson, who put in "a couple of hundred quid".
Not every Edinburgh show translates well onto the screen, and Taskmaster was a hard sell for Horne, who had little experience in television at the time. TV executives voiced the same concerns to the comic: that the show wouldn't be funny without a script, and that featuring the same contestants for a whole series, as opposed to rotating comics, wouldn't work. "That's not something that'd been done an awful lot on panel shows, having the same cast throughout," he says. "It's more [like] a sitcom and the channels were quite scared of that."
But while bosses feared viewers would get bored of seeing the same five contestants every episode, it proved to be the opposite. Audiences were able to get to know the contestants and root for their favourites – Richard Osman's House of Games, which began on BBC Two in 2017, has adopted a similar format – while the Taskmaster competitors took the competition "really seriously". As Horne points out, it wouldn't work if they didn't. 
Access unlimited streaming of movies and TV shows with Amazon Prime Video Sign up now for a 30-day free trial
Sign up
The lengths that the comics would go to to win was proven in one defining moment in the first series. The contestants were each given £20 to buy Davies the best present they could, with Josh Widdicombe revealing that he had had the word "Greg" tattooed on his foot. The look of shock on the face of Davies and the contestants was genuine, with the truth dawning on everyone involved that this was not your ordinary panel show.
The cast of the first series, Horne says, were hugely instrumental in setting the tone for future seasons; not only did they complete the tasks without irony, but they were genuinely angry in the studio when they didn't agree with the (often inconsistent) judging. Where most panel shows had a "pre-prepared" feel, the team wanted "real emotion", and got it.
This sense of originality can be largely attributed to the show's casting, which is one of its greatest strengths. A 2016 study found that 1,488 panel show episodes had aired with all-male line ups since 1967, compared to just one all-female episode. In contrast, Taskmaster has actively worked to diversify its panels, in particular during its more recent series. For every big-name comedian (Bob Mortimer, Jo Brand), there have also been comedic actors (Sally Phillips, Daisy May Cooper), performers on the live circuit who rarely do TV (Tim Key), and up-and-coming comics (Rose Matafeo, Lou Sanders). 
Casting is a responsibility Horne says he's taken particularly seriously as the show's viewership has increased. "We've got a chance to give [comedians] a leg up and show people how good they are. Like Mawaan Rizwan in the last show: I saw a lot of people on Twitter saying, 'I didn't know him at all, but he was my favourite'. I think that's brilliant because it's not a fleeting appearance, they're on the telly for two and a half months so it's a big opportunity. It's quite delicate and we're meticulous about it but I think we've mostly got it right."
Horne describes Taskmaster as "collaborative and gentle", and it's this, arguably, that has made fans love the show. No matter how seriously the challenges are taken, its joyful silliness translates onto the screen during both the live and prerecorded segments. There's clear affection between the contestants, while the show's format means that everyone is given an opportunity to be heard in every round. "You'll definitely have your moment to talk because you've done your thing on the screen, you're not delivering lines and trying to elbow your way in," Horne says.
What Taskmaster ultimately provides for its fans is escapism. For the contestants, it's a show where there's no pressure to serve up one-liners; they can just be themselves and complete the tasks at hand. For the viewers, it's a much needed dose of silliness in the viewing schedule, where they can root for the contestants to compete in challenges and win prizes that are ultimately meaningless. The lack of meaning doesn't make them any less fun. Watch an episode and try not to come away with a complex plan for how you'd conceal a pineapple on your person or do the most preposterous thing with a chickpea – I dare you.
'Taskmaster' returns tonight at 9pm on Channel 4
Register for free to continue reading
Registration is a free and easy way to support our truly independent journalism
By registering, you will also enjoy limited access to Premium articles, exclusive newsletters, commenting, and virtual events with our leading journalists
Already have an account? sign in
Register for free to continue reading
Registration is a free and easy way to support our truly independent journalism
By registering, you will also enjoy limited access to Premium articles, exclusive newsletters, commenting, and virtual events with our leading journalists
Already have an account? sign in
Join our new commenting forum
Join thought-provoking conversations, follow other Independent readers and see their replies