The Big Bang Theory's prequel is taking the US by storm. But is Young Sheldon any good?
'Young Sheldon', which takes 'The Big Bang Theory's' most popular character, Sheldon Cooper, back to his boyhood in 1989 Texas, is already taking US TV by storm 
Gerard Gilbert
Wednesday 21 February 2018 12:50 Comments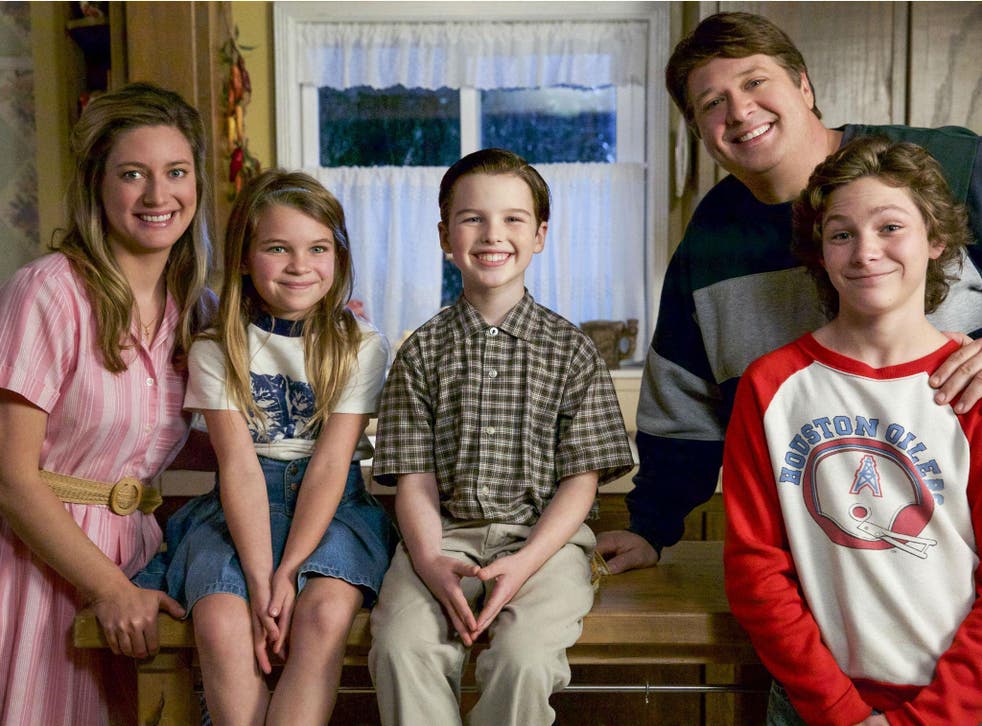 How do you milk an ageing cash cow? One way is to breed it with a pedigree bull and hope it calves an equally remunerative offspring – which, figuratively speaking, is what CBS in America has done with their increasingly elderly ratings colossus The Big Bang Theory.
Young Sheldon, the prequel that takes The Big Bang Theory's most popular character, Sheldon Cooper, back to his boyhood in 1989 Texas, has proved an instant success. Broadcast in the States last autumn in a slot immediately following the new season of its parent show, Young Sheldon retained nearly all of TBBT's 18 million strong audience – and has kept it every week since. It's a trick that E4 are understandably repeating in the UK when they premiere the two sitcoms back-to-back this week.
The end of year Nielsen ratings for the most popular US TV programmes of 2017 put the Big Bang Theory at No 2 (slightly behind NBC's Sunday night American football coverage), while Young Sheldon was at No 4 (just pipped by the Freddie Highmore drama The Good Doctor). As an experiment in extending the shelf life of a much loved franchise, Young Sheldon has been an unalloyed triumph. Or as Sheldon Cooper might say: bazinga!
The Big Bang Theory, for those who have managed to avoid the show so far (easier to do in Britain than it is in America, where it's in inescapable syndication), is the millennial equivalent of Friends, following four socially awkward scientists working at the California Institute of Technology in Pasadena. Sheldon Cooper (played by Jim Parsons) and Leonard Hofstadter (Johnny Galecki) share an apartment across the hall from aspiring actress (and later drugs company rep and Leonard's wife) Penny (Kaley Cuoco), while their best friends are aerospace engineer Howard (Simon Helberg) and particle astrophysicist Rajesh (Kunal Nayyar).
The word "geeky" doesn't really cover it. Here was a popular primetime sitcom in which five of the seven main characters were PhD students and the sixth "only" had a master's from MIT.
As the makers of Friends discovered, however, such a set-up – feasible in the characters' twenties and even thirties, becomes increasingly untenable as they reach middle-age and marry off – Jim Parsons, for example, is now 44. An elixir for eternal youth was required, and if that was going to be by means of a prequel, there was only one real candidate for that honour: TBBT's resident nerdishly neurotic boy-man, Sheldon Cooper.
"We have an opportunity to look at Sheldon as an adult and think about the origins of how he came to be", says Steven Molaro, who co-created TBBT and Young Sheldon with Chuck Lorre. "When we meet him in the pilot he doesn't even like comic books yet. He likes to go to church with his mom even though he doesn't share her views. So there's a joy at discovery about Sheldon at nine that we've been having a lot of fun with."
"Part of the fun of writing the series was not just to show how Sheldon develops, but to see how his family has to adapt", adds Lorre. "Everybody in the family is affected by having a child who is remarkable, and their lives have to change to accommodate him."
Set in 1989 Texas, the series begins with Sheldon (played by nine-year-old Iain Armitage) starting high-school where, due to his precocious intelligence, he sits in the same class as his bullying older brother George (Montana Jordan). He also has a twin sister, Missy (Raegan Revord), who's more interested in combing hair than unlocking the secrets of the universe.
Access unlimited streaming of movies and TV shows with Amazon Prime Video Sign up now for a 30-day free trial
Sign up
"I think it's difficult for people to understand Sheldon and sometimes people have a hard time being friends with a person they can't understand", says Armitage, the child of an actor and a theatre producer, and who played misfit Ziggy Chapman in HBO's Big Little Lies. "Sheldon doesn't even know he is missing out on friendships because he is happy on his own thinking big thoughts, but he also knows that maybe he should try friendship."
Indeed, in the second episode of Young Sheldon, the character is heard thinking (Sheldon's internal monologues are supplied by The Big Bang Theory's Jim Parsons) how he agrees with Jean-Paul Sartre that "hell is other people" and that he would rather ponder "the effect of gravitational forces as you approach an event horizon... rather than my brother who wonders how many grapes he can fit in his mouth".
Nevertheless, he borrows a copy of How to Win Friends and Influence People from the school library, because his mother, Mary Cooper, is worried that he's not making any. Inevitably, Sheldon's over literal reading of the tome leads him to lose friends and alienate people.
While Armitage had never watched The Big Bang Theory, he nevertheless shares some of Sheldon's precocity – having his own theatre criticism channel on YouTube, IainLovesTheatre, where he offers his views on productions of Othello and Cats. "But usually I occupy my time by reading books and playing a lot", he says. "I don't like video games. I love stuffed animals. I love being around people."
Armitage's mother in the show is played by Zoe Perry, who just happens to be the daughter of Laurie Metcalf – currently Oscar nominated for Lady Bird but who also played Sheldon's mother in The Big Bang Theory.
"I was able to talk with her about her Mary approach before my audition", says Perry. "Her advice was simple and perfect. Our writers are clearly genius so she stressed that I wouldn't need to worry about landing the humour, it's right there on the page. Keep it grounded, keep it real.
"I knew going in that I would have some tools at my disposal that would naturally remind viewers of my mother, namely my voice and certain mannerisms. Mary Cooper who lives in 1989 and is raising three young children is at a different stage of life, but trust me that when I accidentally stumble upon something that reminds me of her, I know it's worth keeping."
Stylistically the most obvious difference between The Big Bang Theory and Young Sheldon is that the latter is filmed without a laughter track; anyone new to TBBT will first notice how old fashioned it seems with a studio audience cracking up over every punchline.
"Because we [Young Sheldon] are a single camera comedy without a live audience, we don't hold for laughs", says Perry. "Scenes can become more intimate through close-up. I love both styles and I think it was so genius of our creators to move Young Sheldon into a different format because it created a sense that this show could stand on its own."
The whole process was nerve-wracking for producer Steven Molaro. "It's a whole different animal... much slower," he says. "We marvelled at the first family dinner scene in the pilot. In the time it took us to shoot that, we could have shot two episodes of Big Bang Theory."
In being set in 1989, Young Sheldon taps into the current nostalgia for all things 1980s – a retro-fondness also being fed by shows like Stranger Things, Glow, Halt and Catch Fire, The Goldbergs and The Americans (not to mention rebooted Eighties classics like Dynasty and Lethal Weapon).
"There's definitely a nostalgia factor delving into a time period that so many iconic film narratives, particularly coming of age stories, came out of", says Zoe Perry. "I particularly love stepping back into a world before certain technological advancements became ubiquitous. To have a dinner scene without the kids or parents glancing down at their phones feels oddly novel now."
Young Sheldon begins on E4 at 9pm on Thursday 22 February
FIVE SUCCESSFUL PREQUELS (AND A FEW FLOPS)
Better Call Saul
Vince Gilligan's prequel to Breaking Bad is set six years earlier and focuses on how desperate small-time Alburquerque lawyer James McGill transformed himself into Breaking Bad's Saul Goodman (played in both shows by Bob Odenkirk). Less successful was the prequel to Sex and the City, the short-lived The Carrie Diaries that imagined the characters at high school.
Bates Motel
Fictional serial killers are good for the prequel treatment if the success of Hannibal (the pre-arrest life and crimes of Dr Hannibal Lecter) and the series imagining the early life of future Psycho shower-slasher Norman Bates, Bates Motel, are anything to go by. Freddie Highmore, whose The Good Doctor is currently edging ahead of Young Sheldon in the TV ratings, stars.
Endeavour
Liverpudlian actor Shaun Evans excels in the role of a young Inspector Morse in the prequel set in 1960s Oxford – assisted by having long-term Morse writer Russell Davis in charge of the script. ITV had less luck when they attempted to create a prequel for Helen Mirren's Jane Tennison when Prime Suspect 1973 flopped.
Fear the Walking Dead
Following a dysfunctional family from Los Angeles as they face the coming zombie apocalypse, this prequel to the all-conquering The Walking Dead shows how society first reacted to the pandemic (pretty nonchalantly it turns out). A fourth season is set to premiere in April.
Caprica
Star Trek: Enterprise, imagining life on the starship 100 years before Kirk and company, was moderately successful, managing to last three seasons longer than Caprica, a brilliant, underrated prequel to Battlestar Galactica that was ditched before its first season had even ended. Harsh.
Register for free to continue reading
Registration is a free and easy way to support our truly independent journalism
By registering, you will also enjoy limited access to Premium articles, exclusive newsletters, commenting, and virtual events with our leading journalists
Already have an account? sign in
Join our new commenting forum
Join thought-provoking conversations, follow other Independent readers and see their replies