The Walking Dead season 7: The characters Negan may have killed in order of most likely
The seven-month wait for a definitive answer arrives this weekend
Jacob Stolworthy
Friday 01 April 2016 12:26 Comments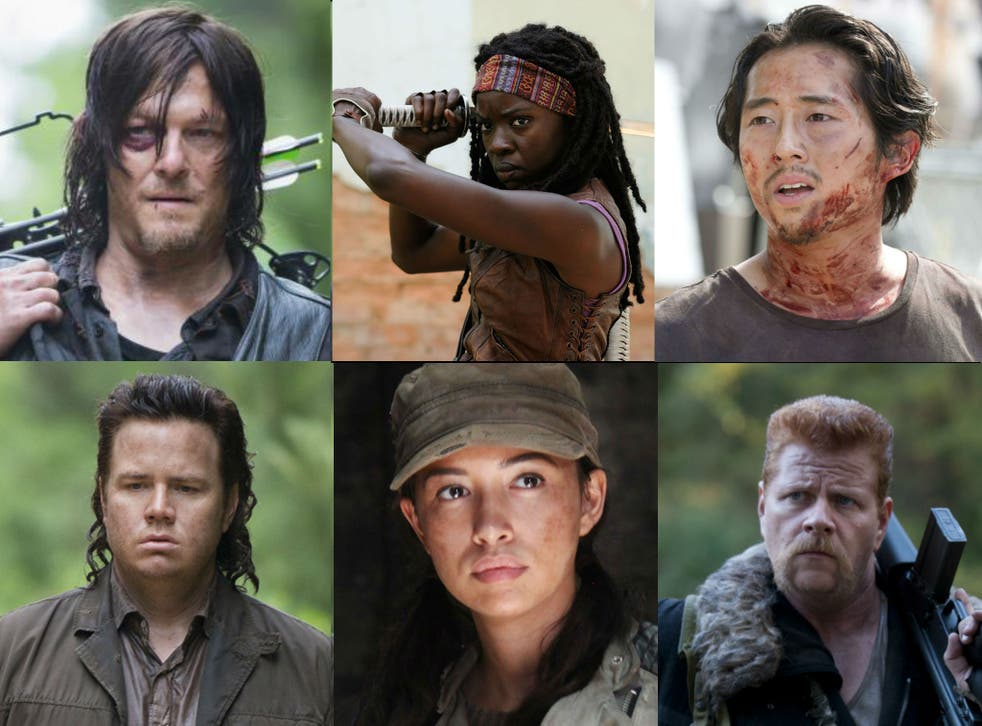 Last season of The Walking Dead may have seen fewer character deaths than usual, so it was a fair bet to assume that someone would be dispatched of in a gruesome manner at the hands of new antagonist Negan (Jeffrey Dean Morgan) - or, we should say, his weapon of choice: a baseball bat wrapped in barbed wire he names Lucille.
The final scene saw the violent clan capture 11 of the show's main characters before lining them up and revealing he's about to "beat the holy hell" out of one of them.
Unable to make his decision - in the zombie drama's most sickeningly tense scene yet - he resorts to Eenie Meenie Miney Mo and settles his sights on one character. Here, the camera assumes a point-of-view shot as Negan proceeds to brutally smash the unseen character's head in.
"Taking it like a champ!" he exclaims - and it's here where the episode ends.
The most shocking Walking Dead moments

Show all 10
We know who it's not: Carol (Melissa McBride) and Morgan (Lennie James) included.
Whose brains did Negan bash in? Ahead of this weekend's season 7 premiere, we run through the candidates in order of most to least likely.
One spoiler from the graphic novels is detailed below
Abraham (Michael Cudlitz)
The one thing that makes Abraham one of the most likely characters to be on the other side of Lucille is the fact that his death scene in the graphic novels occurred in the show mere episodes ago, the writers opting to off Denise (Merritt Wever) instead. Add into the mix his philosophical chats with love interest Sasha (Sonequa Martin-Green) and friend Eugene (Josh McDermitt) as well as the fact he's probably the most prominent character outside the elite and we're worried for the military man.
Glenn Rhee (Steven Yeun)
Glenn's presence in this scene will come as no surprise to some seeing as he's the one who falls victim to Negan in the graphic novels the show's based on. The Walking Dead's previously made a point of switching character deaths so as not to make the shocks too obvious for viewers, but considering Glenn was 'killed off' earlier in the season - only for him to be brought back - perhaps this was the writer's way of calling our bluffs. It could well be time to write Glenn off.
Eugene (Josh McDermitt)
Has Eugene's character run dry? It's easy to assume so but his character is only on the cusp of the transformation he's well on his way to making. He's finally been recognised as an invaluable part of the group; the finale saw him pass over his bullet-making skill to Rick while his pal Abraham told him he finally sees him as "a survivor." We're sorry to say this makes Eugene one hell of a likely candidate.
Daryl Dixon (Norman Reedus)
Considering Negan's arrival has been teased for what feels like an age, the one way to posit him as the fearsome antagonist the producers desperately want us to view him as would be to kill off the ultimate fan favourite. Daryl's current situation is morbid; he's been shot by Dwight, a member of The Saviours, so even if he doesn't fall victim to Negan, the future isn't so bright for the crossbow-wielding character.
Walking Dead Series Finale: Something to Fear
Aaron (Ross Marquand)
Sure, Aaron is a likeable presence in the bleak landscape of The Walking Dead but there are no two ways about it: he's the most expendable of all the characters in the running. If he was to be revealed as Negan's victim, fans would undoubtedly chide what would be the TV's biggest anti-climax after what is to be an agonising seven-month wait. Not the writers' style - instead, they'll probably get us more invested in his character just to kill him off next season.
Maggie Greene (Lauren Cohan)
In the final scene, Negan suggests he should put an ailing Maggie "out of her misery" which sends Glenn into a frenzy. Is the baseball bat-wielding maniac malevolent enough to kill a pregnant woman? He certainly seems to be - and having him kill off such a strong female character while going against his comic book code, would be quite a statement as well as a shocking conclusion to the Glenn storyline.

Rosita Espinosa (Christian Serratos)
Rosita may not be the biggest of characters but she's had more to do than ever before in season six's latter stages - which, let's face it, isn't the greatest sign. Rosita's death, while upsetting, wouldn't be the all out shock a Walking Dead premiere usually warrants; could it be that Rosita bites it alongside another character? As well as being fairly traumatic, it'd give Abraham some heavy lifting to do next season - assuming it's not him, of course.
Michonne (Danai Gurira)
Michonne may be in the running to die but we just can't envisage the writers killing her off (although it's never previously prevented them from dispatching of characters we assumed were safe). The fact she is now in a relationship with Rick (Andrew Lincoln) - whose past love interests haven't fared too well - is slightly worrying, it must be said. A theory has surfaced suggesting that the POV shot from inside the truck is Michonne's; could this be a hint from the writers that the final POV shot was Michonne's too?
Sasha Williams (Sonequa Martin-Green)
Sasha has become one of The Walking Dead's most dependable forces, a character well equipped to assist the group in times of need. Quite honestly, we think she's as safe as they come. This would point Negan's bat back towards her new love interest Abraham; should the former Major bite it, there's no telling the direction Sasha's character will be headed next season - especially when you consider she's only just over the loss of both Tyreese (Chad Coleman) and Bob (Lawrence Gilliard).
Carl Grimes (Chandler Riggs)
Just before batting the unseen character, Negan tells his people to "take the boy's other eye out and feed it to his father" should anyone protest his violent actions. These words suggest Carl is not the one he's about to hit. Earlier in the same scene, Negan has quite an intriguing interaction with Rick's kid, nicknaming him "future serial killer." Merge this with comments made by showrunner Scott Gimple and it's easy to discern that this fraught relationship will be explored in season seven.
Rick Grimes (Andrew Lincoln)
Anybody who has ever watched an episode of The Walking Dead will know that even the show's protagonist isn't safe. Naturally, you'd assume Rick would be top of Negan's list to kill - after all, he was the mastermind behind the siege which saw the group dispatch of sleeping members of his clan - but it would make more sense to let him see his friends suffer. Perhaps this is why Negan's words directly before the attack seem to eliminate Rick from doom. Regardless, seeing Grimes this helplessly terrified was the most disturbing image we'll take away from the finale.
The Walking Dead returns for a seventh season in October on FOX
Register for free to continue reading
Registration is a free and easy way to support our truly independent journalism
By registering, you will also enjoy limited access to Premium articles, exclusive newsletters, commenting, and virtual events with our leading journalists
Already have an account? sign in
Join our new commenting forum
Join thought-provoking conversations, follow other Independent readers and see their replies