The BBC's This Country: Return to Planet Mucklowe
Daisy and Charlie Cooper are back for a second series of their hit comedy, and it's funnier than ever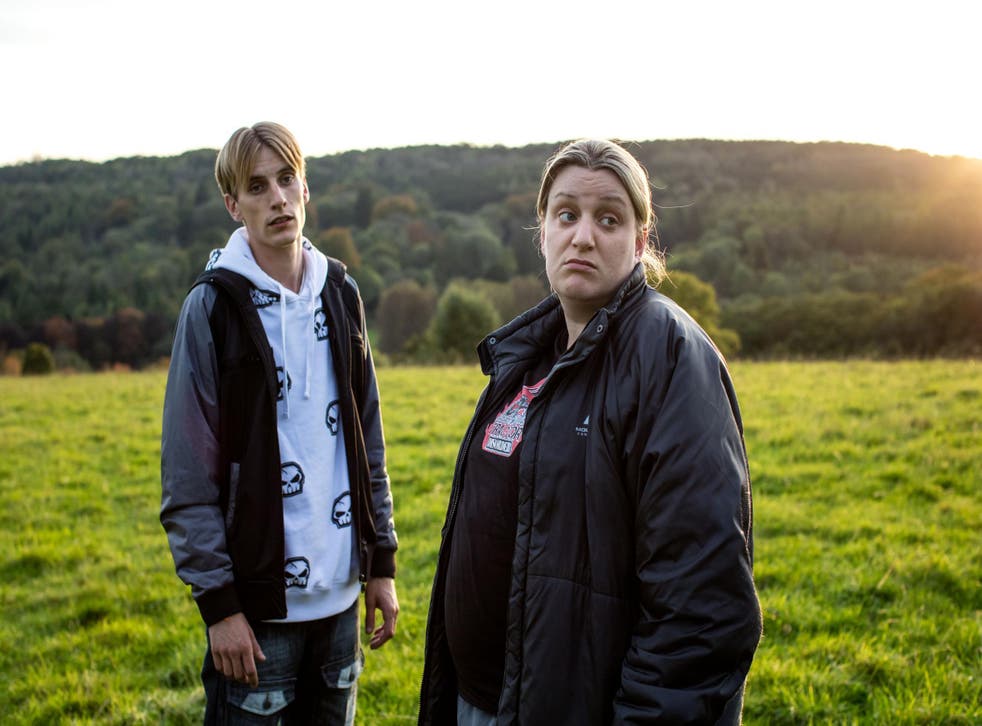 I think that if I was the boss of the Cotswolds Tourism Partnership I would ring up Charlie and Daisy Cooper, creators of the BBC hit comedy This Country, and ask them how much it would cost to persuade them to tow themselves and their comedy cast of grubby grotesques far away.
Except of course: (1) it's too late because they're just about to air their second run of six episodes and (2) they can't go away because the Cotswolds is precisely where they come from.
Not, that is, the Cotswolds the tourist folk like to portray, in which, and I quote from www.cotswolds.com, they invite their visitors to: "Explore quintessentially English villages of honey-coloured stone; take in splendid, lively market towns, gastro pubs, old inns, colourful cafes and fine dining restaurants… the vibrant buzz in places like Cheltenham, Cirencester, Tewkesbury, Stroud and Witney. And an arty heartbeat too…"
No there ain't, leastways not when you visit the Cotswolds of This Country, in mockumentary style, where instead you explore quintessentially chavvy, bored, hopeless, scuzzy, dead end, violent, bleak, grey, dull towns and villages (mostly Northleach). This is the world, the only world, which has twenty-ish cousins Kerry and Lee "Kurtan" Mucklowe (played by the real life Cooper siblings), and the other inhabitants of their village at their dead centre.
One function of This Country is to make us laugh (mission accomplished). The other is to serve as a brutal reminder that there are plenty of people an awful lot poorer and less smug than David Cameron down there, and that lot tend to double down on their hardness because of their effete image and the braying posh t***s they find their lives being invaded by. And any given scene in This Country is more entertaining than a lifetime of coach trips to Stow-on-the-Wold or dinner parties with Cameron, Jeremy Clarkson, Rebecca Wade and the rest of the god awful Chipping Norton "set". Who I wonder, has done more to bugger Britain – those three or every soul chucked off disability living allowance or denied further education in West Oxfordshire?
This Country, initially only on the internet channel BBC Three, was the great comedy surprise of 2017, the funniest show of the year (in a very crowded field), and has the rare distinction of rewarding your second, third, fourth or even more viewings, such is the richness of the attention to detail and nuance of language. That may be why it achieved some five million viewings on BBC Three via the BBC iPlayer, and won a "promotion" to a slot on BBC One after Match of the Day.
Where to start? Well, Kerry and Kurtan declare that this time around, as we return, "loads has changed". Nothing has, of course. Kurtan, a sort of bumpkin version of Gareth from The Office, almost escaped to take up a place at Swindon College to do a GNVQ in Health and Social care – but of course he's a managed to find himself a girlfriend, Sophe, and can't basically be arsed to summon up the energy to break the gravitational pull of the village. He is locked in, and as obsessive and obsessional as ever.
We never feel entirely comfortable at the way he'll fixate on something, anything, and not let go. Like his own unique (I should imagine) method of tackling a pizza, explained to Kerry in the terrifyingly claustrophobic episode "Oven Space", where she tries to persuade him to share the upper shelf with her own portion of turkey dinosaurs (naturally), which requires cutting his pizza in half. Kurtan responds, visibly agitated: "I eat pizza from the inside out. So if it's cut in half there's no inside to eat it out from… I don't use the basic slice system, Kerr, which is why I get so fussy at Pizza Hut." It ends up burned while they're watching someone enjoying some feast on Masterchef.
As for Kerry, she is still a woman-child, with no sign of romantic love for her, looking, as it is put, "like an asexual smurf". She's still a fantasist, with a strange conviction that someone once tried to assassinate her on the way to midnight mass with a crossbow.
Memorably the paranoia can be delivered with an almost Hardyesque quality: "I got enemies in South Cerney, I got enemies in North Cerney, I got enemies in Cerney Wick. I got enemies in Bourton-on-the-Water. There's a tea rooms there and under the counter they've got a panic button and if I take one step inside they can press that, police'll be there in three minutes."
What's new is that some of the supporting characters get a bigger show this time round, and there's more of a soap quality, with some continuing storylines revolving around Kurtan's predictably chequered love life. The Vicar, for example, played with the patience of a saint by the brilliant Paul Chahidi, whose hitherto unmentioned son returns to the village after a few years living it up in the comparative megalopolis of Bristol.
Mad Mandy's there too, a kind of scrap yard rottweiler made human, and now acquires a slightly darker dimension to her character than we saw in the first episodes, when she was a two-dimensional face of evil, her and her fighting dog Tyson menacing the inhabitants. Now she's fully trained in nunchaku, with a fixation on the TV meerkats.
Mind you, I doubt we will ever see anything quite as hilarious as Mandy's book of tattoos, which like the way Les Dawson used to play the piano deliberately but carefully out of tune, must have taken tremendous skill to make them look quite as amateurish as they turned out. By the way, Ashley McGuire, as Mandy, and Daisy Cooper improvised most of their way through the best scene of the runs so far (in the episode "Mandy" in series one, on BBC iPlayer).
Still around too, if only because the police can't quite manage to prosecute him for peeping, even with his DNA found all over a tennis racquet, is Kerry's appalling dad Martin. His lurid sexual fantasies are as absurd as they are stomach-churning, though we can believe that he once played pool every Thursday with Fred West ("I know hes done some iffy things, but as a builder he was top notch…"). Poor taste, that – but there's the point, that Martin is such a blithely amoral figure he could chat in that way to his own daughter. Predictably, he is still emotionally cruel to Kerry (the oddity being that he is in fact played by Paul Cooper, their real father).
As Kurtan relayed in the last series: "I don't like what he does to Kerr. Like he doesn't give a rat's arse about her 'cos she's a girl and all he ever wanted was a son so he could teach him how to concrete.
"And Kerry is like a dog. No matter how hard you hit her she'll still come back wagging."
The camera pans a couple of inches to Kerry: "Harsh."
In this series, Martin's nephew Kurtan now gets some of the same nasty treatment, especially when Martin acquires a sort of surrogate son/sycophant. So not only are the storylines quite insular, so has been the creative process, veteran actor Trevor Cooper, who has worked with the likes of Kevin Spacey and Tom Courtenay, joins the rest of the friends and family on Planet Mucklowe. He's the village super grump, routinely abused by the Mucklowes ("Hey Dumbledore, Hogwarts is that way!") and this time around gets a new angry neighbour to spar with. Which is nice.
Also making a welcome return is Slugs, now with his very own girlfriend too, the Prince Harry and Meghan Markle of the village (and thanks to Michael Sleggs and Celeste Dring for making the pair look so sort of quietly content on so little to be content about).
Generally, then, This Country is very much a family affair, and those closest to the production are also "adopted" by the extended Cooper clan, particularly (and deservedly) producer Simon Mayhew-Archer and director Tom George. A few months ago I visited them on set, did a little extra work (dumped on the cutting room floor I'm afraid), and witnessed at first hand their professionalism and how they and the Coopers crafted every line, every word, every pause, every glance, every shot – not least because making a mockumentary is about having to make the unnatural look and feel naturalistic. The fact that many of the camera crew had a background in documentaries seems to have helped.
Much credit, too, must go to Shane Allen, controller of comedy commissioning for BBC television, who is encouraging a remarkable array of talent, and helping BBC Three become the quality channel it never quite managed to be on digital terrestrial, strange to say.
It was Allen who showed some faith in these unknown yokels when they turned up and camped outside his office until he'd see them and their scripts. They were desperate, in an echo of their comedy, because they were getting nowhere in life – which in Daisy's case was even after she'd studied at Rada and her ma expected her to be in the next James Bond movie.
From what I've seen the team has developed and matured their writing and it's every bit as accomplished as the first series. I'm most heartened of all to hear that Kerry's mum is still yelling obscenities from her semi-bed ridden existence somewhere upstairs in her council house. Voiced by Daisy Cooper, she sounds like the possessed girl in The Exorcist, but with a strong Gloucester accent. She is possessed by an energy and the foulest most inventively scatological tongue this side of, well, an exorcism. Her reflections on laundry day are especially "harsh" as Kerry might say.
Kerry's ma, and the lot of them, are superb, genius creations, brought to a (low) life by an ensemble cast and crew that mesh together like, yes, a really functional happy emotionally balanced family. Maybe there is something to be said for growing up stuck in the arse end of the golden Cotswolds.
'This Country' starts on BBC3 on the iPlayer at 10am on Monday 26 February, and will be repeated on BBC1 starting Tuesday 6 March
Join our new commenting forum
Join thought-provoking conversations, follow other Independent readers and see their replies