Here kitty kitty: Is Tiger King, the greatest shock-watch of 2020, just a celebration of abuse?
Netflix's hit series, with its controversial star Joe Exotic, is the talk of self-isolation. But, asks Alexandra Pollard, can the entertainment factor really outshine the misogyny and animal mistreatment?
Monday 06 April 2020 09:45 Comments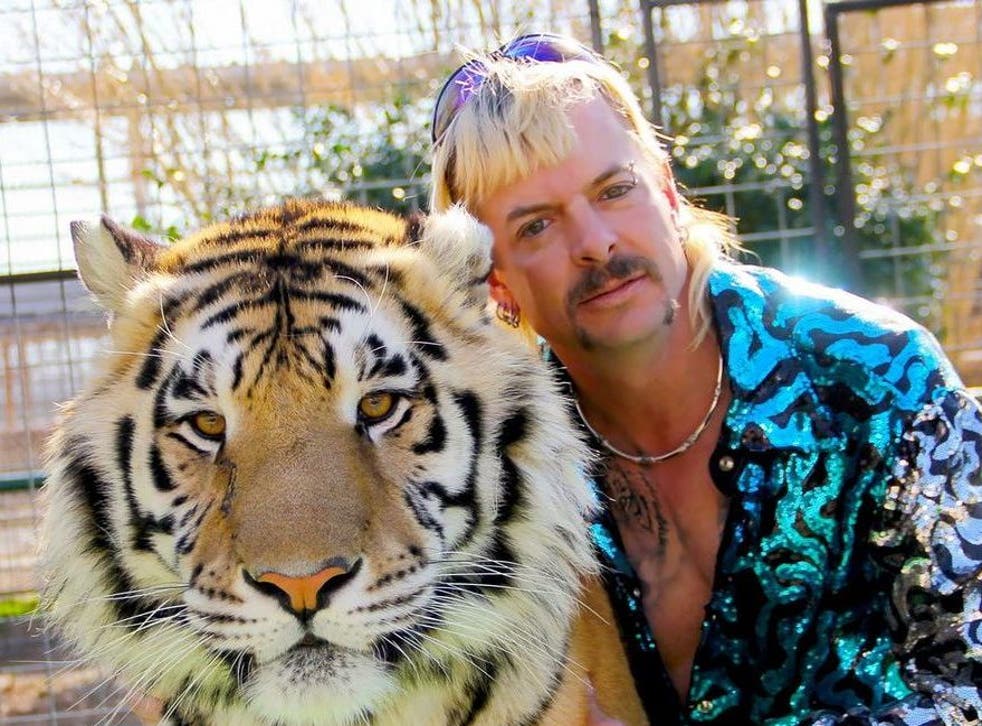 Cults. Conspiracies. Big cats on leashes. Meth. Liligers. Ripped-off limbs. Presidential campaigns. Polyamory. Murder plots. That's not even the half of Tiger King, the seven-part Netflix documentary following the vindictive rivalry between eccentric wild animal keeper Joe Exotic and the slightly less eccentric animal rights campaigner Carole Baskin. The show – water-cooler TV for quarantine days – has had the viewing public in its claw-like grip ever since it came out last month. It is as astonishing as it is bonkers.
The series has also earned itself a host of celebrity fans. Some have weighed in on whether Baskin did indeed kill her former husband and feed him to her tigers, as Joe likes to claim (Lena Dunham, Kim Kardashian). Others have expressed their love of Joe, who is now in prison for attempting to have Baskin murdered (Cardi B, Wiz Khalifa). And a few have even thrown their cowboy hat in the ring to play one of the series' many madcap characters in the forthcoming HBO series (Dax Shepard, Edward Norton, Jessica Chastain).
One critic wrote that "amid the coronavirus pandemic, we are finding humour and relief" in Tiger King. But should we be? The documentary is undoubtedly brilliant story-telling, but it also points towards the moral grey areas of both true-crime documentaries and reality television.
For one thing, the show seems to lose interest in the rampant animal abuse at the heart of its plot by episode three. It's understandable – there is, and I cannot stress this enough, so much going on – but given that the debate around exotic pet ownership is the linchpin of the entire plot, directors Eric Goode and Rebecca Chaiklin could have shed more light on why these animals are so easily exploited in the US. Or why they're so popular, especially in the rural south. Or what the current laws are. Or what can be done to fight them. Instead, the animals – some driven mad by mistreatment and isolation, some allegedly burnt and buried when they grow out of their cuteness – become a mere backdrop, there to decorate the madcap antics of the humans abusing them.
Still, it almost redeems itself in the final five minutes, which jolts you back to the point to startling effect. Perhaps that's enough. Peta's UK director Elisa Allen tells me that since the show came out, they have "seen a surge of interest in our exposés of this horrid industry. Tiger King isn't the series Peta would have made, but it has captured the world's attention and shone a light on the exploitation of big cats in captivity." Louise Orr, communications director at the Carolina Tiger Rescue, says, "While we don't think that the docuseries adequately highlights the plight of these animals, we now have the opportunity to shift focus to the problem, rather than the story."
Kent Drotar works at The Wild Animal Sanctuary in Colorado, which has rescued 39 of Joe Exotic's tigers. He sends me pictures. They look brighter, plumper, and – loathe as I am to anthropomorphise – happier than they did at Joe's. "They're now living in large-acreage natural habitats," says Drotar. "Our executive director is actually glad that [the documentary's subjects] are being exposed like they are. He has always said that if you try to tell somebody how crazy some of the people are out there, they would not believe you. But now it has actually been documented and can be seen by everybody for what it is.
"One of the shortcomings of the series, perhaps," he continues, "is that it gets so caught up in the human drama between very narcissistic individuals that the plight of the animals gets lost. Animals in such situations are truly voiceless and easily get drowned out when you have huge, egotistical personalities being highlighted. Our hope is that people do not get so caught up in the hype, intrigue and 'glamour' that is shown in the series that they forget to advocate for the animals that are suffering."
And then there are the humans. There's an argument to be made that, despite the high-budget Netflix gloss, this is an ugly exercise in class tourism, one no better than My Big Fat Gypsy Wedding and of no more substance than The Only Way is Essex. In many ways, Joe and his cohorts play into the tired stereotypes of working-class southern Americans. (Although Joe plays up to them, too, and, as an openly gay man in deeply Republican territory, enjoys subverting them.) They are deeply complicated, often troubled people offered up for our escapism and entertainment.
Access unlimited streaming of movies and TV shows with Amazon Prime Video Sign up now for a 30-day free trial
Sign up
Saff, a former tiger keeper who lost an arm working for Joe Exotic, has been taken aback by the attention thrust upon him in the past few weeks. "I've always done my own thing and never really pushed to be in the public eye," he told Out magazine in one of the few interviews he's done since the show aired. Saff has used male pronouns for years, but is misgendered throughout the entire series – another not-insubstantial quibble of mine. "This is a little bit new to me," he continued, "and I'll be honest, sometimes it gets a little uncomfortable. I do enjoy my space." I suspect many other participants – hugely imperfect though they may be – probably feel the same.
Then again, that could not be further away from Joe Exotic's reaction to his newfound fame. He is – unsurprisingly, given his seemingly pathological need for attention – delighted about it. It is what he has always dreamed of. "He would like Brad Pitt or David Spade to play him," director Chaiklin told journalists.
They'll have to get in line behind the other male celebrities vying to play him. "If I don't get cast as Joe Exotic in the eventual biopic, Hollywood is broken," tweeted Dax Shepard to the tune of 216,000 likes. "Um, step aside, pal," replied Edward Norton. "You're way too young and buff and you know it." They are, apparently, giddy with excitement at the prospect of stepping into the shoes of a violent, racist, misogynistic, murder-plotting animal abuser.
Joe Exotic should not become a folk hero, but he is not undeserving of our sympathy. He has had a difficult life. Not all of it is even covered in the documentary. As a five-year-old, he was repeatedly sexually abused by an older boy, he claimed in a New York magazine piece last year. His first husband, Brian Rhyne, died of complications related to HIV in 2001. Another husband Travis – and this is covered in the documentary – accidentally shot himself in the head. But all of this is why he should not be offered up lightly as an object of entertainment. He might crave celebrity, but in all likelihood, it will just damage him further.
And then there's Baskin, who is called a "bitch" more times, and by more people, than I can count. A whole episode is dedicated to the disappearance of her husband several decades ago – not because it's particularly relevant, but because it is scintillating, and because Joe's insistence that she killed him, put his body through a meat grinder and fed him to her tigers, is yet another absurd twist in the tale. Baskin is a slippery fish, likely not as innocent as her "hey all you cool cats and kittens" demeanour would have us believe. But her dogged grassroots campaign to change the laws on exotic animal ownership is given about one-tenth of the attention that Joe's violent, misogynistic attacks on her get.
The 50 best TV shows on Netflix UK
Show all 50
In one such verbal attack, shortly after he's acted out a sexual assault on a Baskin mannequin and shot it in the head, Joe tells Baskin, "I'd like to thank you for all of the publicity you've been giving me recently. Because I am making tons of money. Drama makes money, Carole. You know that better than anybody in the world." I suppose the people behind Tiger King knew that, too.
Register for free to continue reading
Registration is a free and easy way to support our truly independent journalism
By registering, you will also enjoy limited access to Premium articles, exclusive newsletters, commenting, and virtual events with our leading journalists
Already have an account? sign in
Join our new commenting forum
Join thought-provoking conversations, follow other Independent readers and see their replies