TV cartoon Peppa Pig – now worth $1bn a year – is making the leap to the big screen
Simmy Richman confesses that he's just as hooked on the hugely successful show as his children are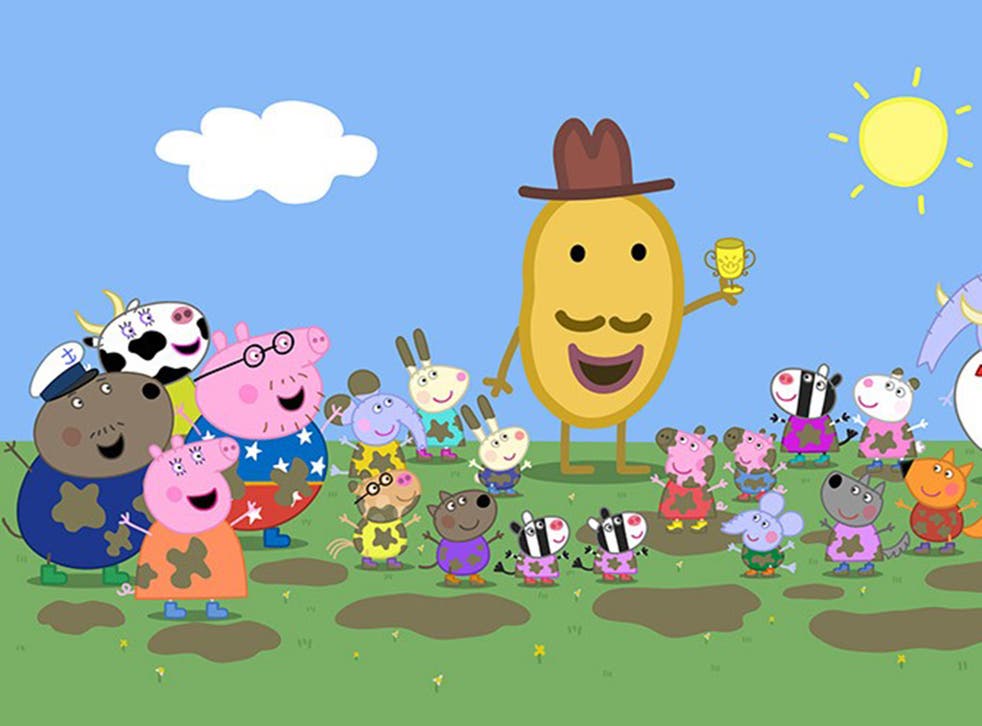 We live, apparently, in a golden age of television. The Wire, Game of Thrones, Homeland… each has its advocates and social-pariah status is instantly bestowed on anyone who can't join in the conversation. Was Breaking Bad better than The Sopranos and, therefore, The Best Television Programme of All Time? I wouldn't have a clue. Because, for most of the viewing time available to me in the past few years, I have been watching a two-dimensional cartoon about an anthropomorphic female pig called Peppa.
It is not enough, these days, to stick our children in front of the telly and leave them to it. No, we modern parents must engage with and immerse ourselves in kiddy culture. That's how I have come to share with my two boys – both under four – an addiction to the televisual crack cocaine that is Peppa Pig. And that's why, on a freezing-cold Sunday morning, we were queuing half way round Leicester Square for the privilege of seeing Peppa Pig's West End premiere in a film called Peppa Pig: The Golden Boots.
There was a pink carpet teeming with stars of screen and Sidebar. There was a scrum of Pepparazzi around the life-size character suit of the film's star. There were fun activities for kids on three levels and, of the 1,600-odd capacity audience, there were about 800 small people who had obeyed the dress code of "Peppa pink & welly boots".
Children's books with pigs in

Show all 5
But before we get into all that, some background for the uninitiated. Peppa Pig is a sort of The Simpsons for pre-schoolers. It has been running for a little more than 10 years and is the creation of three men, whose names aren't important here. What is important, at least to Entertainment One, the company that owns the rights and distributes the cartoon, is that Peppa Pig is currently shown in more than 180 countries around the world and the spin-off market is worth a cool $1bn. (Cue endless "bringing home the bacon" headlines in the business pages.) There have, to date, been four series, each consisting of 52 episodes lasting around five minutes each and adding up to around 17 hours of Peppa Pig in total. And such is the cartoon's popularity that every so often the digital channel Nick Jr will devote itself to the cartoon day and night for the best part of a month, when it rebrands itself as Nick Jr Peppa.
Although ostensibly about Peppa and her immediate family, the pay-off for parents comes in the show's many peripheral characters. Miss Rabbit, voiced with cool detachment by Sarah Ann Kennedy, pops up everywhere and is a constant joy. Less-seen ensemble players – such as the spivvish Mr Fox and Brian Blessed's boom-voiced, blues-singing Grampy Rabbit – are worthy of series in their own right. And because the programme's makers are completely tuned in to the generation watching with their kids, Peppa's grandfather, the suitably named Grandpa Pig, is voiced by David Graham, the actor who bought Thunderbirds' Parker to memorable life.
Which is not even to mention the Homer-esque Daddy Pig, an everyman shlub ("That's not a big tummy, that's all muscle") whose general incompetence is offset by flashes of Zen-like transcendence. And though pretty much every episode ends with the characters falling on their backs and laughing maniacally at something that is not really very funny, there are also moments when even the bitterest cynic would be hard-pressed not to smile. In one gag designed for any parent who happens to be watching, during the episode called "Grampy Rabbit in Space", Brian Blessed's character loses his voice. "Is that such a bad thing?" Doctor Brown Bear responds when told.
But where were we? Oh, yes, The Golden Boots. So, though one of the joys of the programme is the short duration of each episode, the makers have dabbled with the extended format once before, in a Christmas special from 2007 called "Peppa's Christmas", which lasted 10 minutes. The Golden Boots goes even further – a whopping 15 minutes, making it the Gone With the Wind of the Peppa opus. And over next week's school holidays, the "film", along with a number of "favourite episodes", is being shown at just about every major cinema chain in the country.
The transfer to the big screen and the extended format do not really add that much to the Peppa experience. There are no 3D gimmicks here or high "Peppa abroad" concepts. The Golden Boots sees Peppa lose her wellies – essential for her favourite pastime of jumping in muddy puddles – and, assisted by key cast members, set out to find them. And that's pretty much it. So why, you might ask, should anyone pay £25 to take two adults and two children to the cinema to see a programme that is, in essence, constantly available in their sitting rooms? It's a fair question; the only answer I can think of is that it's a safe, familiar way to introduce the very young to the idea of cinema.
As we trundled home with about £50 worth of merch safely stashed away in our goodie bag and high on Peppa Pig cupcakes, one of the many lies we modern parents have to constantly tell ourselves popped into my head: you can have your golden age of television; we've got Peppa Pig: The Golden Boots. For a while, at least, let's leave it at that.
Join our new commenting forum
Join thought-provoking conversations, follow other Independent readers and see their replies