Ugly Betty, 10 years on: the Noughties show that struck a blow against TV's beauty myth
The adaptation of a Colombian telenovela, starring America Ferrera as braces-wearing fashion industry wannabe Betty Suarez, reversed the trend that everyone in television has to be glamorous, says Isobel Lewis, and it was a great show too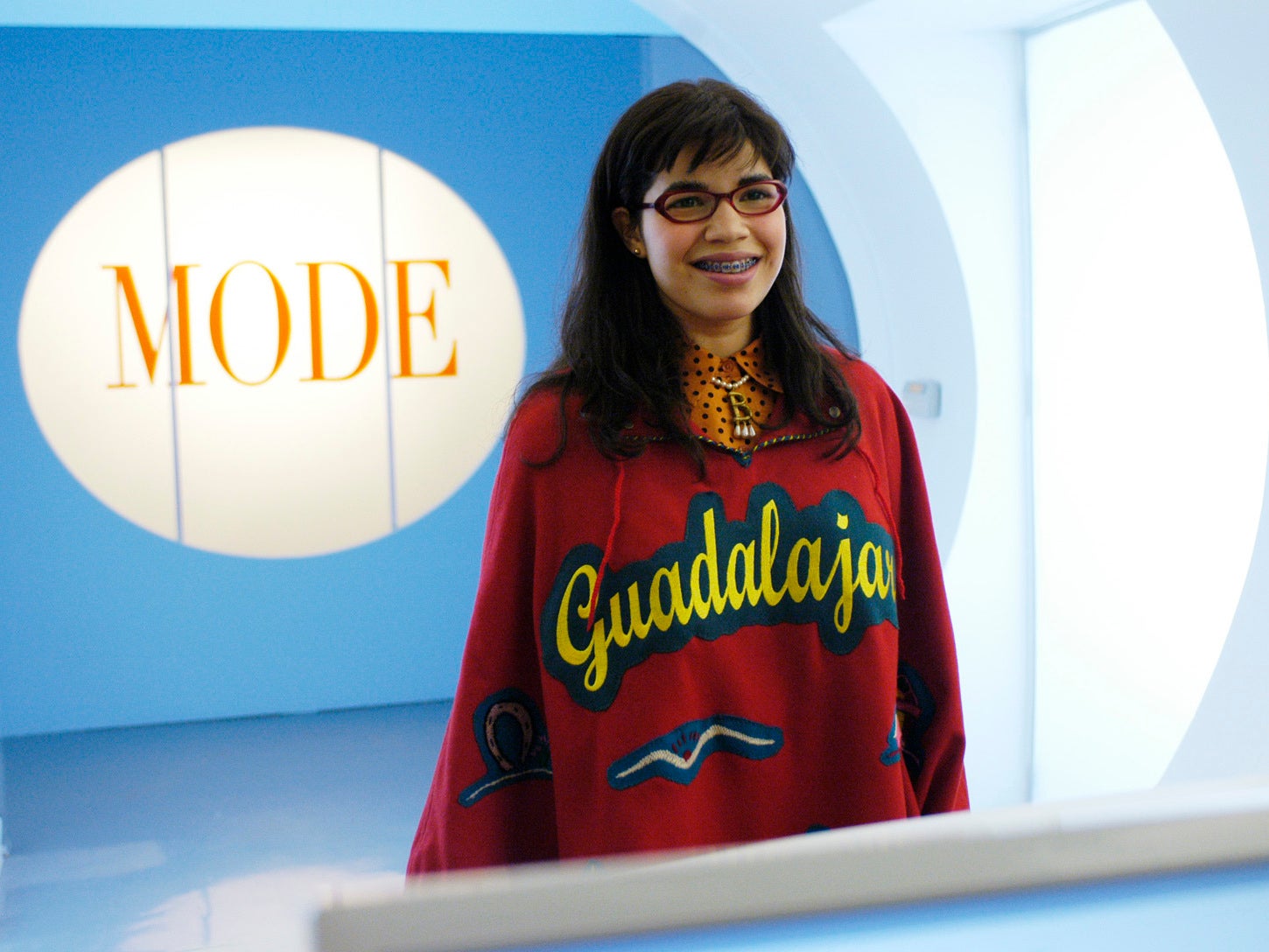 If the mid-Noughties television landscape had to be defined by one thing, it would probably be beautiful women. From Carrie Bradshaw and the glam New York singles of Sex and the City, to the gorgeous rich kids of the OC or the Desperate Housewives of Wisteria Lane, it was a given that no matter what a female protagonist went through, her good looks would always be there.
Then, wearing adult braces and a "Guadalajara" poncho, in bursts Ugly Betty in 2006. Created by the late screenwriter Silvio Horta, the ABC series – which bowed out 10 years ago today – focused on Betty Suarez (America Ferrera), a Mexican-American woman who finds herself working as assistant to the editor-in-chief at Mode fashion magazine. Although far from "ugly"– the show's title is deceptive, it must be said – Betty is bushy eye-browed and badly dressed: in other words, not stereotypically beautiful.
Fitting the standard fish-out-of-water tropes, Betty isn't taken seriously by her boss (Eric Mabius) and mocked by fashion snob co-workers Marc (Michael Urie), Amanda (Becki Newton) and Mode's conniving creative director Wilhelmina Slater (Vanessa Williams). But where other stories (such as the fellow fashion ugly duckling film The Devil Wears Prada) would have got rid of the "ugly" side, it's Betty that changes "the horrible, nightmare people around her", not the other way around.
Over four seasons the show won multiple Golden Globes and a cult following and was praised by critics for its "visual flair and rapid-fire pace" (Salon) and Ferrera's "luminous and credible" performance (Wall Street Journal). But when it first arrived the show wasn't like anything American audiences had seen before. This was largely thanks to its source material and its roots in the tradition of the Latin American soap opera, or "telenovela". It's a genre known for fast-paced, often borderline ridiculous storylines and overly dramatic acting and is massive in the continent.
TV bosses had been trying to remake Yo soy Betty, la fea, a Colombian telenovela about an "ugly" girl obsessively in love with her boss, as a half-hour comedy for years, but with little success. It was only upon deciding to make the show a 60-minute continuous drama and approaching Oscar-nominated actress Salma Hayek to executive produce (having begun her own career starring in a Mexican telenovela) that the ball started rolling.
Ugly Betty wasn't like anything on TV and the team needed someone totally unique to take on the title role. Hayek knew 22-year-old America Ferrera, who had made her screen debut in Real Women Have Curves while still in high school, and approached her about playing Betty. Ferrera knew that she'd found something special the moment she read the script, recalling to Good Morning America in 2016: "Right away, it felt like lightning through my body, like 'this has to get made, I have to be this character'."
Putting together an impressive ensemble cast, including Tony Plana (An Officer and a Gentleman), Ashley Jensen (Ricky Gervais's Extras) and Judith Light (US sitcom Who's the Boss?), the show had the credentials to be a hit. But it seemed network executives were nervous about taking a chance on Ugly Betty, initially granting them the tricky Friday evening spot for their debut.
During a 2009 panel discussion about the show, Tony Plana recalled talking to an ABC boss at a preview event who was telling the cast how well their show was testing. "Well, why don't you put us on Thursday nights, then?" Ferrera reportedly shot back at him. Within a week, they had been given a far more favourable Thursday night slot, immediately before Grey's Anatomy.
Sadly, this turned out to be just the beginning of chopping and changing time slots for the show, and the least of Ugly Betty's problems. Between the 2007 writer's strike, which brought the TV industry to a standstill, and the 2008 financial crash, the show was finding its feet at a time when ABC was having to make big cuts. This message seemed in opposition to the high production values, sleek sets and couture costumes of Ugly Betty's Mode magazine and its employees.
Access unlimited streaming of movies and TV shows with Amazon Prime Video
Sign up now for a 30-day free trial
Sign up
Access unlimited streaming of movies and TV shows with Amazon Prime Video
Sign up now for a 30-day free trial
Sign up
"There was a lot of upheaval with our show," Vanessa Williams tells me, on the phone from New York. "We were supposed to be in New York and shot the pilot in New York, then they moved us out to LA. So we moved out to LA and then there was the writer's strike, and then after the strike we came back, and then they moved us back to New York."
The team reportedly did everything to scale back production, at one point switching from shooting on film to video to save money. But it wasn't enough, and after being moved back to the Friday night "death slot" and from Channel 4 to E4 in the UK, the news came in that Ugly Betty was to be axed after four seasons, airing its final episode on 14 April 2010.
"We were shooting outside on a cold day in New York," Williams recalls. "My trailer was right next to America's and I remember getting a knock on the door from Silvio saying that we were getting cancelled. It was just so deflating and awful and sad because it was a company and a family breaking up."
For both the cast and fans, there was frustration that the show had been pulled while it had so much more to give and the romantic plot between Betty and Daniel, which had been carefully cultivated over four seasons, rushed to an end. "Our show ended too early," Eric Mabius told The Sun in 2011. "We were battered about by ABC and even if the fans wanted another series they couldn't have got it because we had been raked over the coals so much by the network. We put our best feet forward and felt neglected. Everyone was upset with them for cancelling Ugly Betty."
Viewing figures may have dropped over the four seasons, but the show had a core audience who valued both its warm-hearted tone and ability to discuss real issues. Having cisgender actress Romijn play Daniel's transgender sister Alexis Meade may not fly were the show being made in 2020, but to simply feature a trans character felt incredibly radical by 2006's standards.
The same could be said for Wilhelmina's bitchy assistant Marc and his reluctant mentorship of Betty's fashion-obsessed nephew Justin (Mark Indelicato). Justin coming out as gay in the show's fourth season prompted Indelicato to personally receive death threats and abuse, but the character was a lifeline for young LGBTQ+ teens.
With a cast of Latinx actors playing the Suarez family and their Queens community, the show was able to discuss big issues such as illegal immigration, xenophobia and class. Even villain Wilhelmina was radical, addressing issues of ageism facing women.
"Getting to play a strong black woman, who was not only head of a major fashion magazine, but was articulate and educated and sophisticated and had money on a weekly basis was my proudest moment," Williams says. "Wilhelmina threw tantrums and was ridiculously cruel and conniving, but her power and her stature was something that I loved being able to portray."
In many ways, Ugly Betty was ahead of its time. It's hard not to compare the show to Jane the Virgin, a fellow telenovela English language spin-off which ran on The CW from 2014-19. Comparatively, UB was the far more popular show, still being watched by an average of 5.5 million for its final season compared with Jane the Virgin's 1.23 million. But where 2006's TV scene was the preserve of formulaic dramas, the mid 2010s saw new voices encouraged while internet fans had the power to keep a show on air. Had Ugly Betty come eight years later, it might have followed the same path as Jane the Virgin and run for five seasons.
At least for the cast, the newly flourishing TV landscape allows them to make the shows they want. Ferrera has starred in and worked as a producer on NBC's Superstore, while executive producing and directing Netflix's Spanish/English language series Gentefied. Michael Urie and Becki Newton, who as comedy duo Marc and Amanda were always one of the show's highlights, are set to reunite on new comedy series Fun about siblings who work in a funeral home.
It's normal for a cast to stay in contact after working on a project, but having been through so many ups and downs together, the Ugly Betty cast seem closer than most. "That upheaval was parallel to exactly what we went through on an episode by episode basis with Ugly Betty," Williams says. "We never knew what was going to happen next and that was the best part of our cast reads. We worked so hard and went through so much, which made us bond not only as characters, but people."
"What I kept from Betty was my friends, because the cast is my family and they were all at my wedding and we've all been to each other's hospital rooms when babies were born and graduations and weddings and birthday parties and life moments," Ferrera told The Independent in 2014.
As for the show itself, by the end of season four, Betty is not the same character we first met and is well liked by her peers, confident and far less naive. But while her braces have gone, and her hair is sleeker, Betty's inner beauty, the thing that has always mattered, continues to shine.
Of course, Hollywood and the TV industry remain places where beauty is currency and that's something that will probably never go away. Since 2006, we've seen shows like Girls and Broad City present a "more realistic" view of femininity, but even by 2020's progressive standards, Ugly Betty still feels like something special – a series before its time, gleefully defying convention, braces 'n all.
Join our commenting forum
Join thought-provoking conversations, follow other Independent readers and see their replies