'You're put in Hollywood purgatory': The bittersweet afterlife of sitcom stardom
Becoming famous in a hit comedy means you may never escape being 'Mr Sheffield' or 'Ross's girlfriend from Friends', discovers Adam White, but it also means being endlessly adored, as Erika Alexander, Charles Shaughnessy, and Bonnie Somerville reveal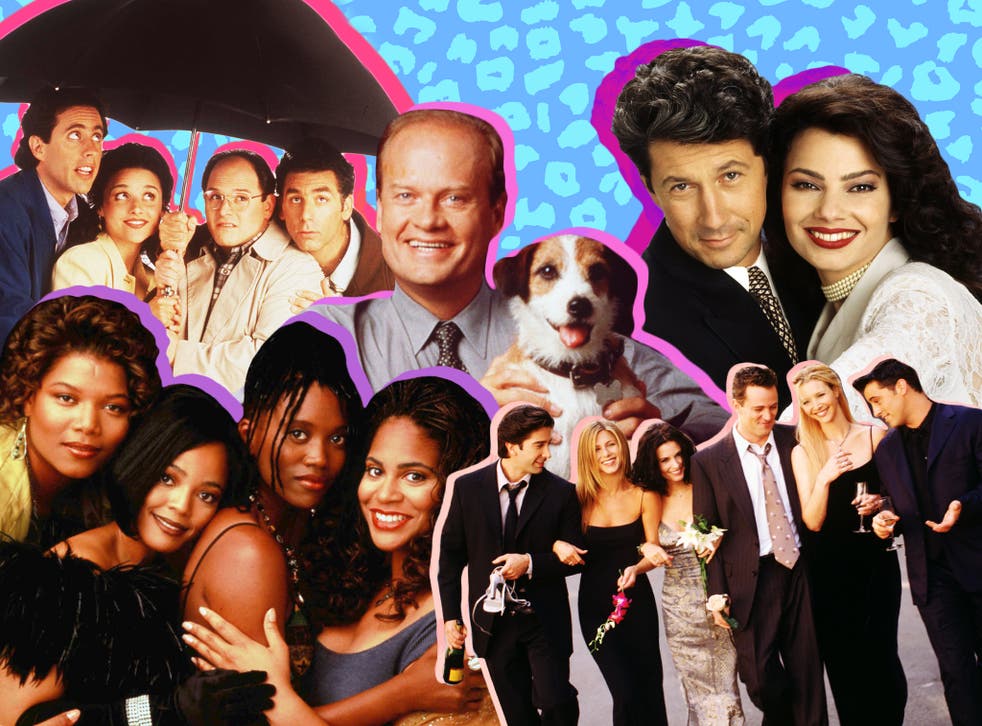 When an actor stars in a successful sitcom, their names tend to change. They become "Daphne from Frasier" rather than Jane Leeves, or Chandler Bing instead of Matthew Perry. "Eric McCormack" might inspire shrugs, but add that he's the actor who played Will on Will & Grace, and your average TV viewer will immediately clock who is being talked about. Sitcoms breed familiarity and comfort but also distance. To have starred in a hit comedy series means it is impossible to be out in public without being recognised and often celebrated. Everything else is far less certain.
"It's like living a dual reality," says the actor, producer and writer Erika Alexander, who found fame in the beloved US sitcom Living Single. "You're in a purgatory in Hollywood, but you're in some sort of rarefied air out in the streets."
In 2013, Alexander was at a Detroit restaurant with the cast and crew of her new TV series when the staff seemed to stop in their tracks. Alexander was a minor player on her new show, a remake of the British crime thriller Low Winter Sun, with a few lines of dialogue each episode. But here, Alexander remembers with a laugh, "it was like Aretha Franklin had walked into the room". Serving staff whispered to one another, and fought over who got to accommodate her. Her fellow cast members had no idea of Alexander's sitcom past. "I was with one of the stars of this show," Alexander recalls. "And she said to me, 'Who are you?' I said: these are my people. I'm 'that girl'. I've done series work for a long time, but I did one series that they really love. And wherever I go, things change. She was like, 'Oh', and I think she had to go google me."
There's a special kind of American sitcom that takes up residence in our souls. Officially, they're called "multi-camera sitcoms", or shows filmed on a soundstage in front of a live audience, which are produced more or less like a live play. Fake laughter is placed on top of in-studio laughter on the soundtrack, and everything is attractively heightened. Shows like Living Single, Friends, Frasier and Seinfeld take place in blissful simulacrums of the real world. Characters occupy too-large living rooms, there are elegant staircases that lead to nowhere, or a single street that everyone seems to walk down. Everything is real, if a little bit askew. They are soothing and wholesome, nostalgic and tender, and fantasies that never feel too fantastical.
To star in one of these sitcoms means to become a figure of similar fantasy. We expect sitcom actors to be just as sunny and beautiful as their characters, we want to dress like them and style our hair like them, and we become attached. It's partly why we're so emotionally invested in what sitcom stars do once their shows end. The Big Bang Theory's Kaley Cuoco spent much of the press tour for her new series, The Flight Attendant, discussing the pressure to follow up such a giant comedy. Entertainment magazines in the Nineties would regularly gossip about the Friends cast and whether they could make it as movie stars. When Seinfeld actors Julia Louis-Dreyfus, Jason Alexander and Michael Richards struggled to immediately follow up their juggernaut of a sitcom with solo vehicles of similar success, media outlets suggested that a "Seinfeld curse" was at play. Those outcomes happen so frequently that it sometimes turns actors off sitcoms all together.
British actor Charles Shaughnessy is best known for playing the wealthy widower Maxwell Sheffield in the Nineties sitcom The Nanny, which was broadcast in the UK on Living TV. Following the death of his wife, he hires a glamorous, working-class nanny (Fran Drescher) to take care of his children, and they slowly fall in love. It remains a slapstick, culture-clash classic, but Shaughnessy was initially uncertain about starring in it.
"I didn't want to do The Nanny," he remembers, from his home in California. "I said, this is going to keep me stuck for the rest of my career. This is a classic sitcom dad, and I will go to the sitcom dad graveyard. I remember saying, well, it better run for at least seven years because I'll never work again. This will be my epitaph because that's what happens to successful sitcoms, and especially sitcom dads. But when we were doing [the first episode], I realised we had a fantastic show. The network got behind it, and after the second season we knew we were on a rocket ride. Gradually all those considerations about how I was going to be typecast [fell away]. It was sort of, 'Oh, well. Let's cross that bridge when it comes.' And when the show ended… indeed, that bridge was there."
Typecasting in the wake of a hit sitcom may be incredibly common, but so are other forms of professional disappointment. Actor, musician and screenwriter Bonnie Somerville always worked after her run on Friends, but on shows that could never break out beyond their small and devoted fanbases. She remains best known for her role as Mona, the long-suffering girlfriend of Ross (David Schwimmer), whom he dated while he was expecting a baby with Rachel (Jennifer Aniston). "They never made me feel like an outsider," Somerville remembers, from home in Los Angeles. "I was only supposed to have three or four lines in one episode, but they liked me and they thought I was funny, so they kept bringing me back. And it was really rewarding because I felt like I did that, you know? I earned that with my abilities."
The aftermath of the show was difficult to navigate, though. Somerville starred in the Anthony Bourdain-inspired comedy Kitchen Confidential with Bradley Cooper, Darren Star's Sex and the City follow-up Cashmere Mafia, and the elevated cop drama Golden Boy, among many other short-lived series bursting with potential. If there was a brilliant American TV show in the past 20 years that was quickly cancelled, Bonnie Somerville was probably in it. By the time she had been let go after one season from a medical drama called Code Black, Somerville had reached breaking point.
Access unlimited streaming of movies and TV shows with Amazon Prime Video Sign up now for a 30-day free trial
Sign up
"I had just turned 40, and it all hit me hard," she recalls. "I got so damn depressed, and I didn't have the career that I thought I was going to have by then. I think for a lot of people in any career, if they've ever struggled with depression or anxiety or any mental health issues, when you fall off the setup that you've made for yourself – it can really be difficult."
Alexander experienced similar struggles in the immediate aftermath of Living Single. She was the comic standout of the series, even while surrounded by a cast of talented comedians – Queen Latifah, Kim Coles and Kim Fields. The show revolved around four independent Black women living together in a Brooklyn apartment building, who balanced burgeoning careers with their erratic love lives. It has been regarded as an often-overlooked precursor to Friends, with even David Schwimmer recently admitting that his show was essentially "white Living Single". After it ended in 1999, the opportunities Alexander had hoped for didn't materialise, and she couldn't understand why.
"Maybe that's why people like sports, because if you run fast, you win," she says. "You break the tape, and you win. But in Hollywood, if you break the tape over and over again, people might pat you on the head and promote the person that comes in sixth. It's the only place that you can have the visual evidence and the data evidence and all those things… and then nothing. You feel like you have a superpower, but nowhere to put it."
Shaughnessy knew that he'd face typecasting once The Nanny was over, so attempted to prevent it early by seeking dramatic roles while the show was still on the air. He'd only ever done drama before he entered the sitcom world, but rapidly became known as a comedy actor once The Nanny became a hit. So he took a role in what he dubs a "sleazebag-of-the-week" television film called A Kiss So Deadly, where he played a perverted father who preys on his daughter's college roommate.
"They were the most horrible TV movies about the most salacious, ghastly people," he remembers. "But this thing came up and I thought, 'Oh, this would be a great counterbalance to Mr Sheffield!' But all it did was confuse the heck out of people. I got fan mail going, 'I couldn't watch it, Mr Sheffield, how could you do that?' And it really didn't do anything to change the perception of me. It was just a moment of bad taste in everyone's mouths that they washed out with Listerine and then I, you know, carried on with Mr Sheffield."
Shaughnessy, like so many actors from classic sitcoms, got stuck in a kind of televisual amber. It's a strange side effect of shows like The Nanny. They end, but only to an extent. Hit sitcoms are endlessly repeated, or turned to in moments of crisis, and it becomes easy to forget that their stars get older and evolve and want to do different things. Streaming services with vast sitcom libraries, and the use of classic sitcoms as comfort TV in the pandemic, has only exacerbated that kind of witchcraft.
"I'm still Mona and now more than ever because of Netflix," Somerville says. "Children that weren't born when I was on the show are fans. And they think of you in that way. It feels great, but… it's not your real life. It's not as glamorous as they think it is, nor is it as lucrative. I'm so grateful and so proud to be a part of Friends, but when people write comments [on Instagram], like, 'Gosh, she got old' – that's awful! Of course I'm not going to look like Mona anymore. I was 27!"
It's a bittersweet scenario that's led Somerville into the podcast space. Her very funny and refreshingly candid series, Second Act, sees her speak to celebrity guests about their own crises of confidence and how they flourished from them. "My favourite stories are second act stories," she explains. "People don't talk as much about them as they should, and I think they can really help people." Alexander, meanwhile, calls herself a "Swiss army knife", or someone who's had to shapeshift into different industries and new vocations, and she's grown to love it. Today she bounces between acting (she was the quizzical detective in Jordan Peele's Get Out), writing comic books (the sci-fi series Concrete Park), producing documentaries (the award-winning John Lewis: Good Trouble) and podcasting (the social justice series Reparations: The Big Payback). "Maybe I'm fulfilling my destiny ultimately," she says.
Plus, even when real life doesn't seem so bright, sitcom stars will always have their own personal back-up bands that show up whenever they're in public – those life-long fans who gasp and cry and tell them how much they mean to them.
"It's like the air changes depending on where the character sits in that person's heart," Alexander explains. "If they love what you did, they go straight to that joy, and they deliver back to you the amount of love you gave them. And it's there forever."
Register for free to continue reading
Registration is a free and easy way to support our truly independent journalism
By registering, you will also enjoy limited access to Premium articles, exclusive newsletters, commenting, and virtual events with our leading journalists
Already have an account? sign in
Register for free to continue reading
Registration is a free and easy way to support our truly independent journalism
By registering, you will also enjoy limited access to Premium articles, exclusive newsletters, commenting, and virtual events with our leading journalists
Already have an account? sign in
Join our new commenting forum
Join thought-provoking conversations, follow other Independent readers and see their replies