The Independent's journalism is supported by our readers. When you purchase through links on our site, we may earn commission.
Game of Thrones season 8: Melisandre return confirmed as fans theorise on character storyline
Quite what the character will be up to remains to be seen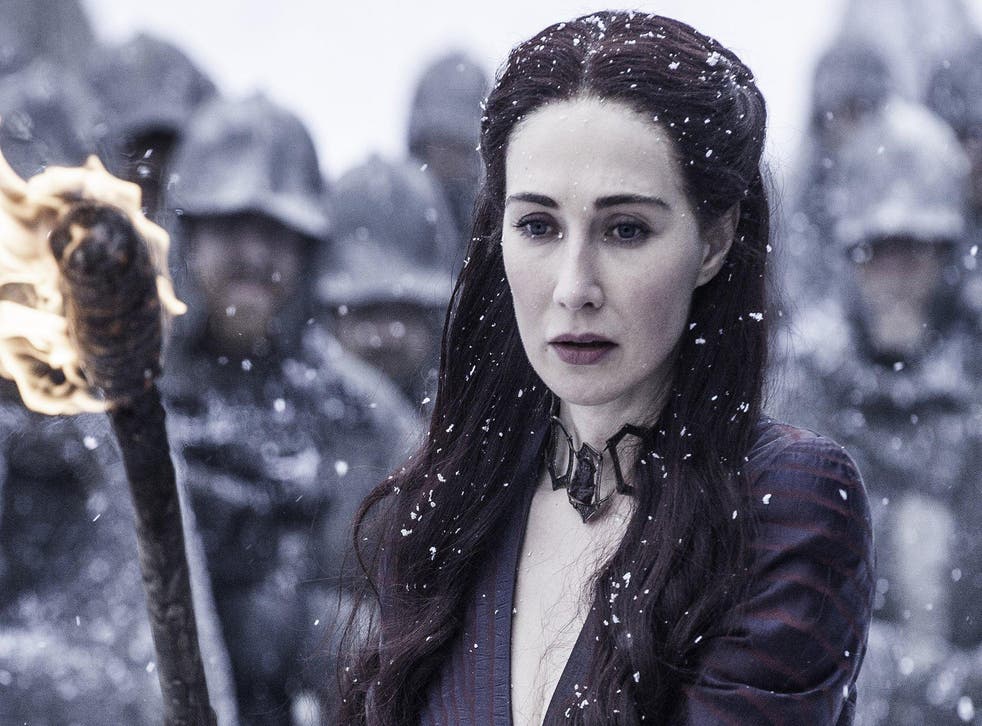 Production on Game of Thrones season 8 is underway with the return of one key character confirmed.
Following a relatively quiet seventh season for the character of Melisandre, it seems Carice van Houten will have a bit more to do when the final season of HBO's fantasy series arrives in 2019.
Quite what the Red Woman will be up to, however, remains to be seen - which hasn't stopped fans from feverishly theorising following a now-deleted Instagram video which provided a few inadvertent clues thanks to the actor's location.
The Simpsons spoof Game of Thrones
The last viewers saw of Melisandre, she was headed to Volantis for an as-of-yet unknown purpose. Season 8 will undoubtedly pick up on her mysterious exchange with Lord Varys (Conleith Hill) in which she foretold the prophecy: "I have to die in this strange country - just like you" - but quite where this will occur is still a secret.
According to Winter Is Coming, keen Redditors who used Google Maps to identify a road sign seen in the deleted Instagram video (yes, really), Houten is based near Linen Mill Studios in Corbet-Banbridge, a place production has used for locations such as Riverrun, Winterfell and the Three-Eyed Raven's cave.
What the Game of Thrones cast look like out of character

Show all 44
Volantis, based in Essos, is the known home of the Lord of Light religion, so it's no real surprise Melisandre is headed there. Intriguingly, the mysterious Golden Company - a collection of 10,000 mercenary sellswords whose services Cersei called upon in - are also based in Essos which could potentially weave Melisandre's conclusion back into the overarching battle for the Iron Thron.
More details when we get them, of course.
Game of Thrones returns to HBO and Sky Atlantic in 2019 and for those in need of a fantasy fix, one Westworld cast member may have just accidentally confirmed when season 2 will hit screens.
Follow Independent Culture on Facebook
Register for free to continue reading
Registration is a free and easy way to support our truly independent journalism
By registering, you will also enjoy limited access to Premium articles, exclusive newsletters, commenting, and virtual events with our leading journalists
Already have an account? sign in
Register for free to continue reading
Registration is a free and easy way to support our truly independent journalism
By registering, you will also enjoy limited access to Premium articles, exclusive newsletters, commenting, and virtual events with our leading journalists
Already have an account? sign in
Join our new commenting forum
Join thought-provoking conversations, follow other Independent readers and see their replies