Mick Jagger and Martin Scorsese's TV drama Vinyl has taken years to come together and is set to be the truest interpretation of the music industry yet
Mick Jagger's idea for a behind-the-scenes drama set in the music industry has been turned into a vibrant new series by Martin Scorsese. They talk to Sarah Hughes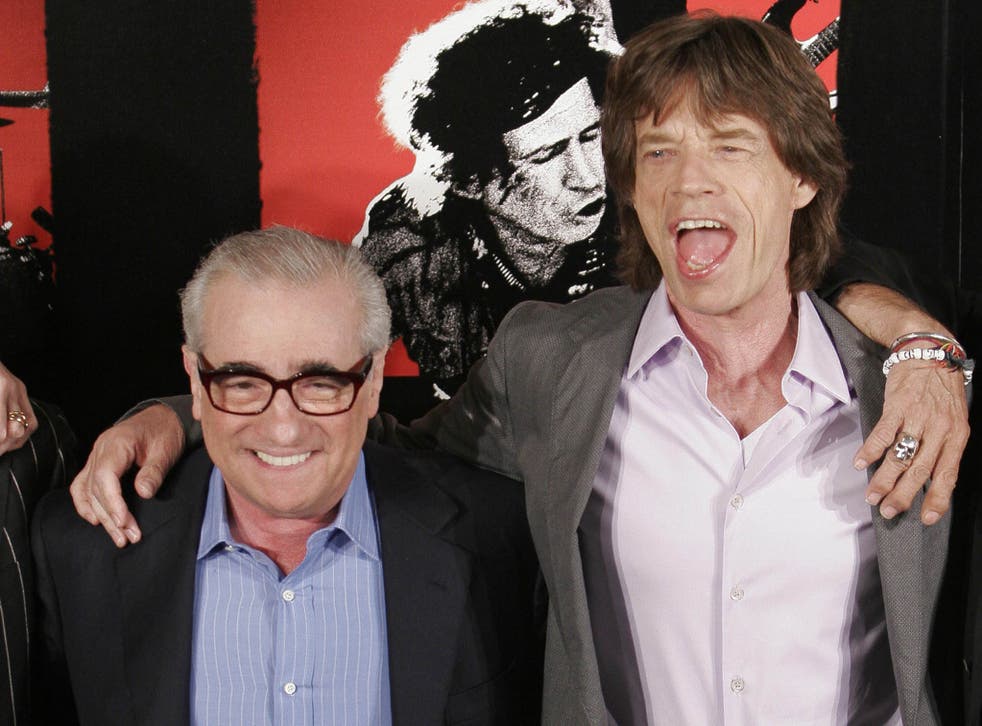 Few television series have been as eagerly anticipated as HBO's latest offering, Vinyl, which is set in the Seventies music industry. The 10-part drama, a passion project of the Rolling Stones frontman Mick Jagger and director Martin Scorsese, arrives on Sky Atlantic next month and will air in the UK one day after its US debut.
For Jagger, it's not a moment too soon. "I've had this idea – about a film set in the music industry – for years," he says. "Then I started working with Marty on a documentary about the Rolling Stones [2008's Shine a Light] and I mentioned it to him and asked him what he thought."
Jagger's original concept was of a film about two friends that spanned more than 40 years and covered the music industry as he has experienced it in both good times and bad: the performances, the songs, the money men, the highs of success and the lows of collapse.
"We developed it and developed it… it was a very sprawling idea," he admits. Eventually, the two men turned to Terence Winter, who worked with Scorsese on his period gangster drama Boardwalk Empire and would go on to write the script for the director's most recent movie, 2013's The Wolf of Wall Street.
Winter started writing a new script, only for the project to all but grind to a halt after the financial crash of 2008. "The studios were no longer willing to commit to something on that scale, so we had to go back to the drawing board," he says. "That was when the idea of making it a TV series came in play."
In 2011, HBO, which had already worked with Scorsese and Winter on Boardwalk Empire, came on board, and casting for the new series, now set in 1973 ("The year in which punk, disco and hip hop all began," says Winter) started in earnest with the announcement that the respected character actor Bobby Cannavale would be playing the lead role of Richie Finestra, a record company boss in the throes of a midlife crisis that has left him on the verge of losing his label, his wife and possibly his life. The fact that it then took a further five years to bring Vinyl to TV screens can be attributed to the show's scale and ambition.
Opening with a two-hour pilot directed by Scorsese, Vinyl doesn't simply aim to recreate the sense of living in New York in the 1970s – it wants you to believe you're actually there. A huge amount of time was dedicated to getting the clothes, music and conversations spot-on. Serious money was spent on the music rights, including a brief snatch of Led Zeppelin that must have cost a fortune (the show's creators declined to say how much).
The tone is very much that of the Seventies movies that made Scorsese's name, rough around the edges and vibrant to view. The director even inserted previously unseen footage from Taxi Driver into a scene in which Finestra drives through New York. It helps to reinforce the sensation that you are watching not a new drama but rather a lost document of a bygone era that has somehow fallen through time.
"It's a project is something that's very close to my heart," Scorsese says. "I've wanted to make it for a long time and I have been heavily involved in the first season, overseeing production, working on the tone and music. I intend to continue to be involved in as [many] of the episodes as possible – and hope to direct a few more."
Access unlimited streaming of movies and TV shows with Amazon Prime Video Sign up now for a 30-day free trial
Sign up
Jagger has been similarly hands-on, sitting in on writers' meetings, suggesting plotlines and sharing stories based on his own long experience of the music business. "We did have a lot of chats about would this work," he says with a laugh.
Oscars: 21 great films that never won Best Picture

Show all 23
"We knew that we wanted to have real people like David Bowie and Led Zeppelin alongside fictional characters, but the question was how to integrate these people – the real people and the fictional people. It was a really interesting thing to discuss: how to make that concept work."
This melding together of actors playing real people with fictional bands and events is one of the fascinating things about the show. In the opening episode, we see Finestra attempt to cajole a young and unimpressed Robert Plant into signing for his label.
We witness Led Zeppelin's manager, Peter Grant, spectacularly lose his rag over the idea of his band becoming part of a German company. We are also treated to brief cameos later in the series from actors playing the late David Bowie and the New York Dolls, the latter performing "Personality Crisis" as a dazed and confused Finestra watches the venue – a welfare hotel in Manhattan's Lower East Side – break up around him in the show's most powerful and hallucinatory scene. Fictionalised appearances from Patti Smith, Lou Reed, Andy Warhol and Alice Cooper are promised later in the series.
"That building collapse did actually happen at the Mercer Arts in 1973. It was the third welfare hotel to collapse that year," says Scorsese. "What I was trying to do was capture that experience when music becomes part of your life. They always say, 'It's in your blood' etcetera, and to me that means you hear it all of the time and you see life around you played to that music in a sense. So I wanted to create something like that where it's not a conventional narrative, but instead the music becomes part of the narrative. It's almost like you're hearing Richie's soundtrack – what he hears in his head whether he wants to hear it or not."
Interspersed with the main storyline, which follows Richie and his motley crew of record company executives and industry insiders, stars and wannabes on their day-to-day lives, are glimpses of that soundtrack: stylised moments when Richie imagines Janis Joplin, Bo Diddley or Otis Redding performing just for him.
It's a heady, occasionally overwhelming, brew anchored by a wonderful central performance from Cannavale as the beleaguered Finestra – both saint and sinner, a man with an ear for music and the brain to take that skill and turn it into cold hard cash, and the most unreliable of narrators in a series full of them.
"Very early on in the pilot, Richie says here's my story clouded by lost brain cells, self-aggrandisement and maybe a little bullshit – that's a definite wink to the audience," says Winter. "We're saying don't get caught up in every little detail of was this record released on such and such a date. It's close to reality but it's also seen through the eyes of a guy who's been on drugs and done a lot of shady things. We are trying to stay as faithful to the real world as possible, but it is sort of my job to make the audience unaware of what's real and what's not real."
Scorsese, Jagger and Winter are all forceful personalities – did that create tension at times? They insist not, although Jagger jokingly notes: "The great thing about making music as opposed to a TV series is that you can do it on your own." He adds: "For me, the thing is that Marty and I meet somewhere in the middle.
Marty is a great connoisseur of music and one of the first people that really used rock 'n' roll wall-to-wall in movies. I have always admired his [soundtracks] and we had worked together before, so we have a kind of shorthand. Plus we have chatted about this project over the years, on and off, so I don't think we found it difficult to communicate about it, even though it appears that we are from different worlds."
Scorsese agrees, saying: "The music that Mick and his group created is basically the inspiration for a lot of the visualisations that I have of scenes throughout my films, particularly Mean Streets or even Raging Bull, all the way up to The Wolf of Wall Street. It's very much a part of my life so it was natural for us at some point to try to do something together."
Keeping it in the Jagger family still further is the rocker's 30-year-old son James, who has one of the main roles as a disaffected singer in a rising punk band, The Nasty Bits. "I didn't really tell him anything about how to perform the part," says Sir Mick, 72. "I encouraged him, made sure he was feeling comfortable about it, talked a bit about the era, the attitudes and so on, but otherwise I kind of left him to his own devices. It's his invention, not mine."
Winter is quick to dismiss suggestions that nepotism may have played a part in the casting of Jagger Jnr. "We wanted someone who was an actual musician with a background in punk. Mick said, 'My son is in a punk band' [he sang in a little-known group named Turbogeist], so Marty met him and he was great. I can't imagine anyone else in the role and hope people judge him for what he is and not because he happens to be Mick's son."
On the basis of the first episode, Jagger Jnr can hold his own, playing the permanently sneering Kip Stevens, although he is almost certainly helped by the fact that most of his scenes are with Juno Temple, who effortlessly steals the show as Jamie Vine, an ambitious A&R (artists and repertoire) executive turned on by the chaos and nihilism of punk.
Indeed, so good is Temple that it is arguable that the show would be stronger if her character were the focus, rather than Cannavale's. For if this intricate, immersive and lovingly conceived series has one flaw, it is that it feels slightly old-fashioned: another drama about angst-ridden, middle-aged anti-heroes at a time when TV's most interesting series, from Transparent to Mr Robot, feature diverse casts and plotlines.
"We made the show we wanted to make and I can only hope that people respond to it," says Winter. "I think if I were young I'd be interested in how punk and hip hop came to be, and what it was like living in that time, but I can't predict their response.
"We were very conscious that we had to be true and faithful to the reality of how hard it was for women in this time – we are much closer to the Mad Men era than we are to 2016, and I think that's important. You know people might say about Juno's character – 'Well, why doesn't she tell that guy off?' The answer is that because if she did she would get fired.
"She can't answer back to anybody, so she is going to sit there and take it and go back to her office and fume or cry or kick the wall, but she can't say anything. That's the reality of the music industry in [the Seventies], and that's what the show depicts."
'Vinyl' begins on Sky Atlantic on 15 February
Join our new commenting forum
Join thought-provoking conversations, follow other Independent readers and see their replies