Better Call Saul creator Peter Gould on the creative concerns of a prequel, season 2 and the mind-numbing realities of the small courts
Gould was the writer behind Saul Goodman, and co-runs Better Call Saul with Vince Gilligan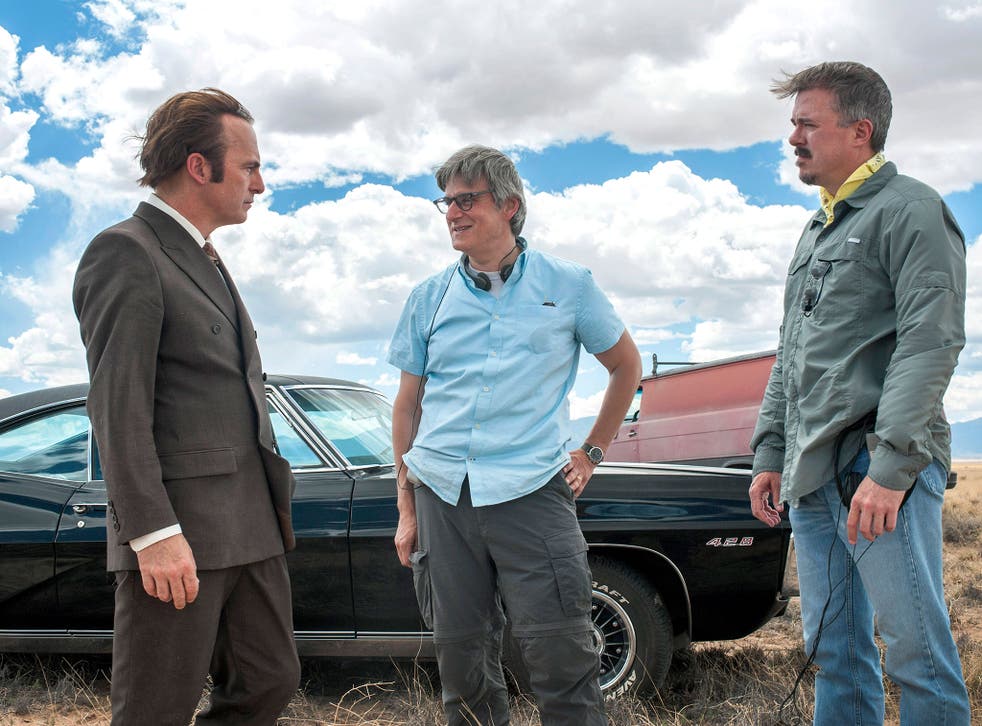 Thanks for talking Peter, I'm sure you've been doing a gruelling amount of press lately.
No problem, the questions so far have been really smart, I actually leave the press interviews and walk into the writers' room with some new ideas based on what I've been asked.
Not too much 'When are you going to bring back Walt and Jesse?' then? That must get annoying.
We get that too but one of the things I find most rewarding is that people are asking, and not just press, they're asking about the characters who are new like the Kettleman, and it's very nice to know that the show's standing on its own two feet in that respect.
Prequels usually tell the story of an ascension to greatness, it must have been a bit of a challenge telling the back story of someone who you know is just going to end up in a medium-sized office in a forecourt?
Haha, well Saul Goodman is an interesting guy on Breaking Bad because he keeps a low profile, but that's in keeping with most of the successful criminals on that show. If you think about Gus Fring, he lives in a relatively modest house and works out of his chicken restaurant, always checking in on customers. So I think our take on it is that the really smart crooks are the ones who blend in, and I think that's probably true of Saul too.
Yeah, I guess if he was set up in a big mansion it would only end badly.
Well, we still might see him there, who knows.
With things like the Kevin Costner call back from Breaking Bad, did you guys go back and re-watch the original show or read the scripts and think 'right, what unexplained moments are there we can kind of mine and open up in the prequel?' Is that how it works?
There is some of that, we have a board in the writers' room where we have posted on 3 x 5 cards some of the characters we'd like to see, originally we started off with a boatload from BB who could potentially appear on BCS and now they've been joined by a lot of new characters like the twin skate rats and other folks.
I wish I could tell you that we all went back and watched Breaking Bad but the advantage that we have is that we're all so familiar with the show and a lot of the writing staff on BCS worked on BB, so in some ways we know it like the palms of our hands. However having said that, every once in a while someone comes in and says 'you know, I was re-watching an episode last night and I saw this and that and it reminded me of this and that', so it's not as systematic as it could be.
We also have a rogue's gallery of all the different criminals who've appeared on both shows and all the facts we know about them, and we pass it back and forth on the table once in a while, it helps make sure we don't overlook any contradictions in the story.
Yeah there must be a bit of pressure in that respect, the fans go into furious detail online.
I think that originally comes from Vince Gilligan's style. Even before anyone was really paying attention to the show, he was so meticulous and this passed down to everyone involved behind the scenes, to the point where we were very careful about props being in the same spot from episode to episode. I remember we had a big discussion on one episode of Breaking Bad where we wanted to change the direction that a door opened in the White House and it caused a huge debate. We ended up doing it - I don't know if anyone spotted it!
Access unlimited streaming of movies and TV shows with Amazon Prime Video Sign up now for a 30-day free trial
Sign up
Everyone tries to watch over the show with great care, but then of course the fans know this, and have the advantage of being on the internet with each other and using frame grabs – so yes there is a little bit of pressure, especially now we're in the age of high definition television, it used to be that you'd get away with stock text on documents but now people can see everything.
Entire news stories have to be written just for newspapers in the corner of shots.
Our writer's assistant actually wrote a very beautiful story about Jimmy's billboard that we used for that very purpose.
I remember Vince saying that he was very deliberate in the choice of Walt's car (Pontiac Aztek), and that it was designed to show his impotence in the colour and the model etc, what was the deal with Jimmy's?
Well red and yellow are Saul's logo colours so it seemed right to find a car and have it this sickly yellow, then Vince was behind a car one day and saw that it had the word 'Esteem' on it. It was this Mitsubishi that was only called Esteem in the US, I don't know what that means, maybe that the manufacturer felt that Americans need esteem, but it just felt right on the money for the character. And then having the one red door just gives it this unique pathos.
The funny thing is it actually drives brilliantly, all those loose fan belt-type noises we have to add in.
That scene in Rico where the Sandpiper lawyers come round to visit Jimmy and Chuck did make me yearn for some banging-fists-on-desks courtroom drama type stuff. It was mostly absent in season 1 but are we likely to see more of it in 2 now Jimmy's sort of renewed his energy?
You might, but I will say that when we started the show you're putting your finger on one of the great concerns that Vince and I had because the ground of law shows has been ploughed so thoroughly. There are so many wonderful law shows in TV history, even now with things like The Good Wife – we've all seen so many courtroom scenes and that caused us to hesitate about moving forward with the show, because neither of us is a lawyer or that knowledgeable about that world, but the conceptual shift that helped us was thinking 'well this isn't really a law show, it's a crime show'.
Also the other thing that really intrigued us was to show how at least in the US a lot of the really serious work goes on outside the courtroom. I was so proud of the sequence in episode 2 which Michelle McLaren directed and I wrote in which Jimmy is dealing with these indigent clients who have no money and who are essentially being defended on the state's dime and to see the details of how he has to negotiate and plead their cases. That may be as close as we get to detailed law for a while.
Yeah I really liked that whole sequence because law shows do tend to glamourise the courtroom, with these slick lawyers and oak benches, but you showed how in somewhere like Albuquerque they're just kind of hot and stuff and full of jurors who don't want to be there.
I love to hear that we spent quite a few days in courtrooms in Los Angeles and one of the things we realised is that everyone's seen the exciting parts of being in court but they don't see the boring parts very often. So we started with the parts that most shows cut out.
Are you working on an estimate for a number of seasons you think it will take to tell this story?
We've been talking about that recently, we do have some ideas but so much of it depends on whether people like the show enough to keep it going and whether we can sustain it.
Ther'e also creative and business considerations with what Sony and AMC and Netflix are willing to write a check for, we're still figuring it out – but I think the upper limit would be what we did on Breaking Bad [5 seasons].
How far are you through writing season 2?
We're just scratching the surface, working on the first few episodes.
Finally, what was the biggest freak out you had along the way in s1, where you weren't sure how a certain thing would work or how it would play out.
That's a good question, I wouldn't call it a freak out but I was very keyed up about how the shift was going to work between Jimmy and Mike. Episode 5 is a very tricky and unusual episode. It starts with Jimmy tangling with the police and dealing with the guy with the talking toilet, but then there's this very heavy sequence in the hospital and then after that it takes this turn and the show sort of hands off to Mike and it becomes very centred on him for one act, and then the entirety of episode 6. I was a little bit anxious about how all those tonal shifts would go over but I think the wonderful thing is that people seem to be open to how the show works and us taking it where it leads us.
Definitely, I think it's one of the biggest appeals of BB and BCS - that it's not necessarily going to unfold like a primetime show. That standalone BB episode 'Fly' for instance was great.
That's a very controversial episode, I know it's some people's least favourite but it might well be my very favourite. The trick is to be as nervous as you want but still go forward with as much boldness and confidence as can be mustered.
Register for free to continue reading
Registration is a free and easy way to support our truly independent journalism
By registering, you will also enjoy limited access to Premium articles, exclusive newsletters, commenting, and virtual events with our leading journalists
Already have an account? sign in
Register for free to continue reading
Registration is a free and easy way to support our truly independent journalism
By registering, you will also enjoy limited access to Premium articles, exclusive newsletters, commenting, and virtual events with our leading journalists
Already have an account? sign in
Join our new commenting forum
Join thought-provoking conversations, follow other Independent readers and see their replies