The Big Benefits Handout: Producers say TV show that gives unemployed people £26,000 lump sum is not 'poverty porn'
'Instead of cutting people's benefits, what if we did the opposite and gave them more money… much more money?'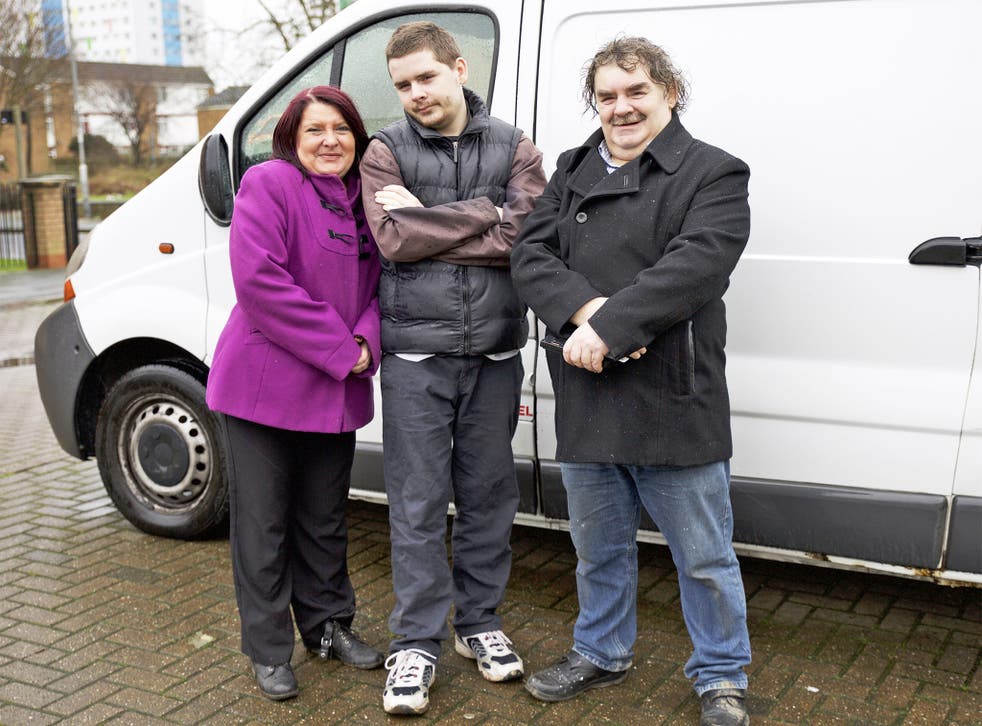 Producers of an extreme television social experiment in which the long-term unemployed are given cash handouts of £26,000 in return for coming off benefits have denied that the project is an exercise in "poverty porn".
The controversial format, involving families from Merseyside and Hull, will be broadcast on Channel 5 next Tuesday and opens with a man arriving on the doorstep of a house with a black briefcase stashed with cash. "Instead of cutting people's benefits, what if we did the opposite," asks the voiceover, "and gave them more money… much more money?" The recipients are then seen throwing £10 notes around and opening bottles of champagne.
The Big Benefits Handout risks reigniting the debate over the exploitative nature of so-called "poverty porn" television, which erupted two years ago with Channel 4's screening of Benefits Street, featuring long-term unemployed families living in the same road in Birmingham.
But the producers of the new show defended the project as an examination of the phenomenon of "unconditional cash transfers", which have been used to combat poverty in India and Uganda by giving people the means to change their circumstances. The approach is being examined in European countries including Switzerland and Finland.
Edwina Silver, head of factual at producer Dragonfly, part of the Endemol Shine Group, admitted the controversial format posed a "massive risk" both for the producers and the participants. "They had many sleepless nights before the money was given to them and we had our hearts in our mouths about what people might do." But she said the programme was inspired by social experiments around the world and that it was time for a more "grown-up debate" on welfare than some previous TV shows had allowed.
The three families – a single mother with three children, a young family of six and an older couple with a 21-year-old son at home – were each given £26,000, the maximum yearly benefit cap for most families, and allowed their bank accounts to be monitored to ensure they were not too profligate.
The families were supported by a team of advisers, including economist Professor Guy Standing, of the University of London, and psychologist Honey Langcaster-James. They were guided by Lee Healey, a financial adviser to those on low incomes, who said he was wary of the format. "I needed reassurance that the guys were not being set up to fail and that this was about giving people a lifeline and helping them to go forward – not setting them up to splurge the money at once so people would say 'That's what I was expecting.'"
Anoushka Roberts, Ms Silver's fellow executive producer on the series, said it was not in the interests of Dragonfly – which makes the hospital-based Channel 4 show One Born Every Minute – to exploit the families. "We make really good factual programming – it would be a stupid move for us to be led into something that was completely tabloid and awful. We thought long and hard about this as a company."
The families in The Big Benefits Handout are filmed over four months as they struggle to throw off the institutionalisation of being drip-fed state aid and take on the responsibilities of paying bills and exploring new ways to earn a living. Previously unaffordable driving lessons and haircuts transform their confidence and opportunities in the job market.
Ms Roberts said the series had been a "positive experience" for all three families. "It has given them the chance to do something different from the life they had on benefits."
Join our new commenting forum
Join thought-provoking conversations, follow other Independent readers and see their replies