'Bring back Jeremy Clarkson': BBC boss Tony Hall reveals he is 'fan' of Top Gear presenter
The director general described the "fracas" between Clarkson and his producer as "serious"
Matilda Battersby
Thursday 12 March 2015 10:26 Comments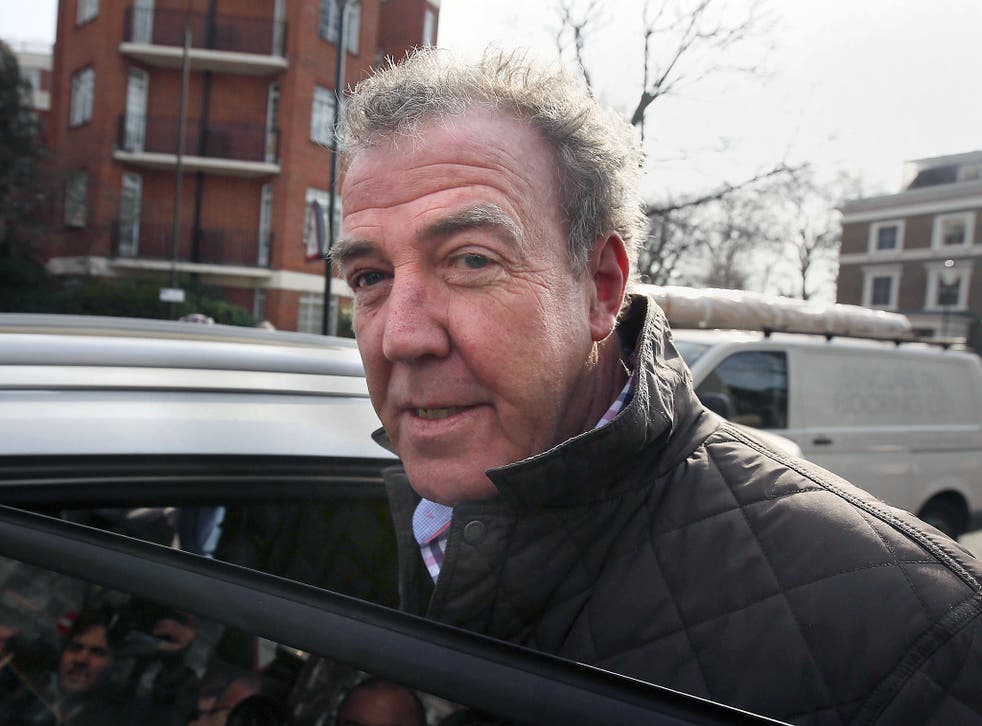 BBC boss Tony Hall has revealed he is still "a fan" of Jeremy Clarkson's despite allegations the Top Gear presenter punched a producer on the show.
The director general described the "fracas" between Clarkson and producer Oisin Tymon as "serious" and said "the most important thing in anything like this is to gather the facts."
Speaking after an appearance at the European Scrutiny Committee Lord Hall said: "We have got an investigation going on… We do not have the facts at the moment.
"I am a fan of Jeremy Clarkson but this is a serious thing that is alleged to have taken place."
Clarkson is alleged to have punched Tymon during a row over the lack of hot food after a day's filming.
Jeremy Clarkson's Top 25 Most Obnoxious Lines

Show all 26
Clarkson reportedly blamed Mr Tymon for not arranging hot food and described the incident as a "scuffle". The hotel's general manager then cooked the meal for the star, sources claimed.
The TV personality denies throwing a punch but is understood to have told friends that that there had been some "handbags and pushing" over the incident.
Clarkson remains suspended from the BBC while an investigation is carried out. The final three episodes of this series have been postponed indefinitely.
A lawyer for Tymon said his client "intends to await the outcome of the BBC investigation and will make no comment until that investigation is complete".
However, there has been a public outcry over the incident with "Bring back Jeremy Clarkson" trending on Twitter and a petition to reinstate him today surpassing 650,000 signatures.
Access unlimited streaming of movies and TV shows with Amazon Prime Video Sign up now for a 30-day free trial
Sign up
The Prime Minister David Cameron – who is a friend of Clarkson's and lives in his Witney constituency in Oxfordshire - has also given the presenter his backing.
Mr Cameron told BBC Midlands Today: "I don't know exactly what happened. He is a constituent of mine, he is a friend of mine, he is a huge talent.
"I see that he said he regrets some of what happened. All I would say - because he is a talent and he does amuse and entertain so many people, including my children who'll be heartbroken if Top Gear is taken off air - I hope this can be sorted out because it is a great programme and he is a great talent."
Asked if the BBC was wrong to suspend him, Mr Cameron said: "I don't know what happened. Every organisation has to be able to be free to manage its talent and to say to people, 'you can do this', or 'you can't do that', so I don't want to interfere in the running of the BBC."
He added: "The Prime Minister has many responsibilities, sadly securing the future of Top Gear isn't one of them."
Former culture secretary Maria Miller described Clarkson as a "legend" and insisted the BBC had to improve the way it dealt with "larger than life characters".
"I think they need to sort this mess out quickly, and not be seen to be punishing the fans," she told BBC Radio 4's World at One.
"It's a fantastic show and I really think the BBC has got an obligation to get this sorted.
"The BBC needs to be better at managing its talent - there are other organisations that have to deal with larger-than-life characters.
Yesterday Clarkson appeared to make light of the situation, telling reporters outside his London home that he was "just off to the job centre".
Asked if his suspension was over a row about food he said "no, no, no" but said "yes" when asked if he had any regrets about what had happened.
There have been intimations that even if Clarkson is cleared of the charges he will leave Top Gear.
His relationship with key BBC executives has sunk so low that he is unsure it can be salvaged, a source close to the presenter told RadioTimes.com.
The Mirror quoted Clarkson, when asked if he was concerned about losing his position at the BBC, as saying: "Well it's coming, isn't it? Honestly, it's very soon. Let's just let sleeping dogs lie for the moment."
It is unclear if Top Gear –a serious global success for the BBC, which could cost the corporation millions in payouts if scrapped – can survive this incident, with or without Clarkson.
Clarkson could walk away from the show when his contract runs out at the end of the month.
All three of the show's hosts were understood to be days away from signing new contracts that would have kept them at the wheel of the show for another three years when Clarkson was suspended.
The BBC owns the rights to the Top Gear brand, which is valued at £50 million, and includes the show, DVD rights and live shows, raising the prospect of Top Gear continuing on the BBC while Clarkson takes a similar show to one of its rivals.
With additional reporting from the Press Association.
Register for free to continue reading
Registration is a free and easy way to support our truly independent journalism
By registering, you will also enjoy limited access to Premium articles, exclusive newsletters, commenting, and virtual events with our leading journalists
Already have an account? sign in
Join our new commenting forum
Join thought-provoking conversations, follow other Independent readers and see their replies