Could Piers Morgan be the new Larry King?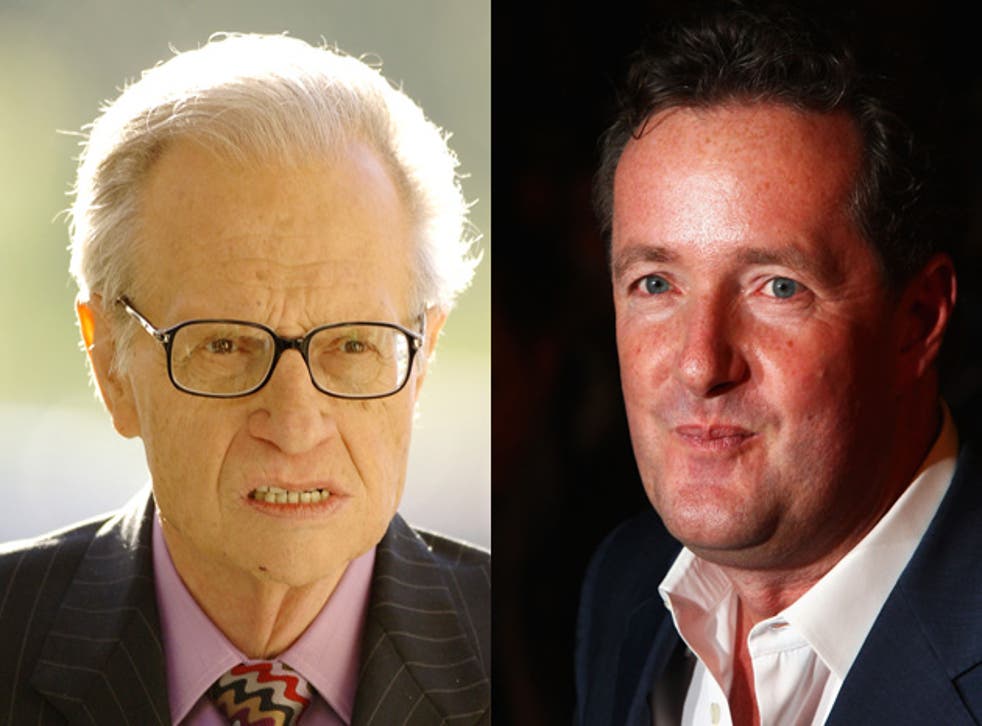 CNN, the US news network that styles itself "The Worldwide Leader in News", has reportedly offered Piers Morgan, the Britain's Got Talent panellist, a £10m contract to replace Larry King as the host of its flagship interview show.
For the former editor of the Daily Mirror, such an appointment would signify redemption, and a riposte to critics who said his reputation was in ruins, after he was fired from the newspaper in 2004 for publishing doctored photographs purporting to show the torture of Iraqi prisoners by British troops.
And for the stars of British reality television, who appear intent on conquering the highest peaks of American broadcasting, Morgan, with his own nightly show, would represent a new plateau. His television mentor, Simon Cowell, is already the highest-earner in American prime-time, thanks to his work on American Idol and as the creator of America's Got Talent, the show which has made Morgan familiar to audiences in the US. Cat Deeley, the host of So You Think You Can Dance, recently guest presented ABC's morning show.
Morgan would not be the first Briton to land an American chat show. The David Frost Show was broadcast on CBS in the early Seventies and Glasgow's Craig Ferguson currently fronts The Late Late Show with Craig Ferguson on the same network.
It would be remarkable, nonetheless, if Morgan was to replace King who, with his heavy spectacles and trademark red "suspenders", is one of the most recognisable figures in American broadcasting, a bonafide heavyweight who has conducted 40,000 interviews with guests including Frank Sinatra, Audrey Hepburn, Ronald Reagan and Richard Nixon.
The Briton, who led the Daily Mirror's anti-war coverage of the second Gulf campaign and was frogmarched out of the building by security guards after American shareholders voiced concern over his editing, could become the star of the schedule of a global broadcaster that made its name through its stunning live broadcasts from Baghdad during the first Gulf conflict.
CNN has been the subject of a series of negative stories in recent months as it has been consistently beaten in the ratings by more politically partisan rivals, such as Rupert Murdoch's Fox. Although the channel remains profitable, its schedule is seen as in need of an overhaul.
Speculation that Morgan was to join CNN began with a report in the New York Post, which reported that the channel was not intending to renew the contract of King, 76, when it runs out next year. King's audience has fallen by 43 per cent over the past year. Morgan was said to be in talks with the broadcaster. Yesterday British newspapers enthusiastically embraced the idea, claiming that Morgan was being offered somewhere between £5.5m and £10m. The American Huffington Post website was more circumspect, rating Morgan as only one of half a dozen contenders for the role. CNN last night refused to comment.
On programmes such as Piers Morgan's Life Stories, where the presenter's interviewees have included Gordon Brown and Katie Price, Morgan has shown that he can tackle a breadth of subject matter which is reported to have impressed CNN executives.
Access unlimited streaming of movies and TV shows with Amazon Prime Video Sign up now for a 30-day free trial
Sign up
Tim Miller, creative director of ITV Studios, which makes the programme, said Morgan combined the instincts of a tabloid journalist with an ability to draw out the "unfolding drama" of a television interview. "He has the ability to ask the outrageous question which, if it came out of the mouth of somebody else, might not work," he said. "He gets away with it because he has this cheeky demeanour which puts people at their ease. But he insists on getting an answer to his question."
Register for free to continue reading
Registration is a free and easy way to support our truly independent journalism
By registering, you will also enjoy limited access to Premium articles, exclusive newsletters, commenting, and virtual events with our leading journalists
Already have an account? sign in
Register for free to continue reading
Registration is a free and easy way to support our truly independent journalism
By registering, you will also enjoy limited access to Premium articles, exclusive newsletters, commenting, and virtual events with our leading journalists
Already have an account? sign in
Join our new commenting forum
Join thought-provoking conversations, follow other Independent readers and see their replies