Donald Trump Jr. tries to call out Jimmy Kimmel over Harvey Weinstein on Twitter, gets skewered for his own hypocrisy
'You mean that big story from the failing, liberal, one-sided New York Times?'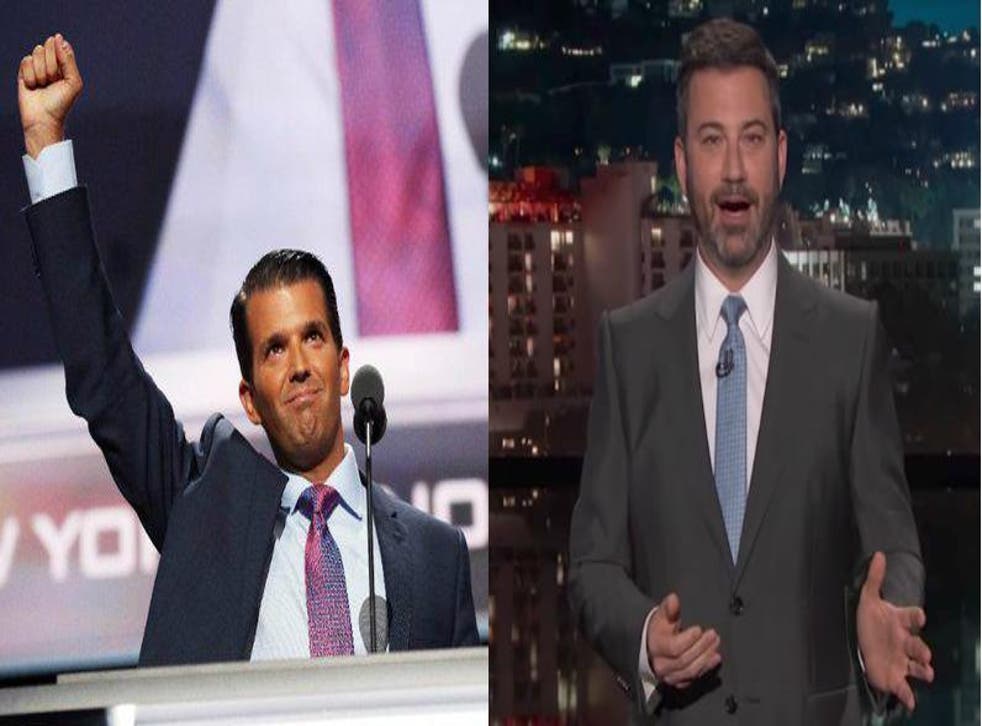 Donald Trump Jr. attempted to embarrass Jimmy Kimmel on Twitter over the weekend for his supposed silence over the allegations against Hollywood mogul and liberal campaigner Harvey Weinstein.
Quoting Kimmel's response to his father's tweet about late-night hosts' "anti-Trump" material, Donald Jr. brought up the claims, but perhaps forgot that they came from a publication his family usually dismisses as "fake news":
Following Kimmel's clear denouncement of Weinstein's alleged actions, Donald Jr. attempted to recover by suggesting that Kimmel wasn't brave enough to cover the matter in one of his opening monologues, Kimmel refuting this and refreshing him on another historic case of misogyny:
Jimmy Kimmel cries about mass shooting in Las Vegas
Following the criticism from some conservatives, Kimmel and other late night hosts will almost certainly cover Weinstein on their shows/in their monologues this week, who was fired from the company he co-founded - The Weinstein Company - its board of directors announced on Sunday.
In a statement, the company said: "In light of new information about misconduct by Harvey Weinstein that has emerged in the past few days, the directors of The Weinstein Company – Robert Weinstein, Lance Maerov, Richard Koenigsberg and Tarak Ben Ammar – have determined, and have informed Harvey Weinstein, that his employment with The Weinstein Company is terminated, effective immediately."
In his own statement responding to the New York Times story, Weinstein insisted he is working on becoming a "better human being".
Register for free to continue reading
Registration is a free and easy way to support our truly independent journalism
By registering, you will also enjoy limited access to Premium articles, exclusive newsletters, commenting, and virtual events with our leading journalists
Already have an account? sign in
Register for free to continue reading
Registration is a free and easy way to support our truly independent journalism
By registering, you will also enjoy limited access to Premium articles, exclusive newsletters, commenting, and virtual events with our leading journalists
Already have an account? sign in
Join our new commenting forum
Join thought-provoking conversations, follow other Independent readers and see their replies