Game of Thrones movie: George RR Martin dismisses 'nonsense' rumours but does still like the idea
​Martin is still writing sixth book The Winds of Winter but admits the idea of a film is 'powerfully attractive'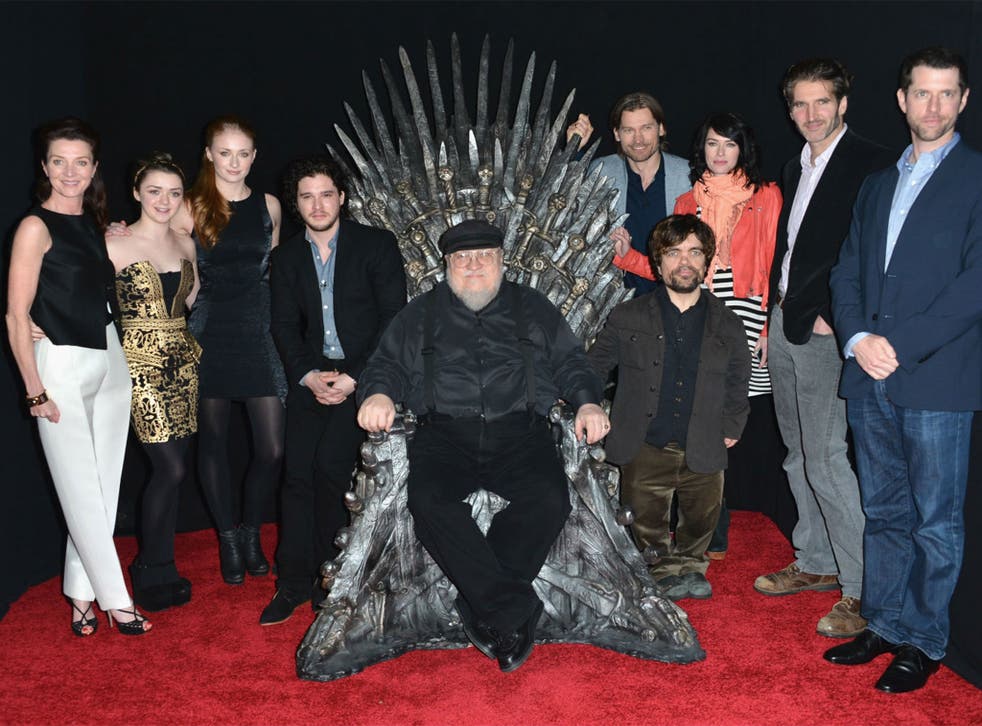 Sadly, Westeros will not be heading to a cinema near you anytime soon after all. George RR Martin has confirmed that latest rumours of a Game of Thrones movie are "nonsense", despite finding the idea "powerfully attractive".
The popular author felt compelled to pen a blog post on the topic after speculation began swirling following comments he reportedly made at a post-Emmys party.
Martin was quoted by The Daily Star on Sunday as saying that a film is in the works, but he will not be involved as he has "too much to do". "The pressure is on. I am such a slow writer and the fans get upset that I don't write faster," he allegedly said, with the article also including claims from an insider who said the big screen version will be a prequel featuring dead characters.
Sadly, it seems these quotes were either false or taken out of context, and Martin has expressed his annoyance at being "bombarded" with questions from fans.
"Nothing has changed. The idea of ending Game of Thrones with one of more major feature films was first floated, oh, three or four years ago," he wrote online. "Let me say once again: this was not my idea. I did say that I liked the idea. Of course I liked the idea.
"This was back in the early days where we couldn't even afford to shoot the Battle of the Green Fork and had to knock Tyrion unconscious instead. The idea of big blockbuster movies with a Lord of the Rings-sized budget was powerfully attractive."
Martin added that the possibility of finishing with a movie was hugely tempting for "actors, directors, producers, writers" as it would be "a great way to end", but insisted that there is no new information to share and it might well never happen.
"There is great enthusiasm for the notion, sure, but not necessarily from [US network] HBO," he said. "They are in the TV business, not the feature film business, and those of you with long memories may recall all the rumours about a Sopranos movie, a Rome movie, a Deadwood movie, Rumours is all they were, and that's all this one is too, at least for now."
Game of Thrones' Peter Dinklage Wins Outstanding Supporting Actor in a Drama Series
Readers' favourite lines from Game of Thrones

Show all 10
Michael Lombardo, HBO's president of programming, believes ending the series with a film would be "changing the rules". "When you start a series with our subscribers, the promise is that for your HBO fee we're going to take you to the end of this," he said. "I feel that on some level [a movie] would be changing the rules: Now you have to pay $16 to see how your show ends."
Martin closed his decidedly peeved post by revealing that he is still writing sixth book The Winds of Winter, meaning reports of him finally having finished it are also just rumours. The long wait continues…
Game of Thrones is expected to return in spring 2016.
Register for free to continue reading
Registration is a free and easy way to support our truly independent journalism
By registering, you will also enjoy limited access to Premium articles, exclusive newsletters, commenting, and virtual events with our leading journalists
Already have an account? sign in
Register for free to continue reading
Registration is a free and easy way to support our truly independent journalism
By registering, you will also enjoy limited access to Premium articles, exclusive newsletters, commenting, and virtual events with our leading journalists
Already have an account? sign in
Join our new commenting forum
Join thought-provoking conversations, follow other Independent readers and see their replies