Game of Thrones season 6 spoilers: Fake corpses litter set for bloodbath battle
Soldiers on both sides will fall
Christopher Hooton
Tuesday 03 November 2015 16:33 Comments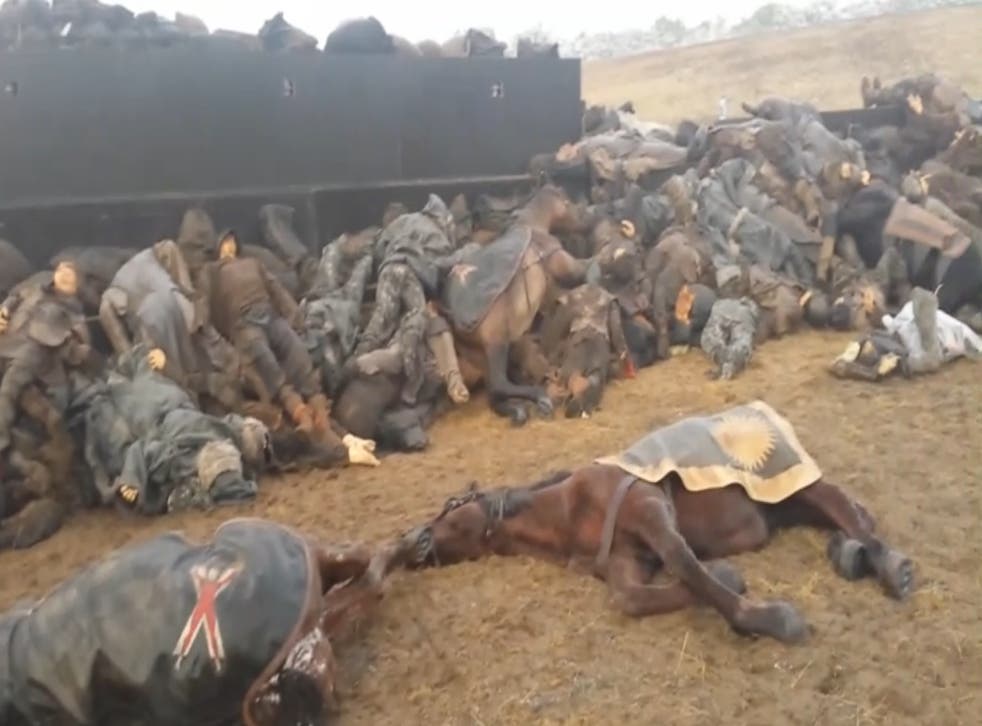 Last month, we learnt that a major scene being referred to as 'the battle of the six armies' was being filmed at Game of Thrones Northern Ireland base.
It could (and a lot of assumptions are being made here), see Jon Snow rally those loyal to the Starks and allied houses to take on the villainous Boltons, with sigils for various houses being spotted on set.
Now a few more images from shooting have emerged thanks to Watchers on the Wall, teasing the scale of the battle.
Fake dead horses belonging to houses Umber, Bolton and Karstack were spotted, along with piles and piles of fake bodies doubling as dead soldiers from both sides of the fight.
The Mormonts and possibly Hornwoods are also thought to be at the battle, along with Jon's sister Sansa, presenting the possibility of a reunion for the separated siblings.
A giant was also seen and apparently 'the battle will have real casualties and we'll be saying goodbye to some characters'.
Game of Thrones' season 6 release date might now be delayed until May, when the HBO show taking its Sunday night slot, Vinyl, finishes.
Register for free to continue reading
Registration is a free and easy way to support our truly independent journalism
By registering, you will also enjoy limited access to Premium articles, exclusive newsletters, commenting, and virtual events with our leading journalists
Already have an account? sign in
Join our new commenting forum
Join thought-provoking conversations, follow other Independent readers and see their replies