Game of Thrones season 6: Fans think they've worked out why Hodor (Wylis) has lost the ability to speak
Was he once a Warg?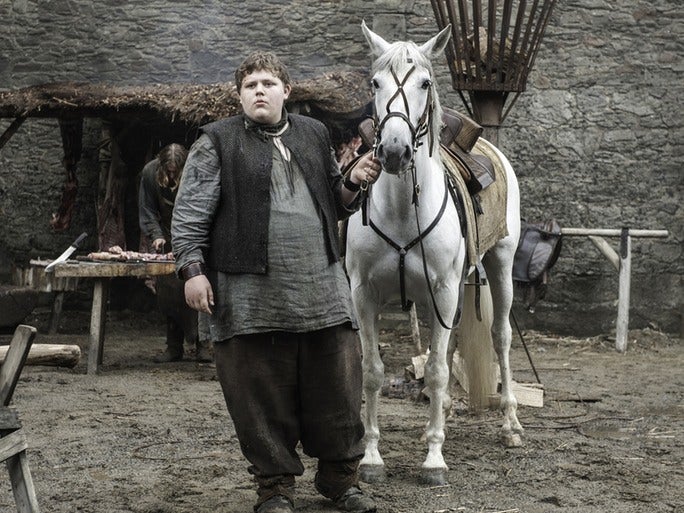 While Jon Snow's revelation may have stolen the show, there were a few other major talking points from the latest episode of Game of Thrones, one of which centres on the lovable Hodor.
The gentle giant has only ever said his own name on the show, but in the episode 'Home' we saw a young Hodor - or as we now know him, Wylis - talk quite elegantly in Bran's Winterfell flashback.
Since the episode aired, fans have been ways in which Wylis may have turned into the Hodor we know and love today. A bunch of Reddit users believe they may have the answer (and it is not that he got kicked in the head by a horse).
In 'Home', we see Ned's sister Lyanna enter Winterfell riding a white horse, with the Stark boys telling her to "stop showing off". She then gives Wylis a pep talk before he goes in to fight Benjen Stark, all before 'Old Nan' comes in and drags the stable boy away.
Before we go any further, it should be established that many fans believe that Wylis was, at one time, a Warg like Bran, able to control animals.
The main evidence for this is limited but there are hints throughout the show, such as the Three-Eyed Raven noting how he has been watching Bran, Meera and Hodor all their lives (perhaps he also had visions like Bran?).
"I'm thinking that Wylis went far beyond the limits of Warging which may have mentally damaged him and turned him into Hodor," notes user TazoGreenTea. "I remember Jojen Reed warning Bran not to Warg for too long or else he'll be trapped and forget he's human."
With Wylis being a stable boy, chances are he would Warg into an animal he knows closely, for instance, a horse. Redditor gbinasia theorises how Lyanna, as we've seen, is kind to Wylis, helping him out in a fight against Benjen.
Hodor's best quotes
Show all 8
It follows that perhaps the young Wylis spent a lot of time Warged into her horse, helping her become the expert rider she's said to be. There are two theories as to how this may have led Wylis becoming Hodor: either, the horse was killed in battle while he was Warged, or he spent too much time as the horse his mind never fully returned to his body.
Access unlimited streaming of movies and TV shows with Amazon Prime Video
Sign up now for a 30-day free trial
Sign up
Access unlimited streaming of movies and TV shows with Amazon Prime Video
Sign up now for a 30-day free trial
Sign up
This would also help explain two things about Hodor: why he is so comfortable holding Bran on his back (riding him like a horse) and why Bran is able to Warg into him (because his mind is that of a horse). If the horse was called Hodor, that would also explain why he can only ever say the name Hodor.
It's slightly bonkers, but it could work, right? In other theories, fans believe they may know who will end up murdering Cersei while others think they've cracked Melisandre's real identity.
5 things we learned in GoT S06E02
Game of Thrones returns next Monday on Sky Atlantic.
Join our commenting forum
Join thought-provoking conversations, follow other Independent readers and see their replies