Hodor death was the second of three 'holy sh*t' Game of Thrones moments George RR Martin told the showrunners
The last one will come in the finale
Christopher Hooton
Wednesday 25 May 2016 09:25 Comments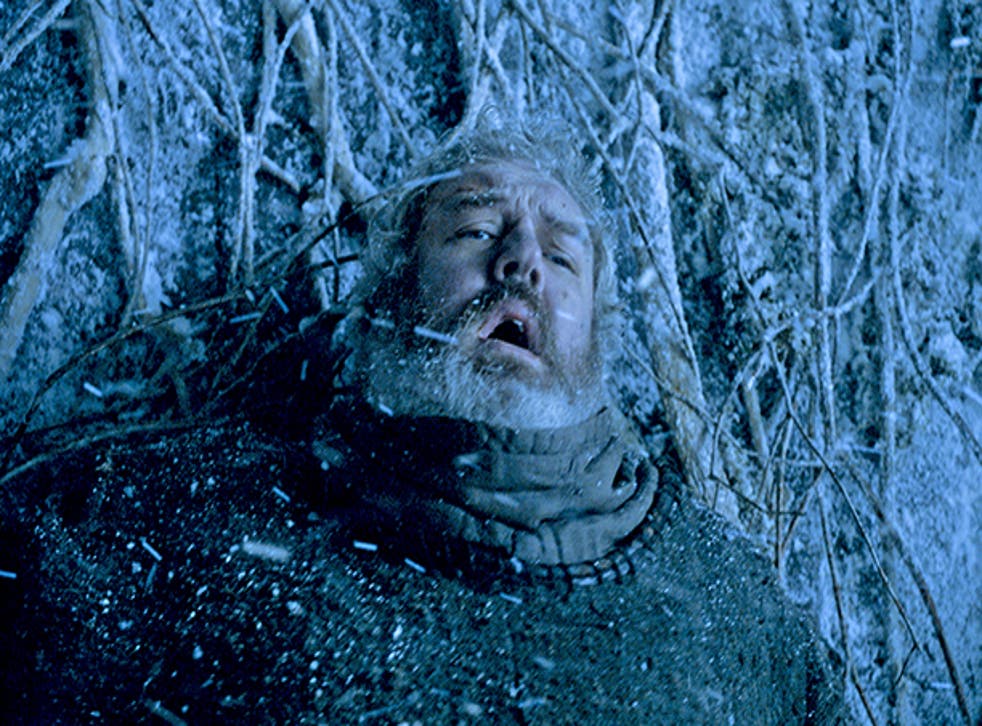 With as few as 13 episodes to go after season 6, Game of Thrones apparently still has at least one major twist up its sleeve.
Showrunners David Benioff and Dan Weiss sat down with George R. R. Martin in Santa Fe a couple of years ago to learn how the author plans to end his saga and flesh out a plan for the show.
He apparently shared with them what they described as "three holy shit moments", which were, as per Entertainment Weekly:
'The first: Stannis Baratheon sacrificing his daughter Shireen – which was shown during the show's fifth season.
'The second: Hodor's mind-bending origin story, which was revealed in Sunday's hour. Martin has known the true meaning behind Hodor's name since introducing the character in the first novel of the saga, A Game of Thrones.
'The third: "… is from the very end…," Benioff teased.'
A couple of things immediately jump out at me about this.
The House Sigils in Game of Thrones

Show all 36
1) Benioff and Weiss didn't consider Jon Snow dying and coming back to life a "holy shit moment"?!
2) It suggests we will get a climactic, shocking ending to the show. I always imagined Game of Thrones might end intentionally uneventfully, highlighting the way empires rise and fall and nothing really changes in the grand scheme of things, but this moment at the "very end" suggests otherwise.
Then again, I'm sure the showrunners are keeping their cards very close to their chest with this, as the cast have.
"Kit Harington is a brilliant liar," Tormund Giantsbane actor Kristofer Hivju said this week. "He made a huge drama, he even had a speech and said like, "I'm so grateful to be on this show" and "nice to work with you all." And Maisie [Williams] one night, she went up to him and she took him by the ears and she looked him deeply into the eyes and she said, "Is it true? Are you dead?" And with tears in his eyes he said, "Yes Maisie. I'm sorry, but I am dead. I'm not coming back."
"So he was a brilliant liar to all of us. He really kept that. But of course when we read the script for this season we all knew what was going to happen. Then we had the shared lie."
Register for free to continue reading
Registration is a free and easy way to support our truly independent journalism
By registering, you will also enjoy limited access to Premium articles, exclusive newsletters, commenting, and virtual events with our leading journalists
Already have an account? sign in
Join our new commenting forum
Join thought-provoking conversations, follow other Independent readers and see their replies