Cheer stars Gabi Butler and La'Darius Marshall break silence after Jerry Harris child porn arrest
'I feel as though I have had the wind knocked out of me,' said Marshall, who shared a room with Harris
Ellie Harrison
Saturday 19 September 2020 12:50 Comments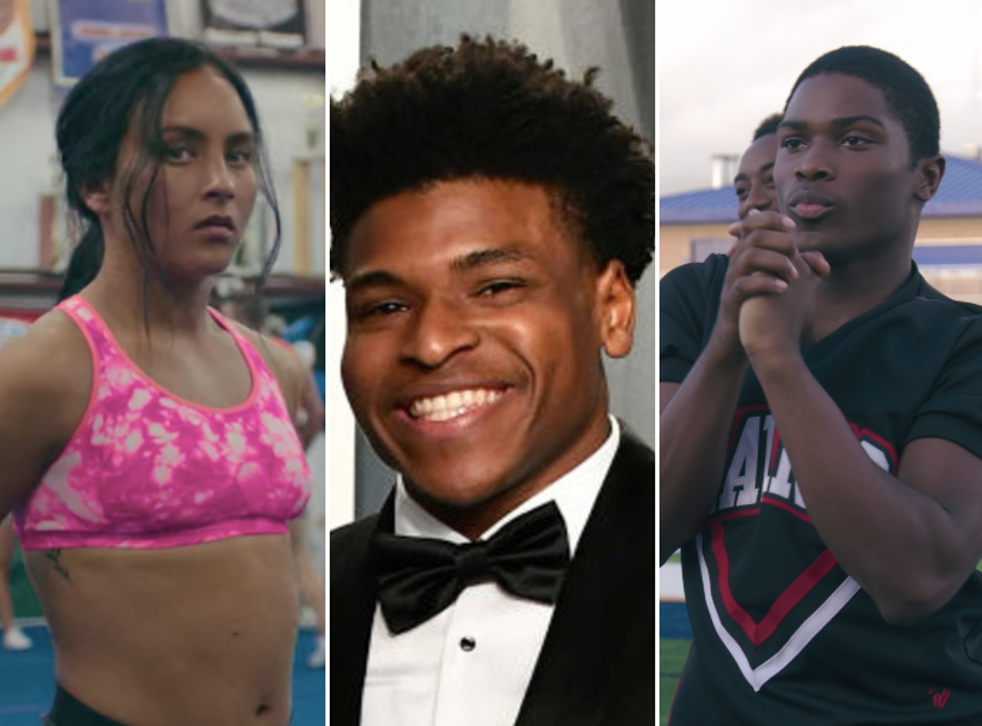 Cheer stars Gabi Butler and La'Darius Marshall have expressed their shock after their teammate Jerry Harris was arrested and charged for producing child pornography.
Harris allegedly asked a 13-year-old boy to produce sexually explicit videos and photos of himself, the US attorney's office said.
According to court records, Harris, 21, admitted to soliciting and receiving explicit images from the minor, but a spokesperson for the star has denied the allegations.
The minimum sentence for production of child pornography in the US is 15 years in prison. The maximum is 30 years.
Marshall, who was a close friend of Harris's and shared a room with him at college, posted a statement in response to the "gut-wrenching" news.
"I feel as though I have had the wind knocked out of me," he said. "As a victim of sexual abuse as a child, I know all too well the pain of experiencing this type of abuse and the difficulties it can create for life after such trauma. My heart goes out to all who may be affected by this behaviour from adults. It is wrong and should never happen to a child."
He added: "To any adult who may be feeling tempted to approach a child in a sexual way, please seek major psychological help. This type of behaviour only ruins lives and damages everyone around you. This will not be acceptable behaviour now or later in the future. We must do better. We must protect our children. I pray for healing for everyone involved."
Butler, who also starred on the Netflix show as part of the Navarro Cheer squad, said: "Like most of you, I am shocked, dismayed and deeply saddened by the recent news concerning my friend and former teammate Jerry Harris."
She continued: "Ever since I heard the news I have gone back and forth between sobbing uncontrollably and trying to wrap my head around why something like this could happen. To be clear, although I have been a close friend and teammate with Jerry, I was never aware of anything like what he has been accused of taking place."
Access unlimited streaming of movies and TV shows with Amazon Prime Video Sign up now for a 30-day free trial
Sign up
Their messages come after their cheerleading coach, Monica Aldama, said her "heart shattered into a million pieces" when she heard the news. 
Cheer is six-part docuseries on Netflix that follows a nationally ranked cheerleading team. It was a huge hit when it came out in January this year and Harris was a fan favourite thanks to his encouraging "mat-talk" and positive demeanour.
After the series was released, he was invited onto The Ellen DeGeneres Show and he interviewed celebrities on the Oscars red carpet.
Cheer has just won two Emmys and is up for a third in the Outstanding Unstructured Reality Programme category.
Register for free to continue reading
Registration is a free and easy way to support our truly independent journalism
By registering, you will also enjoy limited access to Premium articles, exclusive newsletters, commenting, and virtual events with our leading journalists
Already have an account? sign in
Join our new commenting forum
Join thought-provoking conversations, follow other Independent readers and see their replies