Jon Stewart appears at Dave Chappelle show to address Donald Trump: 'Everybody who is a Nazi likes him'
'People keep saying to me, like how did this happen? How did we elect Donald Trump president of the United States? And my feeling is, have you met us?'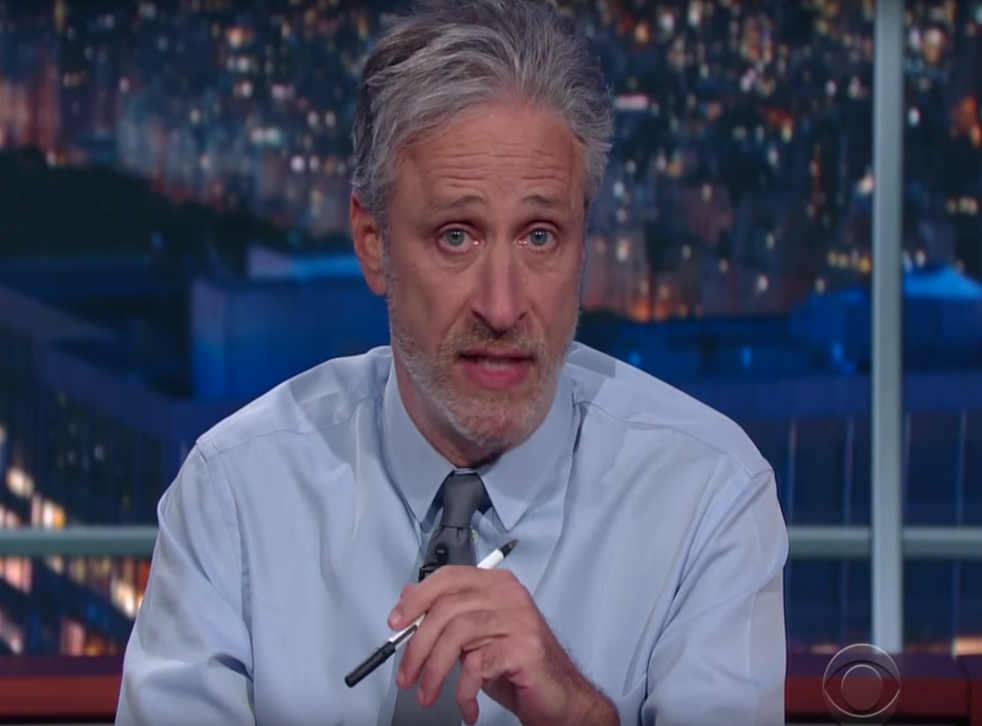 Jon Stewart made a surprise appearance at one of Dave Chappelle's Radio City Music Hall Shows where he shared his views on Donald Trump and Charlottesville.
The former The Daily Show host made good use of his platform, going after Trump's comments on the white supremacists at the rally in Virginia, and recalling the time the then-business mogul seemed very keen to tell his followers about Stewart being Jewish.
Sopan Deb, culture reporter for the New York Times transcribed Stewarts remarks from the show and shared them on Twitter.
"...What Dave has put together here with music and words and art is a power that can extinguish a Tiki torch," Stewart said, referencing the white supremacist rally in Charlottesville.
He went after Trump's comment where the US President suggested that there were "many sides" to the violence in Virigina.
Jon Stewart appears on Stephen Colbert's show to deliver a message to the media about Donald Trump
"There are two sides? Motherf***er? Two sides! I believe they are called the Allied powers and the Axis powers, and we used to be with the Allied powers.
"This motherf***er signed a treaty that I don't think any of us know about."
Violence on the streets of Charlottesville

Show all 9
Stewart also retold an anti-Semitic interaction he had with Trump four years ago, when he published a tweet questioning why Stewart had changed his name.
"Basically, saying to people, 'Just so you know, he's a Jew,'" Stewart said. His response was to tweet "Did you know Donald Trump's real name is F***face Von Clownstick?"
"The point is—people keep saying to me, like how did this happen? How did we elect Donald Trump president of the United States?," Stewart said. "And my feeling is, have you met us?"
Stewart also took some time to mock white supremacists: "If you think you're the master race, how come we're all kicking your ass so easily?" he said.
"Why aren't the Olympics dominated by you? What do you still have left? Golf and tennis? Maybe, maybe. And even then, the first black people you came across, you're like: 'We can't play this game anymore.' Williams sisters, Tiger Woods."
Perhaps the most affecting moment of the show was when Stewart spoke about Barack Obama.
"We're some dumb motherf***ers sometimes. Here's the real truth. It's not a surprise in the United States of America that we elected Donald Trump president.
"The truth is it's a surprise that we ever elected Barack Obama president of the United States. Because that is where we rose above our history," he said.
Register for free to continue reading
Registration is a free and easy way to support our truly independent journalism
By registering, you will also enjoy limited access to Premium articles, exclusive newsletters, commenting, and virtual events with our leading journalists
Already have an account? sign in
Register for free to continue reading
Registration is a free and easy way to support our truly independent journalism
By registering, you will also enjoy limited access to Premium articles, exclusive newsletters, commenting, and virtual events with our leading journalists
Already have an account? sign in
Join our new commenting forum
Join thought-provoking conversations, follow other Independent readers and see their replies