Ku Klux Klan series cancelled by A&E after discovery of 'cash payment' violations
The series sparked national criticism stemming from concerns that it would normalise white supremacy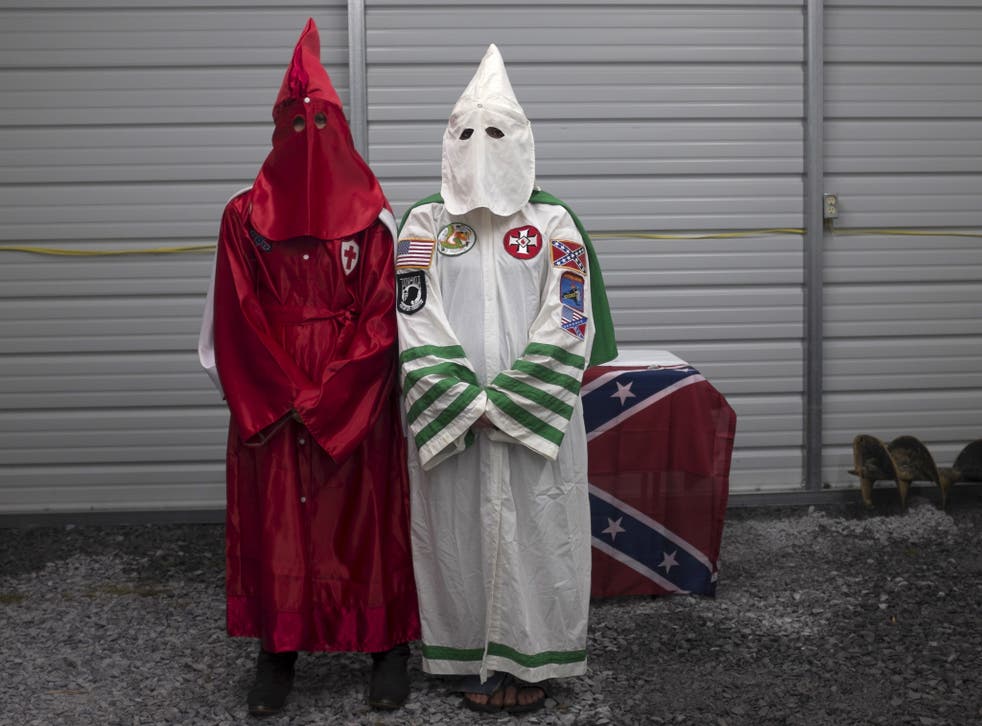 A&E cancelled a new documentary series that chronicled the lives of people tied to the Ku Klux Klan white supremacist organisation.
The network discovered that producers for the programme, "Escaping the KKK", had paid some subjects involved in the eight-part series, going against network policy.
The series sparked a national uproar in the aftermath of the election of Donald Trump – which has galvanised white supremacist organisations like the KKK and other neo-Nazi groups. Civil rights advocates were concerned that the series, originally titled "Generation KKK", would glorify and normalise white supremacy.
A spokesperson told Variety that the "cash payments … were made in the field to some participants in order to facilitate access.
"While we stand behind the intent of the series and the seriousness of the content," a statement read, "these payments are a direct violation of A&E's policies and practises for a documentary."
"We had previously provided assurances to the publican and to our core partners – including the Anti-Defamation League and Colour of Change – that no payment was made to hate group members, and we believed that was to be the case at the time," they added. "We have now decided not to move forward with airing this project."
The cancellation comes shortly after A&E announced the change of the series title amid the widespread criticism from activists and high profile entertainment figures. The network also assured viewers that the series was a documentary and not a reality show, and was critical of the white supremacist group.
Wendell Pierce, who starred in The Wire and Selma, initially called for a boycott of the network.
"There should be an immediate boycott of A&E and all of its sponsors as they normalise the KKK with a reality series. Abhorrent," he tweeted.
America unmasked: The images that reveal the Ku Klux Klan is alive and kicking

Show all 11
Grey's Anatomy star Ellen Pompeo also rebuked the network for their decision to run the show.
"So I guess A&E stands for … we will try to put Anything and Everything on TV," she tweeted, "because we are a bunch of desperate, pathetic TV execs."
Access unlimited streaming of movies and TV shows with Amazon Prime Video Sign up now for a 30-day free trial
Sign up
The network made an assurance that they would continue to delve into the deep-seated problems with racism and hatred in the US through their programming.
"Just because this particular show goes away, the issues of hate in America do not," they said. "We will still seek to fight hate in America through on-air programming, including town halls and documentary programmes produced in partnerships with civil rights organisations…"
"[We will] continue to work with the civil rights community to facilitate a deeper dialogue on ending hate through comprehensive educational and outreach campaigns."