Luke Cage Streets Trailer - Netflix
Luke Cage: Stan Lee cameo revealed in new trailer
It's a blink-and-you-miss-it moment
Netflix's third Marvel series, Luke Cage, has yet to reach the streaming service but already Stan Lee's cameo has been revealed.
Unlike the Marvel films, Lee has yet to appear in person throughout Daredevil and Jessica Jones, with Luke Cage being no different.
In the "Streets Trailer," an image of the famous superhero creator is visible on the side of a shop at the 2:05 mark. It's a blink-and-you-miss-it moment. See the Easter Egg below.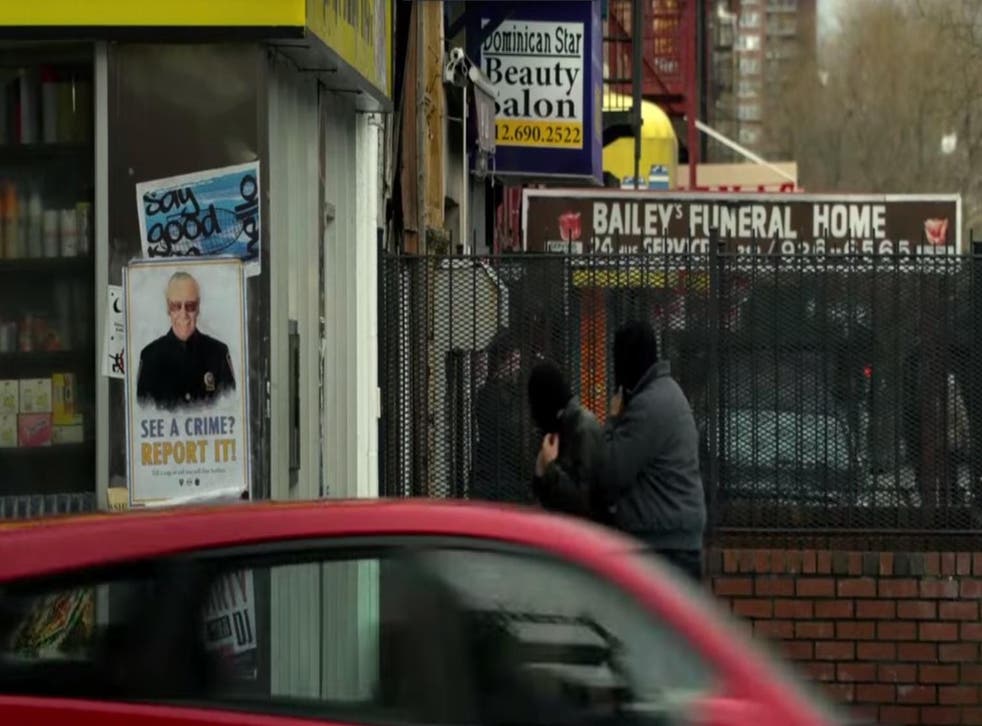 Previously, Lee appeared in both Daredevil and Jessica Jones purely in photograph form in Hell's Kitchen's police station. The image in Harlem once again plays off fictional Lee being a police officer, with the caption "See a crime? Report it!" appearing under his photograph.
Meanwhile, The Independent recently debuted a Luke Cage video featuring Mike Colter, Method Man, and A$AP Ferg as they discussed the musical inspiration behind the Netflix series.
33 Superhero films set for release between 2016 and 2020

Show all 34
Luke Cage will be streaming globally on Netflix from 30 September.
Join our new commenting forum
Join thought-provoking conversations, follow other Independent readers and see their replies