Moyles gives successor a surprise initiation into the madcap world of the breakfast show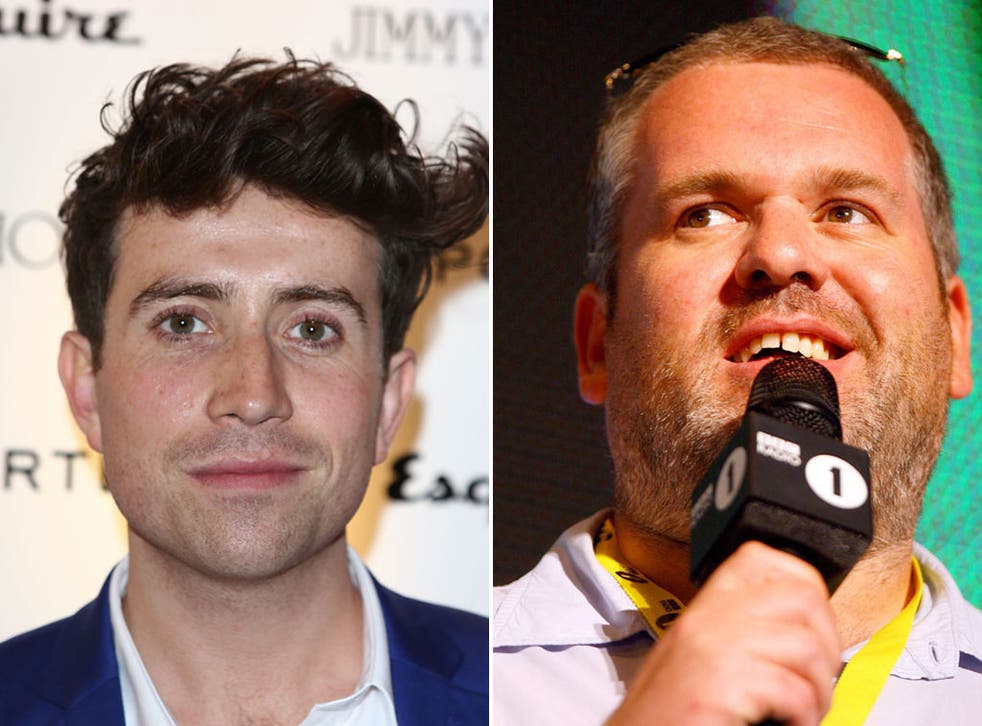 Chris Moyles subjected his Radio 1 colleague Nick Grimshaw to the broadcasting equivalent of a public "debagging" today, as he gave his young successor an initiation into the madcap world of the breakfast show.
Having invited the younger presenter onto his programme, promising a "really nice morning together", Moyles and his team suddenly walked out of the studio, leaving Grimshaw to present the show alone. "Everyone's gone, this is not a hilarious on-air gag, they've actually gone," he told Moyles's audience, struggling to fill the airtime.
Grimshaw, 27, who will move from his current 10pm slot in the schedule to take up the breakfast show in September, faces a difficult challenge to retain Moyles's audience of over 7m and he might have hoped for a seal of approval from the brash Yorkshireman, who has held the job for more than eight years.
"I love Chris and have always looked up to him as one of the best broadcasters ever," Grimshaw gushed on Wednesday after being confirmed in his new role. The two broadcasters went for drinks that evening and Moyles invited Grimshaw to join him on air the next day.
Abandoned in the studio by Moyles and his "zoo" team of co-presenters, Grimshaw said: "A really cruel gag. Chris last night in the pub said come and see me tomorrow morning and it will be really nice. We'll have a nice morning together on the radio."
Moyles, 38, is a serial prankster whose irreverent comments have repeatedly got him into trouble with regulators and caused the gay rights group Stonewall to dub him "bully of the year". But Moyles's humour has won him record audiences for the network. Admired by industry colleagues for his technical knowledge in the studio, he fought his way up the career ladder via long stints in broadcasting outposts such as Signal 1 in Stoke-on-Trent and Northants 96.
As he welcomed Grimshaw into the studio - "I want you to feel comfortable because it's like our flat" – he pointed out that the younger presenter had only worked at Radio 1. He played a clip of Radio 1 controller Ben Cooper telling Radio 5 Live today it was time for the zoo format to be replaced with a lone presenter.
Then Moyles – who has previously used his show to complain about his BBC pay - walked out with his team. "You are going to be alone, so we are going to give you an idea of what that's going to be like. We are going to leave, and [you can] see how the feeling of being relaxed slowly disappears."
Grimshaw was left floundering. "So this is going to be it, me on my own just like this for three and a half hours every day. It's going to be brilliant. Can you come back now….Christopher?" he said. "This is cruel, really cruel." After nearly two minutes, a chortling Moyles returned to the studio, turning his fire on veteran colleague Annie Nightingale by joking that she was upset that after "60 years" at Radio 1 she had "never had a sniff" of the breakfast job. He then sent "new boy" Grimmy on his way with a "moi" air kiss.
As an endorsement from Moyles, the young presenter probably couldn't have hoped for much more.
Join our new commenting forum
Join thought-provoking conversations, follow other Independent readers and see their replies