Nick Clegg 'very moved' by Stephen Fry's frankness about suicide bid and bipolar disorder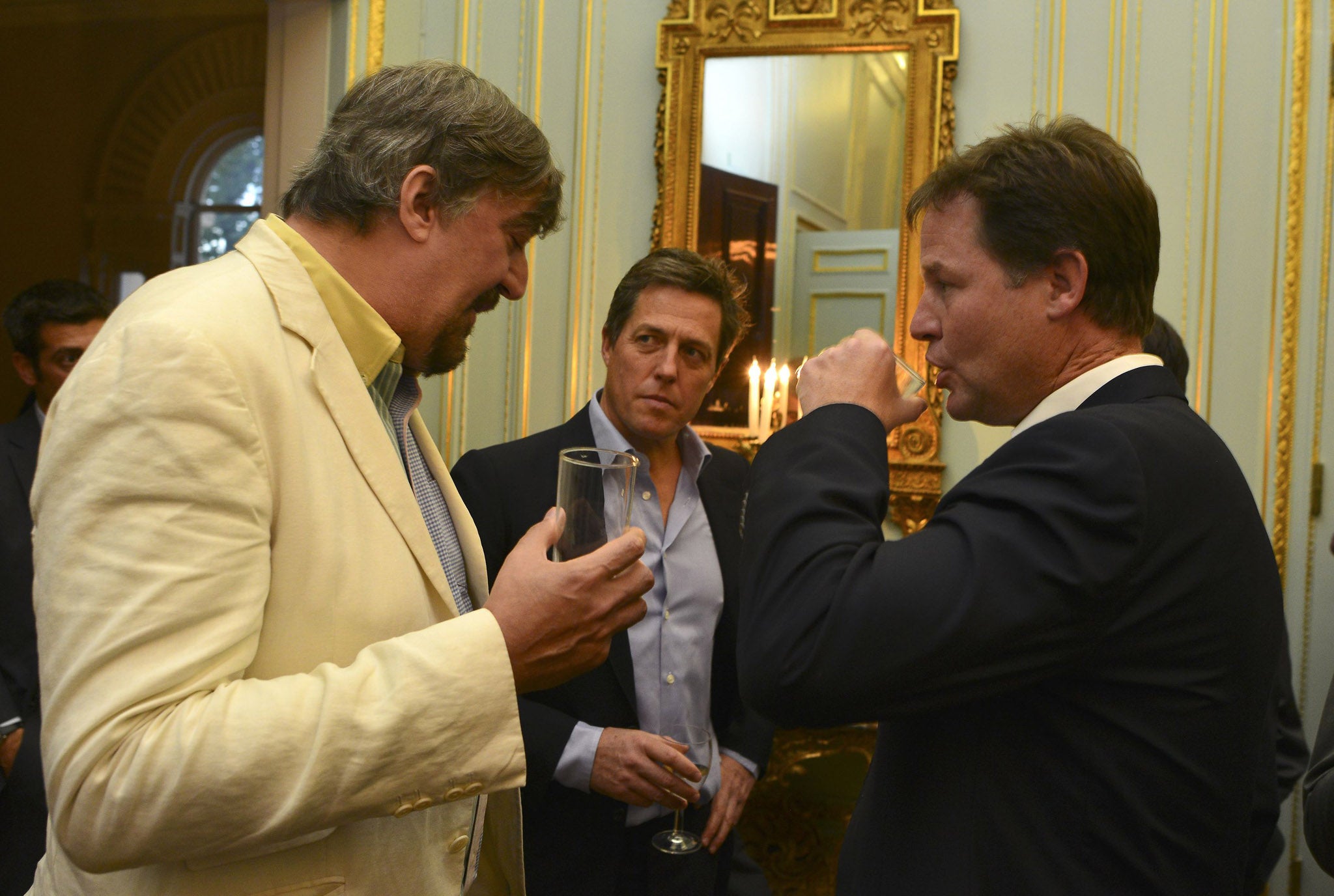 Nick Clegg has praised Stephen Fry's bravery after he spoke openly about his mental health issues and attempted suicide.
The Deputy Prime Minister said the actor, who has bipolar disorder, was helping remove the "shadow of shame" from people who suffer similar problems.
Fry has revealed he tried to kill himself while filming a BBC2 documentary which sees him confronting anti-gay campaigners.
The star was saved when his producer on the film, which sees him travel to Russia, Uganda and America, found him unconscious.
Fry, who said he broke four ribs and was unconscious after convulsions related to the overdose incident, said: "It was a close-run thing. And, fortunately, the producer I was filming with at the time came into the hotel room and I was found in a sort of unconscious state and taken back to England and looked after."
In conversation with fellow comedian Richard Herring, recorded before a live audience at the Leicester Square Theatre, the QI host described the wild mood swings that characterise his condition.
Fry, who is president of mental health charity Mind and has previously spoken of another suicide bid when a teenager, reportedly said: "There is no 'why', it's not the right question. There's no reason. If there were a reason for it, you could reason someone out of it, and you could tell them why they shouldn't take their own life."
Speaking on his regular LBC 97.3 radio phone-in, Mr Clegg said: "I was very moved by what I heard Stephen Fry say.
"I really hope he and so many others who have spoken publicly and very movingly over the last year or two about their own mental problems will lift that sort of shadow of shame, that slight taboo that is hung around mental illness."
Access unlimited streaming of movies and TV shows with Amazon Prime Video
Sign up now for a 30-day free trial
Sign up
Access unlimited streaming of movies and TV shows with Amazon Prime Video
Sign up now for a 30-day free trial
Sign up
The Liberal Democrat leader added: "We should be treating mental health on exactly the same footing as physical health problems. We should be talking about it openly, we should not have any whiff of discrimination or stigma attached to people.
"I think he is brave, I think he is leading, I think he will make it even more acceptable for us to talk about mental health."
The two-part documentary, which has a working title Stephen Fry - Out There, sees the star meet campaigners in the United States who claim to be able to cure homosexuality.
It is due to be broadcast on BBC2 later this year.
PA
Join our commenting forum
Join thought-provoking conversations, follow other Independent readers and see their replies