Richard Hammond thought he was 'going to die' in The Grand Tour crash
'I thought 'I've had it''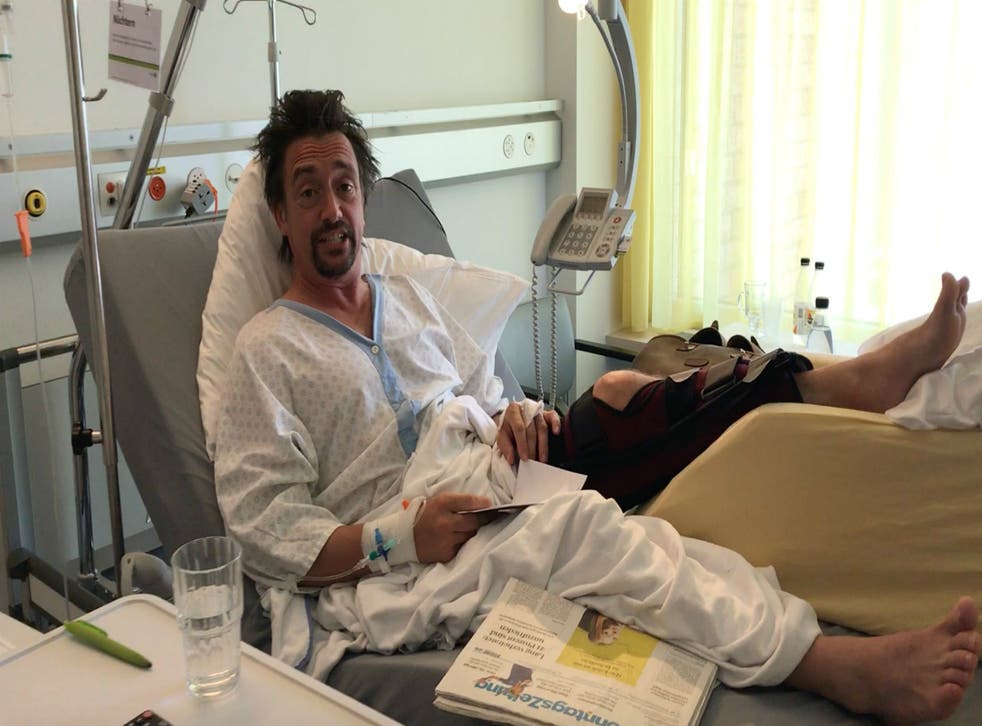 Earlier this month, Richard Hammond was involved in a serious driving incident, ending with the former Top Gear presenter in a hospital with a fractured knee.
The 48-year-old was filming scenes for the second season of The Grand Tour in Switzerland when the incident occurred, leaving the vehicle in flames.
Speaking publicly about the incident for the first time, Hammond revealed that, after losing control of the car, he thought he was going to die.
"I was aware that I was up high, and that inevitably the car was going to come down," Hammond told Drive Tribe. "And yeah of course there was a moment of dread - 'Oh God, I'm going to die'."
He continued: "And also I was aware that the car was taking just such a beating. I mean if you look at those craters, that's a big hole that's just impact and it looks like the thing has been dropped from space to leave a whole that big.
Clarkson, May and Hammond's The Grand Tour - in pictures

Show all 5
"So yeah I was probably going 'well this is it'. In fact, that is what was going through my mind. I thought 'I've had it'."
Fellow presenter Jeremy Clarkson previously said the second season of The Grand Tour could very well be delayed as a result of the crash.
"I've been up since dawn, rewriting all of the scripts and ideas we had to accommodate the fact that Hammond can't drive for the next few months," he wrote.
Previously, Clarkson wrote an eye-witness account of the incident, saying he 'genuinely thought Hammond was dead' at one moment.
Access unlimited streaming of movies and TV shows with Amazon Prime Video Sign up now for a 30-day free trial
Sign up
A spokesperson for The Grand Tour said in an official statement: "Richard was conscious and talking, and climbed out of the car himself before the vehicle burst into flames.
"He was flown by air ambulance to hospital in St Gallen to be checked over – revealing a fracture to his knee.
"Nobody else was in the car or involved in the accident, and we'd like to thank the paramedics on site for their swift response. The cause of the crash is unknown and is being investigated."
Join our new commenting forum
Join thought-provoking conversations, follow other Independent readers and see their replies