The Independent's journalism is supported by our readers. When you purchase through links on our site, we may earn commission.
School bake sales send the wrong message, says Jamie Oliver
A new report by the Jamie Oliver Food Foundation claims schools are failing to promote healthy eating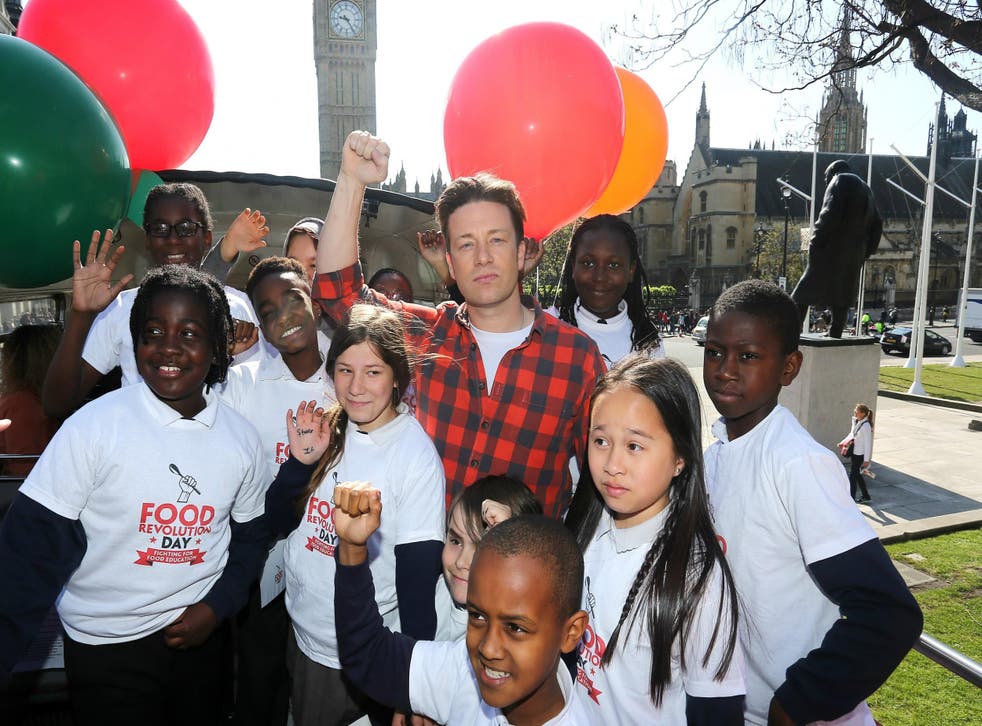 Jamie Oliver has warned against the proliferation of cake and bake sales, and their creation of a culture of unhealthy food in schools.
The Jamie Oliver Food Foundation has stated that such events send out the wrong message about healthy eating, establishing the idea that "high fat and sugary foods used as rewards, in fundraising and in celebrations, is creating social and physical environments that contradict children's food education."
A new report, produced in conjunction with Sheffield University (via The Telegraph), cited research stating that 86 per cent of secondary school teachers and 85 per cent of primary school teachers said their school fundraising activities include cake and bake sales.
"This appears to be recognised by pupils and school staff, and there is an appetite from parents for the use of such foods in this way to be limited to once a term," the report added.
Another issue brought to surface was that of unhealthy treats being used in schools as a form of reward. One case saw a secondary school offer doughnuts to forms with 100 per cent attendance records over a month. Elsewhere, pupils were offered pizza and fried chicken from Domino's and KFC as encouragement to take part in weekend revision sessions.
The report also discussed the sale of unhealthy foods in many secondary schools, stating that children were often choosing them over healthier alternatives as they were cheaper and more readily available.
In some cases, schools appeared to deploy the same marketing tactics as shops and supermarkets, with sweet goods placed near tills and cutlery points, while salad was often placed in harder to reach areas - either between other items, or away from the main queue altogether.
Jamie Oliver teaches the Duchess of Cornwall how to ice cakes
The Jamie Oliver Food Foundation is calling for all schools to become "healthy zones", where the health of its pupils is always a priority, in response to figures showing childhood obesity is on the rise, with almost one in 10 four and five-year-olds hitting dangerously high levels of fat.
Though new school food standards were introduced in 2015 to ensure pupils were eating healthily, the study doubts whether these are being effectively introduced and monitored.
"We've found that there's a massive difference between the schools that are doing a great job at delivering food education and those that are struggling," Jamie Oliver wrote in the foreword to the report. "We are alarmed at the concerns raised about the food available, particularly in secondary schools."
"But at the same time, we are really motivated by the teachers, pupils and parents asking for a healthier school environment."
Follow Independent Culture on Facebook for all the latest on Film, TV, Music, and more.
Register for free to continue reading
Registration is a free and easy way to support our truly independent journalism
By registering, you will also enjoy limited access to Premium articles, exclusive newsletters, commenting, and virtual events with our leading journalists
Already have an account? sign in
Register for free to continue reading
Registration is a free and easy way to support our truly independent journalism
By registering, you will also enjoy limited access to Premium articles, exclusive newsletters, commenting, and virtual events with our leading journalists
Already have an account? sign in
Join our new commenting forum
Join thought-provoking conversations, follow other Independent readers and see their replies