Sherlock season four: Arrival of baby Rosamund will disrupt Sherlock and Watson bromance
'The baby changes the dynamic. But not in a cutesy way'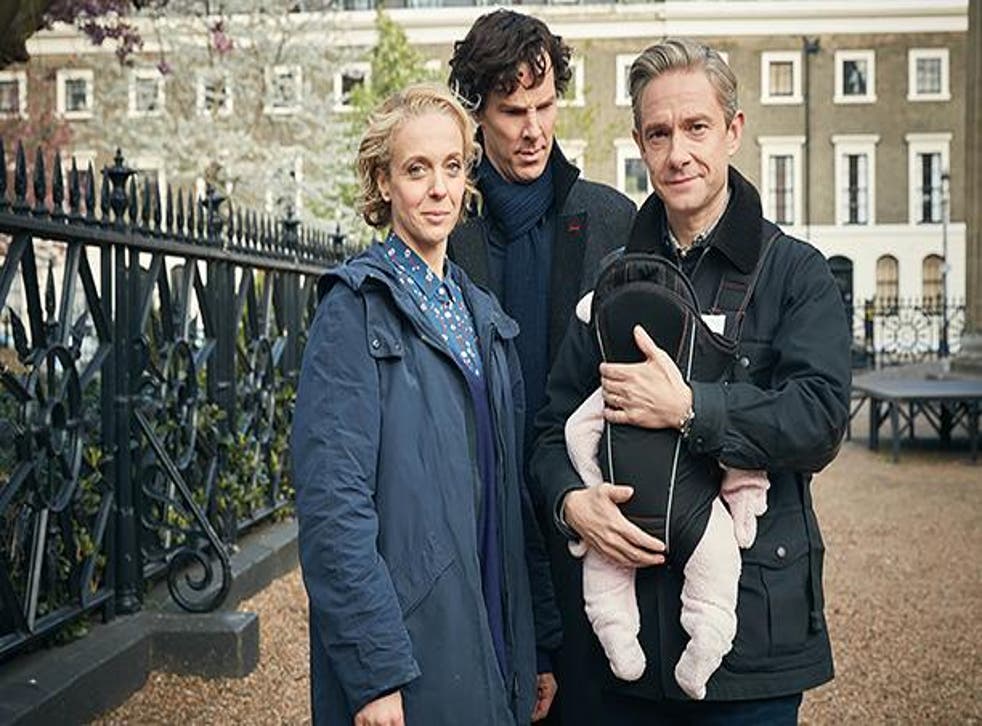 Sherlock writers are obviously keeping plot details of the upcoming fourth season close to their chests, but show co-creator Mark Gatiss did let slip a few small details in a recent interview.
Speaking to AP, Gatiss revealed that the unofficial alternative title for episode one is 'The Three Watsons', "because the baby changes the dynamic. But not in a cutesy way".
The arrival of baby Rosamund Watson at the beginning of the fourth season will disrupt the bromance between the brilliant detective Sherlock Holmes [Benedict Cumberbatch] and his long-suffering, loyal friend Dr John Watson [Martin Freeman].
Sherlock holds the rather unlikely title of 'godfather', and appeared with the happy family in a few priceless stills from the new series last month.
The actual title of episode one is 'The Six Thatchers', which is a riff on the original Sherlock Holmes story 'The Six Napoleons', and involves half a dozen plaster busts of former Prime Minister Margaret Thatcher.
Amanda Abbington's role as Watson's wife Mary has been expanded on from season three, where it was revealed that she has a secret past as a skilled assassin.
"I like the idea of her not being there forever," Abbington - who recently announced an amicable split from her real-life partner Freeman after 16 years - said.
"She wasn't [there forever] in the books, so I don't think she should be in this. It's about Sherlock and John, and it should be about them. I don't want her to become the third wheel."
Fans of the critically acclaimed BBC series have been waiting for season four for some time.
Season three ended on 12 January 2014, while season four begins on 1 January 2017 - with one Christmas special (The Abominable Bride) in 2015 to tide things over.
Sherlock's demons are back to haunt him in the new trailer
New villain Culverton Smith is portrayed by Toby Jones, whom executive producer Steven Moffat says is the "darkest villain we've had".
"There was always something charming and engaging about Moriarty," he said. "There was something fascinating and actually amoral, rather than immoral, about Charles Augustus Magnussen. This guy [Culverton Smith] is the purest evil."
Join our new commenting forum
Join thought-provoking conversations, follow other Independent readers and see their replies