Star Wars memorabilia called a 'bit of plastic' on Antiques Roadshow by Fiona Bruce valued at £50,000
The TIE fighter pilot helmet was from the set of the 1977 Star Wars film - the first in the series - and was one of only 12 made
Natasha Culzac
Monday 20 October 2014 11:13 Comments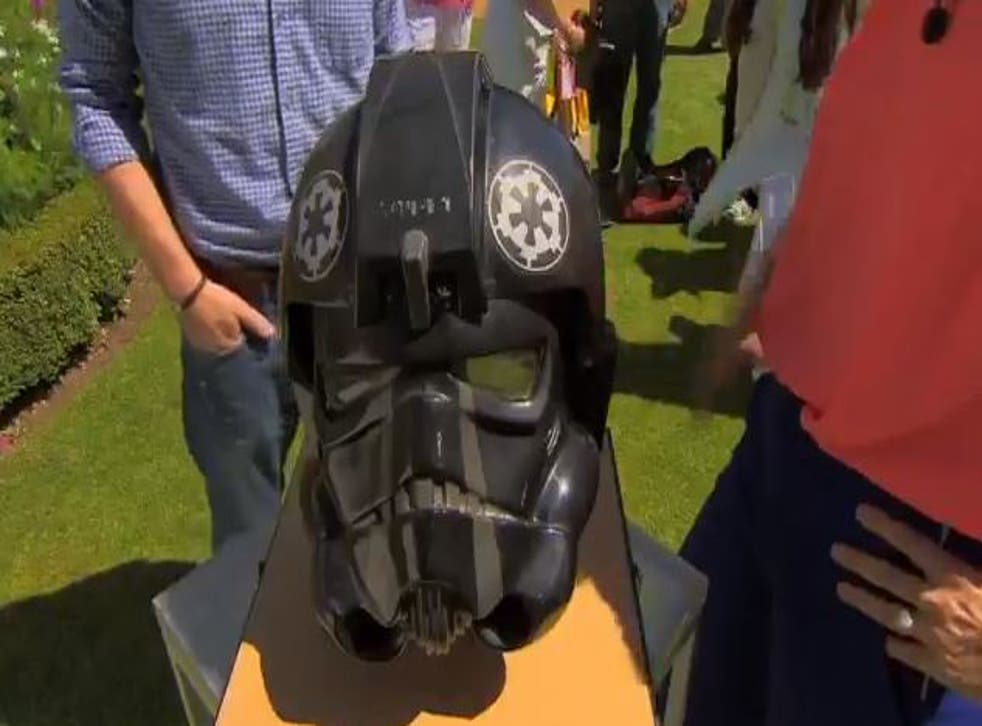 TV presenter Fiona Bruce seemed a bit startled by a spectacular find during the filming of Antiques Roadshow, which she labelled as a "bit of plastic".
The pricey article was in fact an original TIE (Twin Ion Engines) fighter pilot helmet from the set of the 1977 Star Wars film directed by George Lucas.
In this episode, which airs tonight at 8pm, Ms Bruce explains that their antiques experts valued the helmet at between £40-50,000.
Shocked by the valuation, she casually taps the cherished find and exclaims "for this bit of plastic".
The classic BBC programme was filmed from Chenies Manor in Buckinghamshire and shows collector of Star Wars memorabilia, Stephen Lane, describing how he travels around the world hunting down props and prized material.
The helmet, he said, was "buried in the attic with one of the senior crew members of the film who was gifted it" and is understood to be one of only 12 made.
"I paid a few thousand pounds for it. I'm certainly prepared to say that. I've just owned it for a few years now."
Ms Bruce, 50, added: "I think to anyone that's not in your world [its value is] astonishing… but it's a great bit of kit."
Star Wars is set to return to screens next year with the first Disney-led production following the sale of the franchise's rights by Mr Lucas in 2012. Star Wars: Episode VII will be directed by JJ Abrams.
Register for free to continue reading
Registration is a free and easy way to support our truly independent journalism
By registering, you will also enjoy limited access to Premium articles, exclusive newsletters, commenting, and virtual events with our leading journalists
Already have an account? sign in
Join our new commenting forum
Join thought-provoking conversations, follow other Independent readers and see their replies