The Great Pottery Throw Down: Start date, contestants and everything you need to know about the new Bake Off
Sara Cox hosts the latest telly contest to find Britain's top potter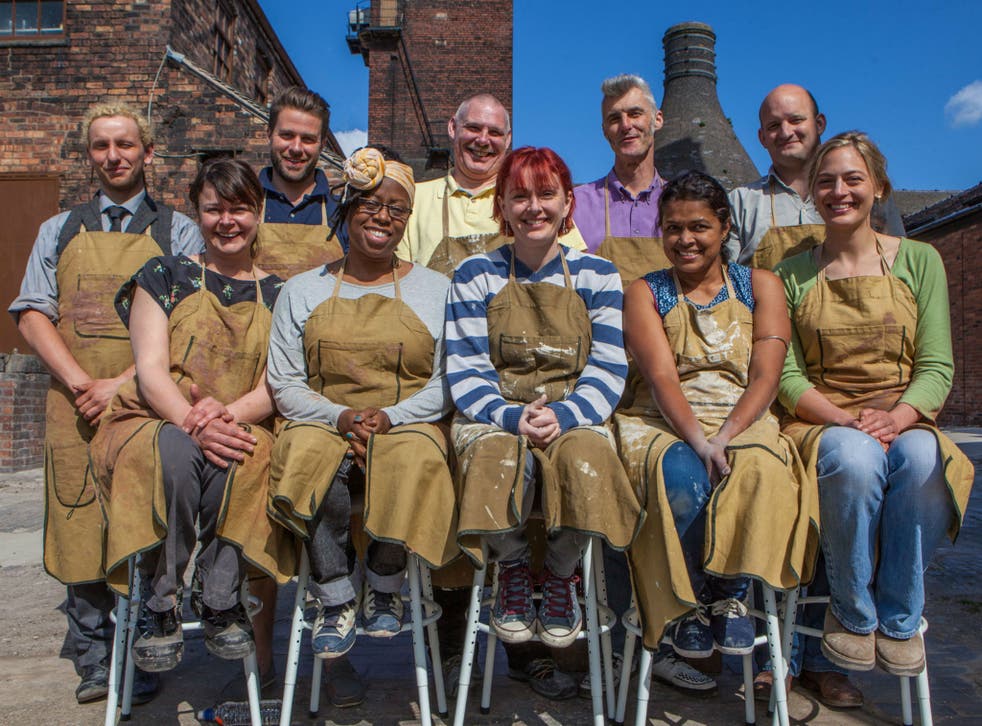 Anyone still pining after the soggy bottoms and cringeworthy puns of The Great British Bake Off, make a note in your diaries, for tonight sees the launch of its "messier cousin", The Great Pottery Throw Down.
Ten potters from up and down the UK will be making their way to the home of the British pottery industry, Stoke-On-Trent in Staffordshire, to begin their quest to be crowned Top Potter.
Hosted by radio DJ Sara Cox and produced by the same company as the Bake Off, the Throw Down will inevitably remind viewers of that sexy potter's wheel scene from 1990 movie Ghost.
Meet The Great Pottery Throw Down contestants

Show all 11
But while BBC2 sadly can't promise us Patrick Swayzes and Demi Moores, there will be naturally-occurring innuendoes to make up for the lack of Bake Off duo Sue Perkins and Mel Giedroyc. Just try to stifle your giggles at any "phallic-looking" pots because this is a serious competition, alright?
"You don't need to add puns in if you're discussing making pottery because you're already talking about cracks and rims," Cox told Radio Times. "I got so used to chatting about somebody's rim on the show that I just wouldn't laugh at that sort of humour, or make a thing of it. Obviously kids are watching as well, so you don't really need to do any of that."
The first episode of Throw Down will put the potters through their paces with a four day assignment making stackable kitchen bowls from lumps of clay.
Judges and renowned potters Kate Malone and Keith Brymer Jones will be keeping beady eyes out for the most-skilled artists, particularly in the Spot Test when they will be asked to show off their technical ability in a timed challenge involving attaching handles onto mugs.
The tensest moment will come when the potters battle to throw as many egg cups as they can in just twenty minutes while every episode will culminate with the unveiling of the Main Make, presented straight from the ever-unpredictable kiln. This is truly heart-racing stuff.
The Great Pottery Throw Down begins tonight at 9pm on BBC2.
Join our new commenting forum
Join thought-provoking conversations, follow other Independent readers and see their replies