The Independent's journalism is supported by our readers. When you purchase through links on our site, we may earn commission.
Great British Bake Off: 10 best cookbooks
IndyBest dons its apron and revisits some tent alumni ahead of this series' finale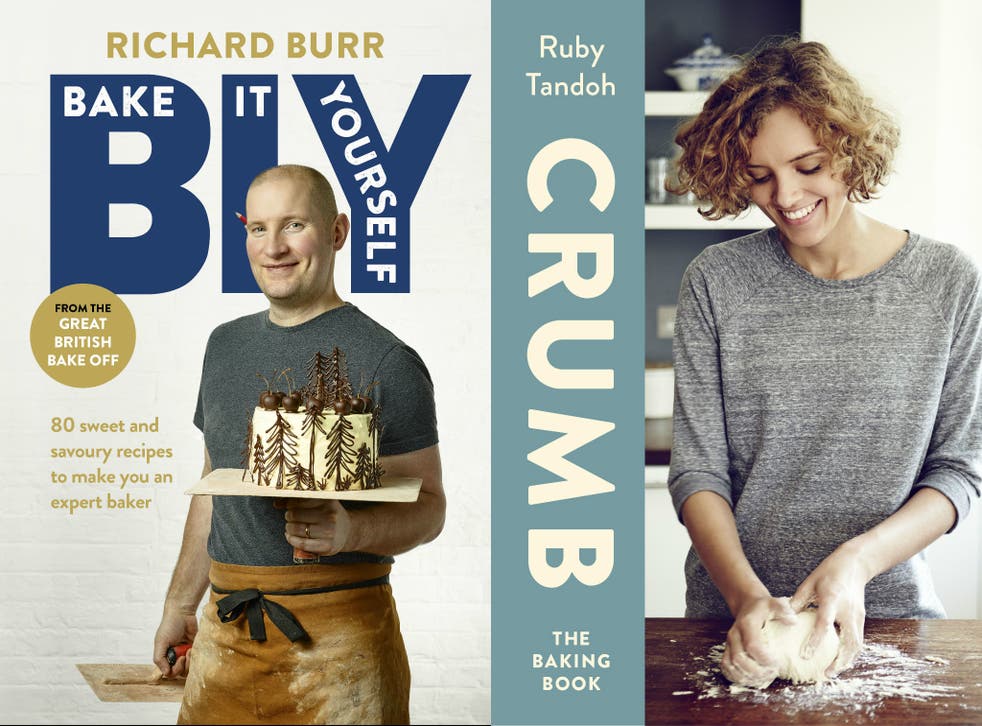 With the trauma of stolen custard, bin-gate and Sue putting her elbow in Howard's muffins still fresh in our minds, season six of the Great British Bake Off has been a reasonably subdued affair (save in our house, where we shout at the TV as though watching a football match) and, as Nadiya, Tamal and Ian prepare to approach the 'Gingham Altar' one last time, we're all left wondering where the time went.
Thankfully, the fun is not over yet, for, as series five finalist Richard Burr remarked at the Cake and Bake show at ExCel London recently, one of the best bits of being on Bake Off is that 'they let you do a book' afterwards. So, whether you want to have a go at Luis Troyano's lethally boozy donuts - Mary's series five highlight, obviously - or relive the early, pre-Mel and Sue days (really, how did we ever live without them?) with a bit of Edd Kimber, there's a book for that. We've been reading, baking and drooling our way through the choicest numbers from finalists and favourite contestants past and slightly more present so you know which to buy.
1. How Baking Works (And What To Do When It Doesn't) by James Morton: £20, randomhouse.co.uk
The newly-qualified doctor and series three finalist bakes with scientific precision. Each chapter covers a different type of bake, from 'torte' to 'meringue', and begins by detailing what the result should be like and giving troubleshooting tips. Recipes include his GBBO-famous Paris-Brest bicycles.
2. BIY: Bake It Yourself by Richard Burr: £10, amazon.co.uk
The little blue pencil may have been replaced, but last year's finalist hasn't entirely left building behind: many a saw and vice appear in the gorgeous photos. The prose is as charming and down-to-earth as you might expect and the caramel cinnamon money bread is sheer genius.
3. John Whaite Bakes At Home by John Whaite: £16.10, waterstones.com
We've got a bit of a soft spot for the series three winner and this book isn't helping things. The unpretentious and humorous tone makes every recipe feel achievable and the whisky butterscotch 'Hot Toddy Sponge Puddings' alone make this worth buying. Just don't put salt in your rum babas.
4. Patisserie Made Simple by Edd Kimber: £15.99, kylebooks.com
This, from the first ever winner of the Great British Bake Off, is a beautiful celebration of French baking using only basic equipment so you can try your hand quite easily at home. From gorgeously caramelised Kouign Amann to a magnificent Gateau St Honore, good luck knowing where to start.
5. Crumb by Ruby Tandoh: £20, randomhouse.co.uk
This is one to enjoy with a cup of tea as much as over a hot stove. The recipes run into each other, rather than having a page for each and, while some might miss the picture-per-recipe layout, it makes for pleasing read. The unlikely sounding glazed saffron buns were a great success.
6. Quinntessential Baking by Frances Quinn: £22.50, bloomsbury.com
2013's winner may have been plagued by Paul Hollywood's "style over substance" label, but her first book has plenty of both. Her trademark meticulous attention to detail and wacky and wonderful concepts are backed up by solid flavours. A book to bring out for special occasions.
7. Home Baking by Jo Wheatley: £18.99, littlebrown.co.uk
The series two winner's second book is, as the name suggests, packed with hearty, everyday recipes for home baking. There's plenty of savoury for those who find all that cake a bit too sickly; the ruffled parmesan and pesto loaf is delicious and quite something to look at, too.
8. Bake It Great by Luis Troyano: £13.60, amazon.co.uk
The design-based accuracy that the series five finalist became known for is evident here, with sections on oven settings and taking temperatures so you can tell when something's done (no more 'does that sound hollow?'). Recipes include Mary's favourite Irish cream donuts with straws in the middle.
9. The Pink Whisk Guide to Cake Making by Ruth Clemens: £12.99, Amazon
First series finalist Ruth's book is ideal for beginners inspired by Bake Off antics to give it a go. Recipes are fool-proof but my no means boring (try the lemon and elderflower or ginger and lime drizzle cakes) and are accompanied by a reassuring plethora of cheats, tips and step-by-step photos.
10. Let's Bake! by Cathryn Dresser: £7, amazon.co.uk
In a departure from Bake Off alumni tradition, loveable series three contestant Cathryn's book is aimed at children. Inside it's simple and colourful, every recipe is accompanied by a picture or illustrated step-by-step guide and stand-outs include cheese and marmite twists and delicious iced buns.
Verdict
For books that are as lovely to read as they are to look at, we're torn between Ruby Tandoh's Crumb and Richard Burr's wittily-titled BIY. John Whaite's recipes in John Whaite Bakes At Home are delicious, achievable and written with clarity and warmth, while Edd Kimber's Patisserie Made Simple and James Morton's How Baking Works are excellent choices for the slightly more ambitious and technical baker. Basically, we love them all.
IndyBest product reviews are unbiased, independent advice you can trust. On some occasions, we earn revenue if you click the links and buy the products, but we never allow this to bias our coverage. The reviews are compiled through a mix of expert opinion and real-world testing.