The Independent's journalism is supported by our readers. When you purchase through links on our site, we may earn commission.
12 best mattress toppers that make you feel like you're on cloud nine
Memory foam or a thin, cooling design – these brands have the solution for a good night's rest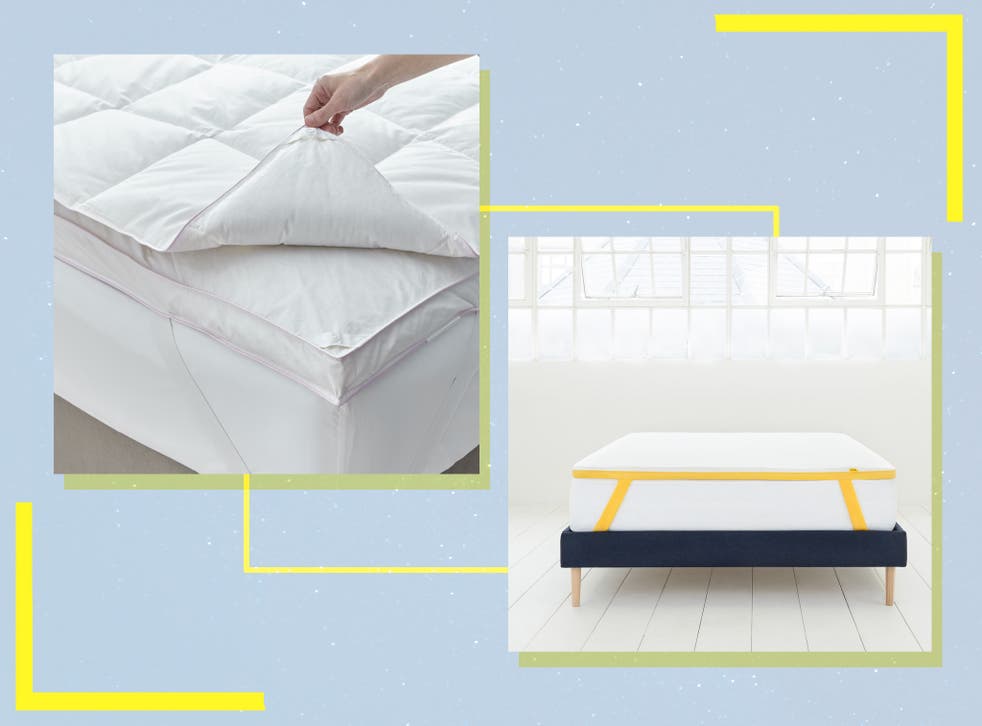 As far as we know, the Scandinavians don't have a word for the joy of slipping into bed at night, but if they did we might suggest it was måttress töppa.
We've obviously completely made that up, but mattress toppers are wonderful things. They can transform your sleep into something blissful, provide extra support, breathe new life into tired mattresses and even help with night sweats.
Toppers come in every shape and size, and you are sure to find one with a filling to suit your needs. From supportive memory foam, to sumptuous duck down to naturally cooling lambs' wool – there really is something for everyone.
How we tested
We spent the best part of three months testing out mattress toppers. That's nearly 550 hours of sleeping and fidgeting to find the very best ones. We wanted to see which ones offered real support, which had us sinking into bed with a deep "ahhhh" of relief, and whether they took pressure off our aching back and hips.
We were keen to see which ones kept us cosy without making us overheat. So from our extensive research, here are the toppers that made it to our zzzzzz list (which is actually very exclusive). All prices listed below are for double mattress toppers – prices vary depending on the size you select.
Read more:
The best mattress toppers for 2022 are:
Mattress topper FAQs
How to buy a mattress topper?
Choosing the right mattress topper to sleep on depends on your body and budget. There are four main types of mattress toppers; memory foam, feather and down, microfibre and hollowfibre, with pros and cons to each.
Memory foam provides ample amounts of support so if you suffer from back pain, it can ease discomfort. They can absorb the motion of tossing and turning bed partners too that can typically wake up a light sleeper, but can also be expensive. They should spring back to the same height each time you use it, so you don't need to fluff it up to keep it looking and feeling as comfortable as possible.
Feather and down toppers tend to be cheaper and don't retain as much heat, so can help cool you down on warm nights. They will also compress over time so you will need to fluff it up to keep it soft and your bed looking plush.
Microfibre and hollowfibre are the most affordable type of mattress toppers, so if you're shopping on a budget, these are your best bet. They add an additional layer of cosiness and can soften a firmer mattress, but they can become lumpy over time, therefore having a shorter lifespan.
What's the difference between mattress pads, toppers and protectors?
Mattress pads provide a thin, extra layer to your bed, whereas mattress toppers are much thicker and plusher, designed to maximise your comfort, with some made in fabrics that are cooling, so ideal if you find yourself often too hot to sleep.
Mattress protectors are thin sheet coverings that keep your mattress clean and protect from stains, dirt, moisture, irritants and allergens. Many are waterproof too and can often be easily cleansing in a washing machine.
Can you wash a mattress topper?
Before washing your mattress topper, be careful to read the label to see if it's safe to put in the washing machine. If it's not, you will need to hand wash it to remove any stains.
Sprinkle baking soda onto the topper and leave for 30 minutes before vacuuming it to get rid of odours, dust and grime. Then, if there are more persistent stains, take a damp cloth and stain remover to gently lift the stain.
The verdict: Mattress toppers
We loved the Panda memory foam mattress topper – it was thick, comfy and gave real support. But if you want something natural fibre and all singing, all dancing, Naturalmat's topper is well, tremendous.
Voucher codes
Now you've got your mattress sorted, up the cosy factor with our edit of the best linen bedding
Register for free to continue reading
Registration is a free and easy way to support our truly independent journalism
By registering, you will also enjoy limited access to Premium articles, exclusive newsletters, commenting, and virtual events with our leading journalists
Already have an account? sign in
Register for free to continue reading
Registration is a free and easy way to support our truly independent journalism
By registering, you will also enjoy limited access to Premium articles, exclusive newsletters, commenting, and virtual events with our leading journalists
Already have an account? sign in