The Independent's journalism is supported by our readers. When you purchase through links on our site, we may earn commission.
10 best anti-allergy and hypoallergenic pillows for a sound night's sleep
To prevent flare-ups and keep symptoms at bay, brands like Silentnight and Soak & Sleep have the solutions you need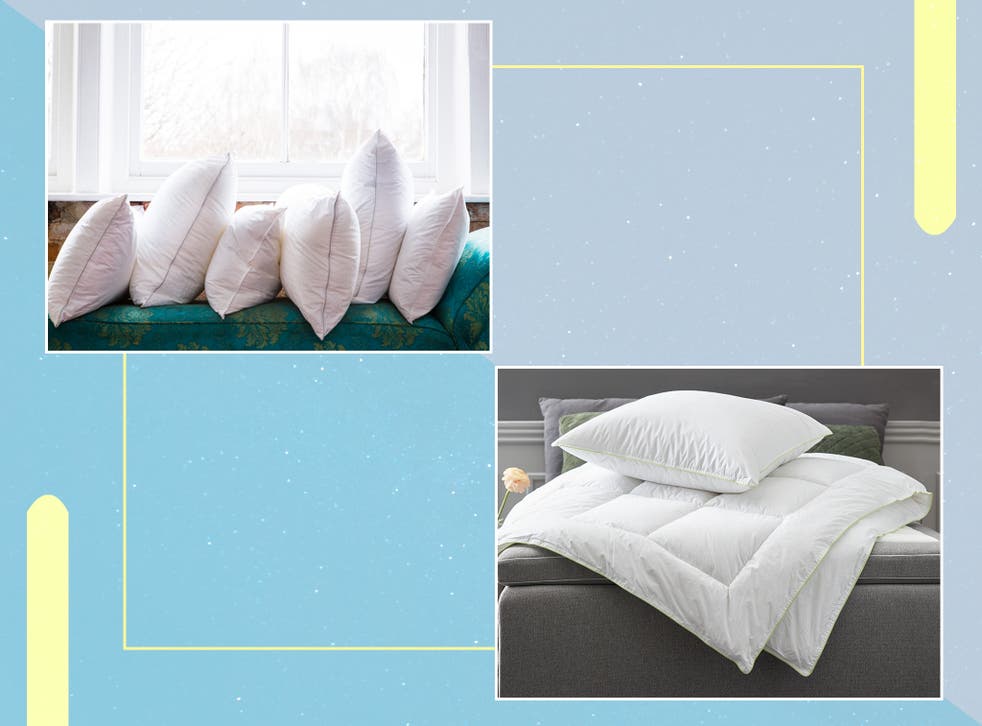 Allergies can have a huge impact on our day-to-day lives, and allergens aren't easy to avoid, either. Our homes are filled with them, whether it's chemicals in household paints or the dust which can quickly accumulate when areas of our homes are neglected.
Pillows are also a common source of allergens. But to complicate things, there can be a multitude of reasons for an adverse reaction. For example, it's a common myth that feather pillows can't be anti-allergy, which isn't the case.
"The most important thing is to have tightly woven covers which are impermeable to small particles carrying allergens," says Professor Paul Cullinan, an allergy expert based at Imperial College London's department of occupational and environmental lung disease. "In fact, feather are often less likely to cause allergic reactions because they have covers which are more tightly woven."
So instead of simply forgoing feathers, focus on other factors instead. Chemical-free anti-dust mite treatments will make your pillow less appealing to these allergy-inducing critters and will fend off bed bugs, too. Certifications worth looking out for include Oeko-Tex, which guarantees no harmful chemicals have been used in the manufacturing process, and certification from allergy organisations such as Allergy UK.
How we tested
So how did we test our pillows? We're not going to lie – it wasn't the hardest of tasks. The process involved a lot of snoozing, napping and generally lying around. Jokes aside, we took the time to thoroughly check how well the pillows supported our head, back and shoulders, and made sure that none of the below triggered our allergies (with dust mites being the guilty party most likely to prompt a reaction, in our case).
Read more:
We're confident that the pillows below are the best of the bunch. Read on to start your journey towards what might just be the best night's sleep of your life.
The best anti-allergy pillows for 2021 are:
Dorma full forever anti allergy firm support pillow pair
Best: Overall
Rating: 10/10
This is the closest thing to sleeping on a pillow fit for a queen, because Dorma, which started producing bedlinen 100 years ago in 1921, has a royal warrant. But it's a brand which has clearly moved with the times. This particular polyester-filled pillow has an anti-mite treatment.
Although the feature we loved the most is the simplest – a label which lists the date it was made (our pillow was apparently born on 12 July 2021) and which has space on which we can write the date of purchase. It's springy but has a reassuring weightiness which provided just the right amount of support.
Suprelle tencel ECO fresh pillow superking
Best: For all-natural filling
Rating: 9/10
We tested this pillow on a night when the pollen count was through the roof, so the last thing we wanted was more allergens. Luckily, this pillow was more than up to the task in hand, providing a great night of sniffle-free sleep. It also cushioned our head with a fantastic level of support while still having a certain level of mouldability – as our head sank into it, we could feel the filling shifting into place.
It's Oeko-Tex certified, which means no chemical nasties were added during the production process, and the filling is Tencel – fine fibres made from plant pulp and which are known for the ability to aid air circulation.
JYSK kronborg okshornet pillow
Best: For back sleepers
Rating: 9/10
All too often manufacturers make claims relating to anti-allergy statuses without the hard facts to back them up. Not so with this Danish delight, which has had an anti-mite treatment applied to keep microscopic nasties at bay. It's ideal for back sleepers – if you're a side sleeper prone to pillow hugging, this probably isn't the best option, simply because there's not a huge amount of give.
That said, despite the fact that there's a lot of stuffing (polyester fibre down, to be precise) packed into this pillow, it's got a certain springiness that still cranked up the comfort while helping to keep our neck and back straight. Plus, it's currently got 50 per cent off it's RRP of £29.99, well worth your pennies then, but an absolute bargain now. Don't miss out.
Fogarty anti-allergy medium-support pillow pair
Best: For side sleepers
Rating: 8/10
This British-made, polyester-filled pillow, which has the seal of approval from the British Allergy Foundation, is another one with a treatment designed to ward off dust mites, and it's machine washable. The tightly woven (but surprisingly soft) microfibre cover will help fend off dust mites, too. As back sleepers, we loved the firmness which held our head in place although unusually, it's also got a certain amount of give, which means side sleepers will love it too.
Wilko anti allergy firm pillows (two pack)
Best: For value
Rating: 8/10
We love a good pun at IndyBest so we were instantly wooed by the slogan on the side of this two-pack of polyester-filled pillows: "quality not to be sneezed at." It's another pillow with an allergy-related seal of approval (this time from Allergy UK) and has a treatment that doesn't just inhibit the growth of dust mites, but fungus, too. It's a great balance of firm support with plenty of bend – pillow huggers will find it easy to wrap their arms around this dream machine.
Piglet merino wool pillow
Best: For luxury
Rating: 8/10
We were sceptical about a pillow filled with wool until we realised it was the super soft merino kind (hence the slightly higher price tag). It's an incredibly comfortable pillow which has a certain amount of give – something which will appeal to side sleepers and pillow huggers – along with a springiness which helped support our neck, head and shoulders. Bonus points for Piglet's "thank you for shopping with us" card, which comes adorned with a photo of a ridiculously cute piglet.
Jasmine Silk silk-filled pillow
Best: Softness
Rating: 8/10
This is another pillow with an unusual stuffing – in this case, silk floss, which is great for anyone prone to allergies. It's got a surprising weightiness and retains its shape well, providing brilliant support with an (unexpected) almost gel-like mouldability. Allergy sufferers will also be pleased to see that, much like the Suprelle tencel ECO fresh pillow (£25, Tielleloveluxury.co.uk) it's got Oeko-Tex certification, which guarantees that no harmful substances were used in its production.
Mela dual pillow
Best: For innovation
Rating: 8/10
This is a true feel-good pillow – it comes with a pillow care guide and sleep tips, and Mela makes a donation to a mental health charity for every pillow sold. It's got a rather unusual design and is basically a pillow in a pillow – a smaller supportive pillow inside a larger, fluffier one (think of it as an extra-thick pillowcase). It's an odd concept but one which works, and which pairs sink-in softness with great support.
We loved the reinforced edges, which help the pillow retain its shape. It's another pillow with the Oeko-Tex certification, and the dual pillow design makes it harder to dust mites to penetrate.
Kally Hypo-allergenic adjustable pillow
Best: For customisation
Rating: 7/10
We were imagining something ridiculously-hi tech when we read that this pillow, which has been treated to inhibit dust mites, was adjustable, but in reality, it's pretty simple: four thin pillows inside a super soft case.
The idea is that you remove one (or more) of the interior pillows depending on the level of firmness required, and there's no denying that doing this is a much preferable alternative to swapping pillows around (and let's face it, how many people own a wide enough range of pillows to do so?). But it's a concept which works – the pillows are easy to slip in and out, and mesh panels allow air to circulate.
We plumped for three inner pillows to begin with, but the surprising firmness meant we later reduced this to two – and enjoyed one of the best night's sleep we've had in a long, long time.
Bensons for Beds anti-allergy pillow
Best: For easy maintenance
Rating: 8/10
This polyester-filled pillow is machine washable and can even be tumble dried – great news for anyone keen to minimise the risk of dust mites and other allergens setting up shop. A soft microfibre cover makes it much harder for dust mites to penetrate the stuffing, and it's also been treated with an anti-dust mite treatment. It's got a decent level of support without being too firm, although we'd suggest opting for two if you prefer a firmer pillow.
The verdict: Anti-allergy and hypoallergenic pillows
There's nothing not to love about Dorma's full forever anti allergy firm support pillow, which achieves the holy grail of brilliant support with just the right amount of softness, and a bug-busting treatment keeps those pesky mites at bay, too.
Suprelle's tencel ECO fresh pillow has an all-natural filling that won't irritate those prone to allergies, and it's free from the nasties which are often added to pillows during the production process. JYSK's dream-inducing kronborg okshornet pillow is a brilliant option for anyone looking for fantastic support for the neck and head area, and it's machine washable, too.
Voucher codes
For offers on household furniture and bedding, check out the links below:
Make sure you're getting the best night's sleep possible by investing in a new top quality mattress
Register for free to continue reading
Registration is a free and easy way to support our truly independent journalism
By registering, you will also enjoy limited access to Premium articles, exclusive newsletters, commenting, and virtual events with our leading journalists
Already have an account? sign in
Register for free to continue reading
Registration is a free and easy way to support our truly independent journalism
By registering, you will also enjoy limited access to Premium articles, exclusive newsletters, commenting, and virtual events with our leading journalists
Already have an account? sign in