The Independent's journalism is supported by our readers. When you purchase through links on our site, we may earn commission.
10 best ergonomic office chairs that make working from home more comfortable
Spending hours at your desk? These supportive setups will (literally) have your back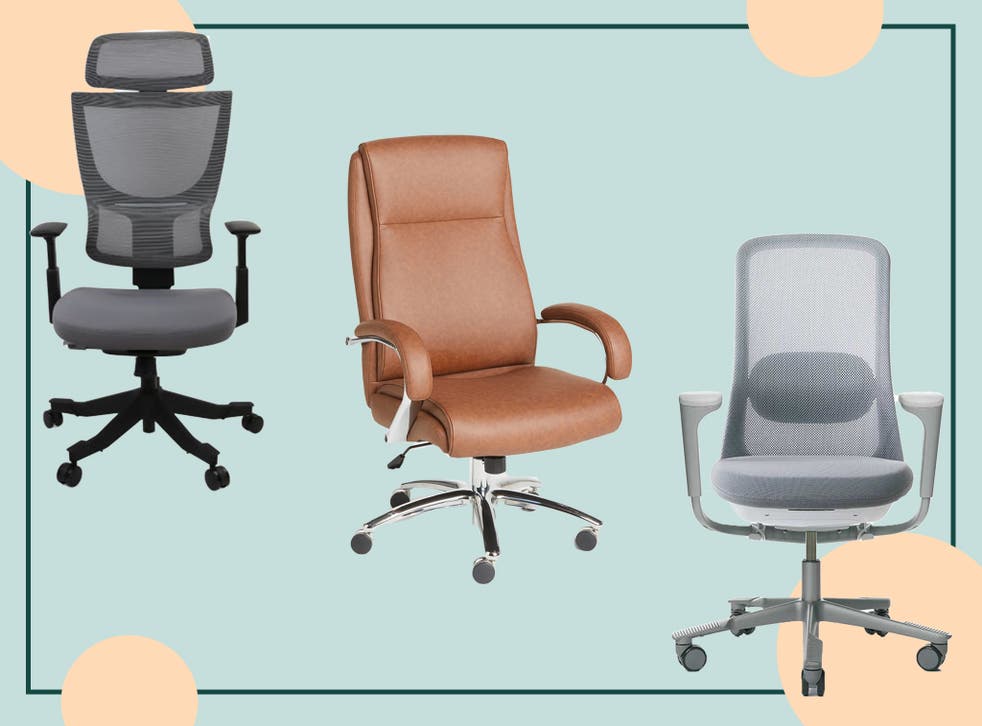 Are you a squirmer? A leaner? A recliner? Or, maybe an edge of seater? A quick glance around any office will demonstrate that no one person sits in the same way – we all know how we should position ourselves for perfect ergonomics, but that's not always a reality when we're distracted by work and the myriad of other tasks we need to perform at our desks.
That's why a good task chair should be able to support you in a number of different positions, while gradually coaxing you back to the optimum position for healthy bum-based work.
The back rest and seat pad should be immediately comfortable, but also be able to prop you up into an ergonomic position throughout the day using the chosen combination of upholstery and adjustability.
The backrest, in particular, needs to do the job of supporting the S-shaped curve of your spine all the way down to your lumbar region, while the seat pad should distribute the weight of your body, which will take pressure off your legs.
A chair's recline facility is also a marker of quality and you should be able to lean back effortlessly and without feeling like you're taking part in a trust fall every time you do. And ergonomics should blend with aesthetics, which shouldn't be an afterthought, after all the best office chairs will promote productivity, so hopefully you'll spend more time out of the chair looking at it than sitting in it with your nose to the grindstone.
Read more:
How we tested
All the chairs were tested in a household made up of two home workers and three children in primary, secondary and higher education, so that we could be sure the chairs would run the full gamut of what would be asked of them – from a full day of working to bouts of homework and revision.
We were particularly looking at whether the chair was able to minimise those static postures that aren't good for the body, and instead make it easy to change position and stay comfortable, so that the worker remained focussed on the task at hand, and got up from the chair without feeling any stiffness.
The best ergonomic chairs for 2022 are:
Ergonomic desk chairs FAQs
What does it mean if a chair is ergonomic?
Working from home has meant that people have ended up working in less desirable conditions. Ergonomic chairs aim to create more desired conditions, and are designed with the human body in mind, considering posture, support, comfort and health.
How do I know if a chair is ergonomic?
There is quite a specific set of requirements that make a chair ergonomic. The common ones are present in most office chairs – i.e a swivel base, seat height adjustment, five-spoke wheelbase and arm support adjustment. But there are a few more to look out for that mean a chair is truly ergonomic...
A back tilt tension adjustment that lets you rock back in your chair, lumbar support, and back angle adjustment that allows you to fine-tune the back into the most comfortable position for you. You should also look for backrest adjustment, which allows you to arrange the contours of the back cushion for optimal support and more.
What is the best chair for office work?
There are some really innovative and oh-so-comfortable ergonomic chairs on the market but finding your perfect chair is kind of like a goldilocks situation. You should narrow down a few factors like your budget, how much swivel room you have under your desk and whether you need a headrest. But, ultimately, the whole idea of an ergonomic chair is that you can alter the settings so it perfectly fits and supports your own body.
How much do ergonomic chairs cost?
Especially if you are working from home, it is a worthwhile investment to purchase a good ergonomic office chair. A decent one can range anywhere from £200 all the way to £2,000.
Setting up your office chair to avoid back pain
First off, it's pretty crucial the height of the chair harmonises with the rest of your setup – for a guide, your elbows should be in line with the desk. In terms of the tilt on the back of the chair, it's best to be relatively upright when you can be, but feel free to recline the backrest every now and again. As a rule of thumb, you should be as close to your desk as possible, so if you can, push the seat forward so the armrests fit underneath your desk.
Then, if it isn't already, ensure your computer screen is on a level with your eye-line. Preferably, you should be looking 2-3in below the casing on the top of the screen – you don't want to be tilting your head up or down for long periods.
Finally, remember to get up and move around a least once every half hour. Long periods of sitting are a stressor for the muscles and discs in your back, so it's good to switch up your posture up every now and again. And, by leaving the desk you're less likely to forget about maintaining your posture throughout the day – anything to avoid the dreaded slouch.
The verdict: Ergonomic desk chairs
Offering immediate support for any in-chair movement, the Humanscale liberty ocean works with you as you move, without you having to break focus and keep pulling levers and knobs to get the chair to fit personal ergonomics. Comfortable for day-long working, suited to a range of tasks, it's constructed with quality materials that will withstand years of use.
Voucher codes
For the latest discounts on armchairs and other home furniture offers, try the below links:
For more ways to make working from home more comfortable, read our guide to re-vamping your WFH set-up
Register for free to continue reading
Registration is a free and easy way to support our truly independent journalism
By registering, you will also enjoy limited access to Premium articles, exclusive newsletters, commenting, and virtual events with our leading journalists
Already have an account? sign in
Register for free to continue reading
Registration is a free and easy way to support our truly independent journalism
By registering, you will also enjoy limited access to Premium articles, exclusive newsletters, commenting, and virtual events with our leading journalists
Already have an account? sign in