The Independent's journalism is supported by our readers. When you purchase through links on our site, we may earn commission.
Best laptops 2022: High-performance devices for working from home or gaming on the go
Leave your desk behind and stay productive wherever you are with this top-rated tech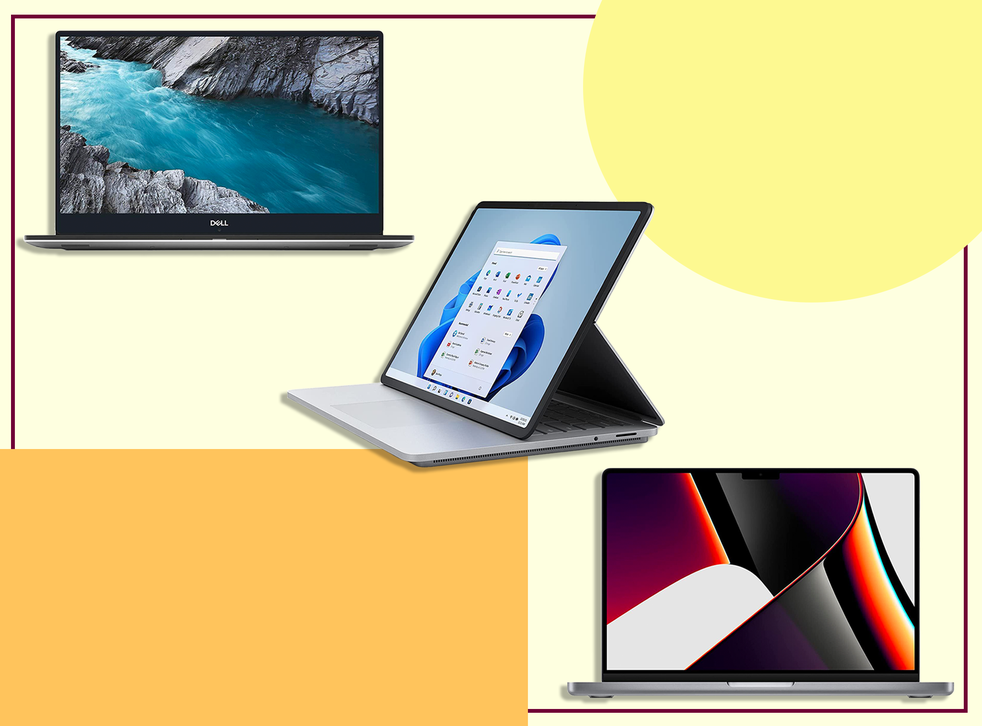 The best laptop is the one that does everything you need it to, and in 2022 you have the widest ever selection of brands, styles, prices and form factors to choose from.
Maybe you're working from home and you've decided you need a fast, reliable and long-lasting laptop for tackling emails, working remotely, and hosting virtual meetings without outdated hardware slowing you down.
Perhaps your faithful old laptop has gone to the big blue screen in the sky and you're finally ready to move on to something new. Or you might be a student in search of the perfect two-in-one laptop for work, media and gaming.
Competition between the top brands is so fierce now that you could throw a dart in a Currys store and find a perfectly decent laptop to handle most everyday tasks. But if you'd rather some expert guidance – and don't want to be banned from your local Currys – we've assembled a list of the best laptops in 2022 to help you choose the device that's right for you.
However you use your laptop, the breadth of options out there can make purchasing a new one can feel like an overwhelming prospect. To take some of the stress out of the process, we've put together a short guide on what to look for in a laptop. If you'd rather we take care of the hard part, you can continue reading below for our recommendations.
Read more:
How we tested
These are laptops we've thoroughly tested and can recommend, from MacBooks and Windows models to convertible two-in-one devices. We've included both budget laptops and high-end machines capable of handling the most demanding applications and playing games on the go.
Most of the laptops featured here can be configured to have more RAM, a bigger hard drive or a faster processor. You can also find a bargain by searching for earlier models of the laptops we've picked, though be aware that some of the features we mention might not appear in previous generations.
If you're not sure what type of laptop you want, head over to our comprehensive guide to choosing the best laptop for your needs, where we break down some of the basic components, functions and features to look out for.
The best laptops for 2022 are:
Laptop FAQs
What is the best laptop to buy?
There is no single best laptop we can recommend. Rather, the best laptop to buy is the one that meets your needs.
Like all electronics, laptops become obsolete over time, so there are diminishing returns when you invest in the most expensive, high-spec and powerful devices. Instead, consider what you might use your laptop for – will it be for gaming, emailing, spreadsheets or photo editing. And also where you might want to use it – at a desk, on a train, on the sofa – and choose a laptop that fits those criteria.
Check out our laptop buying guide for helpful advice on choosing a laptop that suits your needs.
What is the difference between a Chromebook and a laptop?
Most laptops use Microsoft's Windows operating system, while MacBooks use Apple's macOS operating system.
Chromebooks are different. They run on Chrome OS, an operating system designed by Google. Anyone can license this operating system, so you'll see Chromebooks manufactured by a wide range of brands and available in various styles.
Google's operating system doesn't run traditional desktop programs. Instead, it behaves more like the Chrome web browser, using online apps such as Google Docs and some Android apps.
This sounds limiting – and for most users, it is – but there are upsides. Because most of the processing is happening over the internet, Chromebooks don't need to be so powerful. This means they generally have a longer battery life, are much cheaper, far more secure and boot up faster than regular laptops.
If you do most of your work inside a browser, a Chromebook makes sense. Designed to showcase what a Chromebook is capable of, the Pixelbook go (£629, Google.com) is our recommended laptop in this category.
The verdict: Laptops
If you're looking for a high-performance, do-it-all Windows machine that can run rings around most desktop computers, the Dell XPS 15 is your laptop.
Most shoppers won't need that much power, so we'd recommend the Lenovo yoga slim 7 for those who want a laptop that can handle everyday tasks without leaving a giant hole in your bank account. Apple users have an easier choice, but the latest 2021 model of the MacBook pro 14in is our favourite Apple laptop right now.
Voucher codes
For more discounts on tech and appliances, try the links below:
Protect your identity online and browse securely with our pick of the best VPNs in 2022
Register for free to continue reading
Registration is a free and easy way to support our truly independent journalism
By registering, you will also enjoy limited access to Premium articles, exclusive newsletters, commenting, and virtual events with our leading journalists
Already have an account? sign in
Register for free to continue reading
Registration is a free and easy way to support our truly independent journalism
By registering, you will also enjoy limited access to Premium articles, exclusive newsletters, commenting, and virtual events with our leading journalists
Already have an account? sign in