The Walking Dead season 6: Norman Reedus says fans should 'be very worried' about Daryl Dixon
How will the events of the penultimate episode impact the finale, and the grand entrance of villain Negan?
Clarisse Loughrey
Monday 28 March 2016 09:26 Comments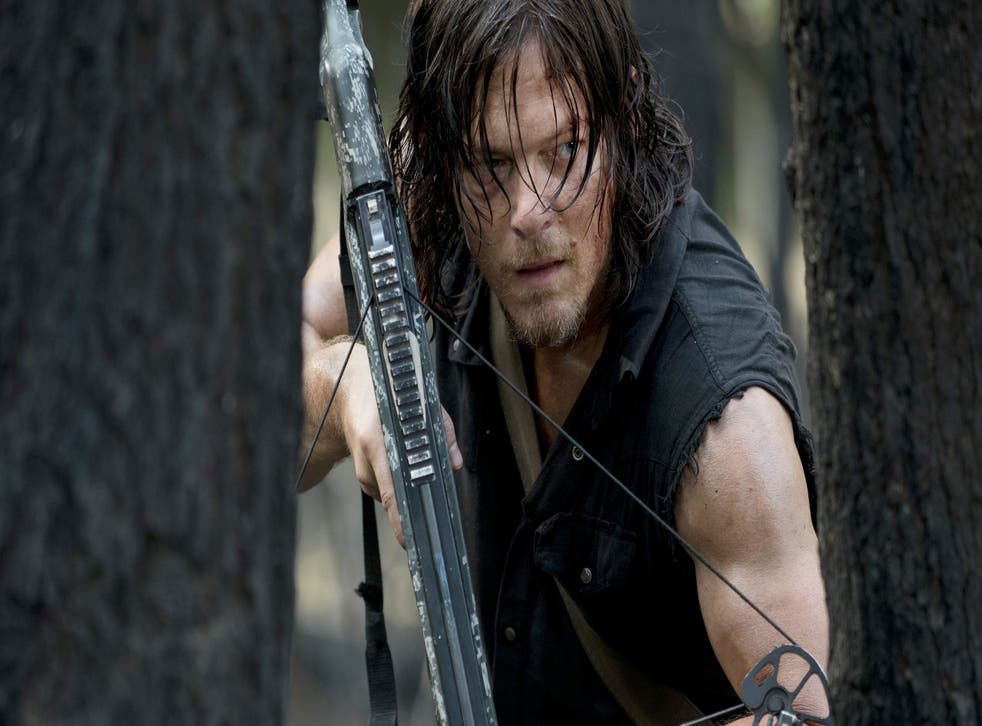 *Warning: spoilers for The Walking Dead comics, and for the TV episode which airs 28 March in the UK, below*
Is it all over for beloved fan-favourite Daryl Dixon?
Following rumours the character was bound to meet his doom, as his absence from the comics is reportedly causing headaches for creator Robert Kirkman and showrunner Scott Gimple's adaptation of its narratives, the series' penultimate episode has cast a dark cloud over Daryl's future.
'East''s final moments saw Dwight (Austin Amelio) sneaking up behind Daryl (Norman Reedus); closing with the sound of a gunshoot and blood splattered across the screen, as Dwight uttered those ominious words: "You'll be alright."
Who is Dwight speaking to? Is Daryl really in the clear, or have we been treated to the shocking and unceremonious death of a major character? Norman Reedus kept things cryptic when speaking to The Hollywood Reporter, but he did certainly warn that viewers, "should be very worried about Daryl."
What's certain is Daryl has been shot; "you don't know where he shoots him but that definitely is his blood right there." The trick appears to be who the comment "You'll be alright" is directed to; with Reedus promising, "we're really good about throwing you off base."
"That comment might not even be to Daryl. It could be to Rosita — or to anybody there," he continued. "Or it could be to something that some scuffle that happens directly afterward. Do you trust that guy? Anyone automatically assuming that's the obvious play is trusting words that come out of that guy's mouth and we're really good at throwing you for a loop. So… food for thought."
However, the finale brings in the feverishly-anticipated entrance of Negan (Jeffrey Dean Morgan), who is responsible for a major death in the comics; killing off Daryl at the hands of someone who isn't Negan, in that respect, could have the potential to underplay Negan's own brutality and threat.
Indeed, Reedus describes the finale (and Negan's arrival) as the, "most hardcore episode you've ever seen on the show. Ever. It's so good. A lot of effort went into making that the best episode we've ever shot on this show."
Furthermore, 'East' wrenched open vulnerabilities for so many of its characters; Carol (Melissa McBride) hasn't quite killed off all the Saviors she encountered upon leaving Alexandria, and the fact she's now alone certainly puts her in a dangerous position.
Access unlimited streaming of movies and TV shows with Amazon Prime Video Sign up now for a 30-day free trial
Sign up
Morgan (Lennie James) is similarly alone, and in search of Carol; and the Saviors also have hostage Glenn (Steven Yeun), Michonne (Danai Gurira), and Rosita (Christian Serratos). So, basically, no one is safe from death at the hands of Negan in the season finale.
The Walking Dead airs in the UK on Fox, 9PM.
Register for free to continue reading
Registration is a free and easy way to support our truly independent journalism
By registering, you will also enjoy limited access to Premium articles, exclusive newsletters, commenting, and virtual events with our leading journalists
Already have an account? sign in
Join our new commenting forum
Join thought-provoking conversations, follow other Independent readers and see their replies