Top Gear to be broadcast in 50 countries simultaneously
The often controversial Jeremy Clarkson programme is a worldwide moneyspinner and one of the most-pirated BBC shows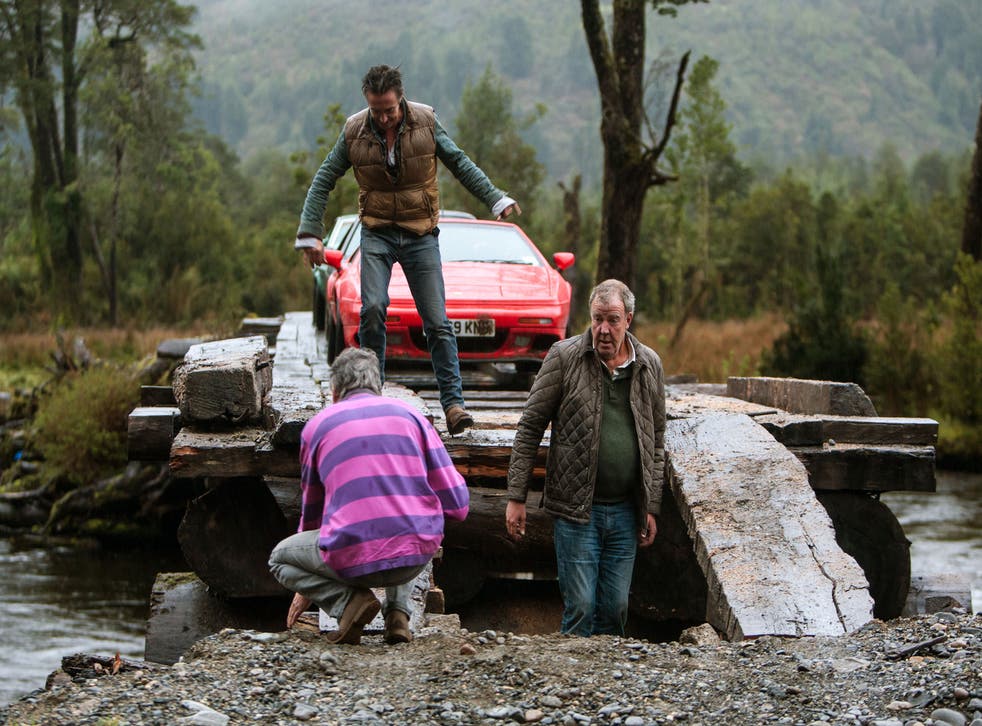 Jeremy Clarkson and his fellow Top Gear presenters might have been forced to flee Argentina after causing offence to locals while filming the series' Christmas Special, but it evidently hasn't dented the programme's global appeal.
The BBC show is set to be given a worldwide launch for its new 22nd series and will be broadcast simultaneously in more than 50 countries.
It will be broadcast in Australia, Africa , the Middle East and many other regions at the same time as the programme is shown on BBC2 later this month.
A further ten countries including Malaysia, Taiwan and Mongolia will screen the series, which features Clarkson, James May and Richard Hammond, within 24 hours of its UK debut on January 25.
This Sunday An Evening With Top Gear, an appearance by the presenters live in London, will be streamed around the world. Clarkson said: "Other globally popular television shows have cunning ways of launching their new seasons such as world tours and the like, but I thought of an easier way to let the planet know we're back - the interweb.
"Fond as I am of passport control queues and restricting my carry-on liquids to 100ml, I much preferred the idea of driving one mile from my home in London to celebrate this series with fans everywhere at the same time."
Top Gear is one of the BBC's most lucrative exports and is one of the most-pirated programmes in the world. The controversial Top Gear: Patagonia Special was the most popular show on BBC iPlayer over the Christmas period.
Top Gear: Patagonia Special

Show all 9
While filming the Christmas special in Argentina they provoked anger because the number plate of a Porsche being driven by Clarkson - which read H982 FKL - was accused of being a provocative reference to the 1982 Falklands conflict. The programme makers have maintained the lettering on the number plate was an unfortunate coincidence.
Hammond jokingly acknowledged last year's difficulties:: "Even though this launch event means spending a Sunday evening with Jeremy, it's important that we remind everyone that Top Gear is back, because I feel we've been starved of attention lately.
Access unlimited streaming of movies and TV shows with Amazon Prime Video Sign up now for a 30-day free trial
Sign up
"I'm looking forward to talking to fans from around the world and finding out what exactly appeals to them about watching three middle-aged men repeatedly fall over."
May said: "Using the internet to talk to our fans from around the world is a brilliant idea. It's exactly what the internet is for. In fact, I'm not sure why I have to drive to a Victorian theatre and sit on an uncomfortable chair to do this. Someone hasn't thought this through."
The ten-week series will begin with the presenters heading across the Russian city of St Petersburg, with May driving a Renault, Hammond using a bike and Clarkson in a hovercraft. The Stig will use public transport.
Ed Sheeran will feature as the star in a reasonably priced car section of the show, doing a lap of the Top Gear track despite having no driving licence.
Additional reporting by PA
Join our new commenting forum
Join thought-provoking conversations, follow other Independent readers and see their replies