Who would recommission a TV show like this? Through the Keyhole returns to our screens
New host Keith Lemon will front the latest series as executives look to old hits to revive ratings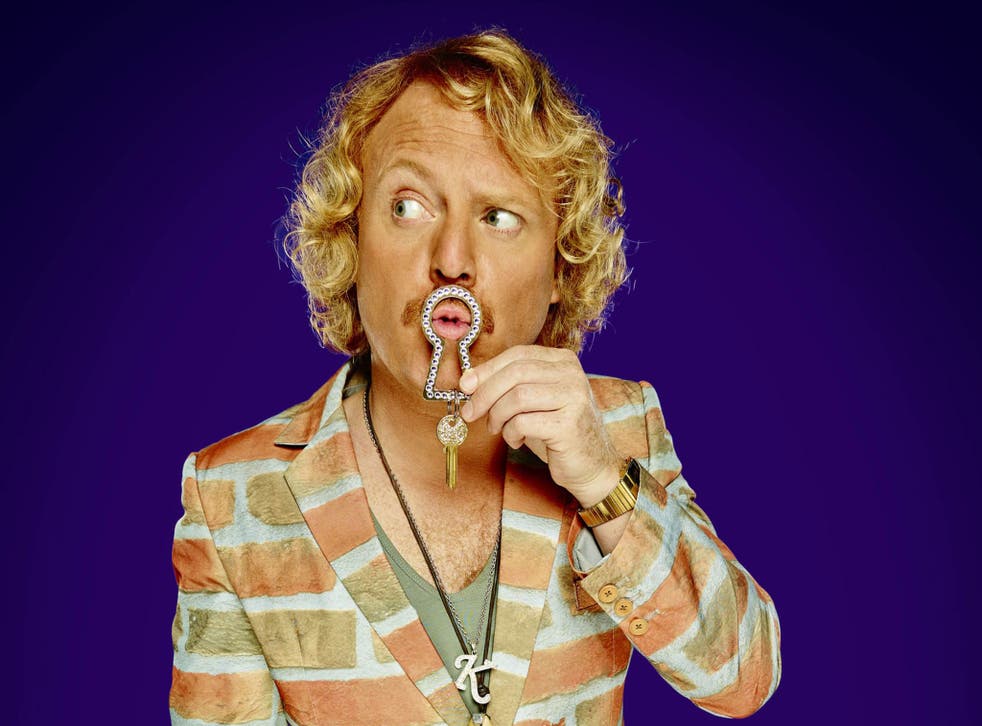 The old ones are always the best. Or at least, they'll do if you can't come up with a new one. That seems to be the approach to Saturday night TV, as familiar old formats are being dusted off and given a new lease of life.
The latest show to be resuscitated is Through The Keyhole, a peek inside the homes of the C-list, which invites us to ask: "Who would live in a house like this?" The show was dropped in 2008, after a 21-year run, but returns to ITV tonight.
The idea dates back to 1983, when a then-unknown Loyd Grossman would snoop round a famous person's home for a segment on TV-am. David Frost took the concept to a half-hour Friday night slot in 1987, and it became an instant hit.
Now, ITV is hoping to revive the ratings success of the Eighties and Nineties with a new series. Keith Lemon will host the show and serve as the snooper. A panel of three celebrities – tonight it is actress Martine McCutcheon and television presenters Eamonn Holmes and Dave Berry – will try to guess whose homes are being shown.
It follows an attempt by the BBC to boost its Saturday ratings by turning the clock back to the Seventies, with a reinvention of The Muppet Show. That Puppet Game Show, a celebrity-based game show featuring new characters from the Jim Henson studio, started earlier this month on BBC.
Later this year, ITV is bringing back Surprise Surprise, once hosted by Cilla Black but now starring Holly Willougby. A one-off pilot last year was such a success that a new series was commissioned. The show, launched in 1987, features a member of the public having a long-held wish fulfilled.
Other old shows having makeovers include Blockbusters, which returned last year with Simon Mayo; and Catchphrase, which came back in the spring, and has been commissioned for another series in the autumn.
"TV executives are leaving no stone unturned," says Ellis Cashmore, a professor of media at the University of Staffordshire.
"They take the view it's worth trotting out old ideas to see if they will work again." But while ITV has had a positive response to Catchphrase and Surprise Surprise, the BBC's punt with the Muppets has been less successful. Its first episode drew a disappointing 15 per cent share of the audience, attracting only 2.37 million viewers.
Access unlimited streaming of movies and TV shows with Amazon Prime Video Sign up now for a 30-day free trial
Sign up
Through the Keyhole seems a safer bet, with its winning combination of shameless celebrities and gaudy interiors. But ITV has taken a gamble in its choice of presenter.
Keith Lemon, a character played by comedian Leigh Francis, fiercely divides opinion, with his hyperactivity and appalling dress sense.
While Grossman and Frost brought a pseudo-sociological approach to inspecting celebrity homes, Lemon will be playing it for laughs.
The key to the success of Through the Keyhole always lay in the wattage, or otherwise, of the stars having their homes explored, and in the naffness of the decors.
Tonight's episode should not disappoint: viewers will get to poke round the turreted home of a former cabinet minister; the luxury pad of an Olympic athlete; and the shared home of a pop star who has fallen on hard times.
But is there a danger the show will have less impact than it once did, given how attitudes to privacy have changed with the rise of social media?
"Through the Keyhole was ahead of its time," says Professor Cashmore. "When Loyd did it, we weren't as voyeuristic as we are today. Over the past ten years, we have become almost unapologetically voyeuristic. We now have a generation of people who don't understand the idea of privacy. That's all been changed by Facebook and Twitter. There has been an inverting of privacy, in which we readily make our private lives available for all to see."
ITV has enjoyed some major original hits in recent years, with the X Factor on Saturday nights and Downton Abbey on Sundays. New series of both are scheduled for this autumn, with the X Factor celebrating its 10th anniversary when it starts tonight. In a strategic bit of scheduling, Through the Keyhole will air immediately afterwards. But executives have been cautious, commissioning only six new episodes of the show, much fewer than the 60 episodes made in its 1997 heyday.
Sir David Frost, whose Hampshire home was splashed across newspapers recently when he put it up for sale, is thrilled his old show is making a comeback. "I'm delighted that Through the Keyhole rolls on in this new incarnation" he said. "I hope Keith and his team get as much fun out of it as I did over the past 25 years."
Join our new commenting forum
Join thought-provoking conversations, follow other Independent readers and see their replies