American Horror Story: Roanoke finale review: One final trick up its sleeve
Season 6's finale managed both to become peak meta-commentary - while also marking a return to the traditional 
Clarisse Loughrey
Thursday 17 November 2016 13:52 Comments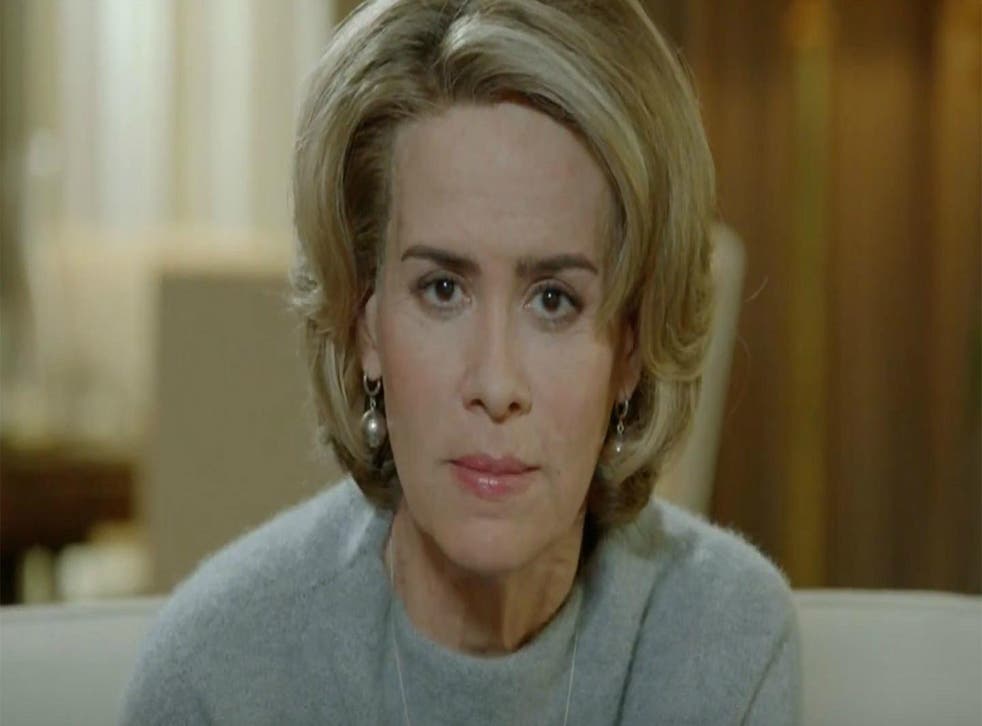 *WARNING: SPOILERS FOR AMERICAN HORROR STORY SEASON 6, EPISODE 10*
It's entirely in Roanoke's style to open on Paleyfest; the TV festival which Ryan Murphy & co. regularly attend and where, in fact, we usually end up getting 90% of our American Horror Story news. My Roanoke Nightmare's Paleyfest panel is a mirror image of American Horror Story's Paleyfest panels; half the audience is dressed as the Pig Man, and some nervous fan is asking Evan Peters for a hug.
With the doomed explorers of last week's episode a pretty unsubtle nod to the show's fandom, this finale seems only to further cement those meta-notions; with a cut to a YouTube video of a fan complaining about the show going down the garbage chute with follow-up Return to Roanoke, "turning a realistic artistic achievement into something that was quite crass."
Replace Return to Roanoke with American Horror Story: Hotel, and you've basically got what half of fans were doing last year; returning back to the idea that Roanoke is a kind of visceral reaction to Hotel's backlash - though I'm still (personally) maintaining it's a brutally misunderstood season.
It's Murphy's revenge. He's ripped this little show open and thrown its guts against the wall; screaming, yelling - "IS THIS WHAT YOU WANT?!?" Sure, he's done it in precisely the most unsubtle manner possible, but Roanoke's all been about turning the camera back on us: on our insatiable appetite for brutality fed into Game of Thrones, The Walking Dead, or indeed American Horror Story itself - it's no coincidence we had Shelby going full Negan on Matt in the basement.
Roanoke exists in a Black Mirror-like accentuated reality in which an actual snuff TV show like Return to Roanoke would not only air, but completely smash rating records; its near-hysterical audience howling for blood like they're in the amphitheatres of ancient Rome, propelling Lee (Adina Porter) and her ensuing legal battles into nothing short of a cultural phenomenon.
Though the finale's teaser suggested we'd be landed with an episode-length version of The Lana Winters Special, one of the most surprising choices here is to divide Roanoke's final moments into a whole series of spoofed television programmes; from The Jinx-like Crack'd (narrated by Matt Bomer), to the Ghost Hunters-spoof Spirit Chasers.
This is how we trace the remaining part of Lee's story; across formats and viewpoints, in what actually works as a rather astute commentary on how we consume non-fictional narratives as of now. Serial, for example, did go some way to reduce the real experiences of Adnan Syed; compartmentalising them and semi-fictionalising them into a cultural property that could be dispersed - in podcasts, social media posts, or news programmes.
And so we view Lee's life: Crack'd tracks her scandalous series of court battles, in which she's charged first for the murders of Return to Roanoke (acquitted due to her ingestion of the Polks' drugs causing "diminished capacity"), then for the murder of Mason in My Roanoke Nightmare (Flora's testimony is deemed untrustworthy due to her belief in Priscilla's ghost).
It's in this aftermath we meet Lana Winters (Sarah Paulson) once more; Asylum's resilient journalist coming out of retirement to interview another ultimate survivor. Lana is the only person Lee will agree to be interviewed by, in the justification that these two women share a surprising amount in common; there is blood on both their hands, but both believe they have done what is right - Lee killed Mason for Flora's sake, Lana killed her son (Johnny Morgan AKA Bloody Face II) in self-defence.
Access unlimited streaming of movies and TV shows with Amazon Prime Video Sign up now for a 30-day free trial
Sign up
It's at this point that Roanoke seems to pivot entirely on its ruthless meta-cynicism; for a season that's remained stubbornly, thrillingly unsatisfying to viewers - or as I keep labelling it, an expert lesson in trolling your fans, signed Ryan Murphy - its finale ended up with a return to the classic arc of American Horror Story narratives.
Lana's interview with Lee is brutally cut short on the revelation that Flora is missing once more, followed by the sound of gunfire as Lot Polk bursts in to enact his revenge against Lee. It's a jolting, entirely unnecessary piece of narrative maneuvering; but we move on, as Spirit Chasers brings in a new trio of plucky millennials to die grisly, horrifying deaths at the Roanoke house. Because nobody ever god damn learns anything on this show.
Who's who on American Horror Story: Roanoke

Show all 16

The actor who played Cricket, Ashley Gilbert (Leslie Jordan), is here too. Not for any particular reason, except maybe a reminder that Cricket was the true MVP of Roanoke, regardless of how many different voices Sarah Paulson may have trotted out this season.
After one last burst of death and mayhem, as Lee makes a sudden return to the house in search of Flora; Roanoke suddenly - and abruptly - breaks its found footage format, plunging straight back into the traditional camera set-up. It'll certainly feel like a cop-out to many fans; yet, there's nothing arbitrary about this to me, introducing a very deliberate shift in tone in its wake.
We spend its final moments with Lee and Flora; a mother struggling with every last fiber of her being to ensure her daughter's future, even if it means making the ultimate sacrifice. She accepts that she's been a terrible mother, that killing Mason was an unforgivable act; but Flora's resolution to stay with Priscilla (her little colonist ghost friend) to escape Lee's clutches cannot be abided by.
In the end, Lee barters her own life. She accepts her own death to stay with the Roanoke colonists and protect Priscilla, in a way she could never offer Flora in her own life; but in death, she sets Flora free to "live your life, with or without me."
Roanoke may not have ended with some earth-shattering revelation, but that's entirely in keeping with the show's past narratives. American Horror Story's finales always seem to trade on the same feeling: a morbid sense of resolution, like the first sliver of light through the swirling darkness of the hurricane.
Dead or alive, its protagonists always seem to come to a final acceptance of their fates: whether it's the Harmons reconciling the family unit in Murder House, Elsa Mars surrendering herself to Edward Mordrake in Freak Show, or Liz Taylor reunited with her love in death in Hotel. The same is very much true of Lee here; there is grim satisfaction to her fate, even if the episode ends with shadow of the colonists' torching surrounding Flora and the attending police.
Though I've speculated at length on what Roanoke's hidden clues and hints may spell for season 7; honestly, I'm not sure where we go from here. Those final moments between Lee and Flora seem to herald a return to American Horror Story's traditional structures; the end of the experimentation.
And, yet, Roanoke has felt like such a grand, and almost final, statement on its both its own existence, its wider reception, and the nature of television at large. It's all been so ruthlessly self-referential that the whole show feels irrevocably changed - is it possible to simply swing back, or will this be a new dawn for the anthology show?
I'll admit, I'm nervous for the future of American Horror Story, but also incredibly intrigued. For all its unabashed excesses, this has remained one of the most genuinely, and consistently, surprising shows on televisions; one whose presence I continue to treasure. Bring it on, Murphy.
Register for free to continue reading
Registration is a free and easy way to support our truly independent journalism
By registering, you will also enjoy limited access to Premium articles, exclusive newsletters, commenting, and virtual events with our leading journalists
Already have an account? sign in
Join our new commenting forum
Join thought-provoking conversations, follow other Independent readers and see their replies