Catastrophe, Channel 4 review: Sharon and Rob are great, but they're too darn nice
Horgan and Delaney can do funny standing on their heads but series two could really sing if they ditch the sweetness and keep their claws out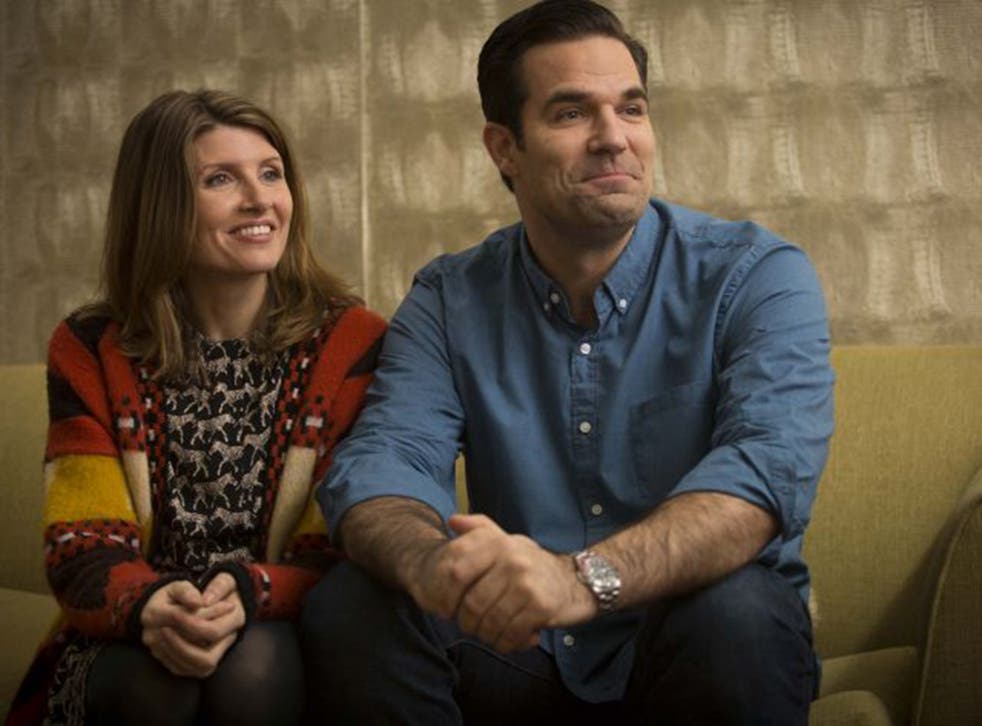 Who couldn't love Catastrophe? Weeks before tonight's series finale came to a close co-writers and co-stars Sharon 'Pulling' Horgan and Rob 'good at Twitter' Delaney could celebrate a second series commission and rave reviews galore (not least from the venerable Grace Dent). The cast is comedy crème de la crème. The conceit is marvellous. There are a loads of swear words. What's not to like? Well…
I have a wee problem with Catastrophe (sorry Grace). Two, in fact. Horgan and Delaney. Or, more accurately, their screen alter-egos 'Sharon' and 'Rob'. Don't get me wrong, I love these guys. Funny, beautiful, charismatic, talented, lovely, cheeky… you see where I'm going with this? They're just too darn nice and so's the show. If Horgan's inspired Pulling (co-written with Utopia creator Dennis Kelly and criminally axed after two glorious, filthy series) was the boozy good time girl who'd nick your fags and snog your mate, then Catastrophe is the quick-witted but sensible older sister, who has a nice cat.
Both Pulling and Catastrophe revolve around characters who are essentially moral vacuums, people who are breathtakingly awful but at the same time horribly familiar. Pulling's central trio of Donna, Karen and Louise boozed, shagged and cat-murdered their way around London, often indulging in the lowest of behaviours and displaying the moral fibre of a packet of Frazzles. And, by god, we loved them for it.
In the world of Catastrophe, our anchors are Sharon and Rob. Sweet, good-natured, beguilingly foul-mouthed people living in a world of fakers, a**holes and snobs. In the face of social horrors and, seemingly, a world populated by total bastards, they remain 'good'. Whisper it softly but this couple, who despite their protestations are totally loved up, occasionally come across as a bit smug (sorry Sharon, sorry Rob!).
But praise where praise is due, Catastrophe certainly has some glorious moments and Horgan still knows how to write (and deliver) lines that make you snort wine into your sinuses – 'You wouldn't want to have a wank while there were kids playing in the background' being tonight's particular highlight.
The supporting cast is marvellous too and I was quite taken with Ashley Jensen's horrendous Fran stealing the limelight at the wedding with a quite horrible rendition of a traditional Scottish folk song. Mark Bonnar has done excellent service as the wild-eyed Chris and Daniel Lapaine's Patrick Bateman-lite Dave is brilliantly foul, especially tonight as he explained how difficult it is to put pound coins in a stripper's G-string.
Happily, the final scene of the series was written and handled quite brilliantly, as a romantic conversation about cutting toenails (yes, romantic) quickly escalated into a hurtful row between Sharon and Rob. Spiteful insults, brewing for months, were exchanged and, at long last, Catastrophe bared its teeth. Horgan and Delaney can do funny standing on their heads but series two could really sing if they ditch the sweetness and keep their claws out. Oh, and I hope it's a boy.
Join our new commenting forum
Join thought-provoking conversations, follow other Independent readers and see their replies