Clarkson, Hammond and May Live: Top Gear trio returns with a blend of fireworks, AC/DC and 'automotive pornography'
With the TV show's future in doubt, this is a place for fans to get their fix
Simon Usborne Comments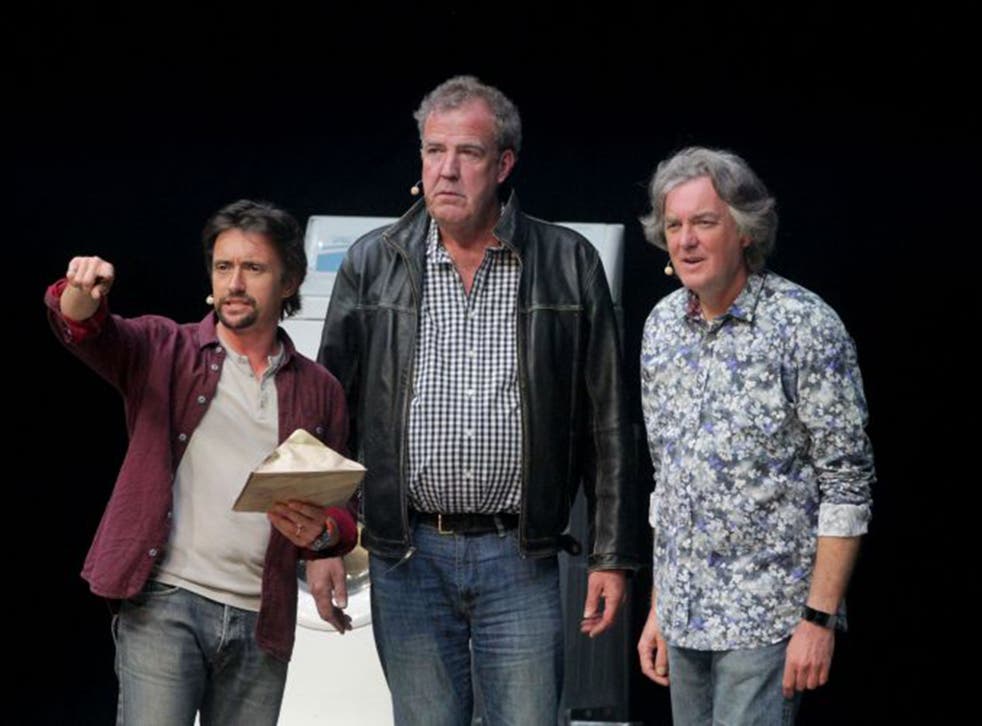 Of all the noises reverberating around Belfast this weekend – the popping exhausts, the fireworks, the echoing sounds of AC/DC, the revving Ferraris and the wolf whistles they elicit from 5,500 fans – one rises above the car-cophony on Friday night: the voice of a man whose last words of note may have concerned a meat platter of questionable temperature, but who would not be silenced.
"I'M HERE!" Jeremy Clarkson roars over the din of his hovercraft as he sweeps into the Odyssey Arena to the tune of Survivor's boxing anthem, "Eye of the Tiger". It signals the unlikely revival of a live show that revolves around three men with stonewashed jeans and a combined age of 152, yet will now fill arenas, from Sydney to Johannesburg, that are usually reserved for rock gods and pop giants.
While the future of Top Gear remains in doubt on television, this is the only place for fans to get a fix of diesel-scented entertainment. Yet there are two words that will be neither seen nor heard during the tour: "Top" and "Gear". After the unavailability of a hot dinner caused a "fracas" in March – and the public meltdown of a BBC institution – Top Gear Live has undergone emergency rebranding. It now sounds like a skiffle act made up of solicitors: Clarkson, Hammond and May Live.
"I think we would have torched the BBC if they'd cancelled the show as well," says Andrew Hyde, 63, while he waits in a long queue for the Odyssey's doors to open. "And this is Northern Ireland," adds his brother, William Hyde, 58, channelling his hero's fondness for un-PC gags. "We do things like that."
The men had bought tickets as Christmas presents for their respective sons, Sam and Alan. But any fear among the four that Clarkson might tone down his shtick are quickly allayed. In an early segment, he and his gang race cars made from bits of kitchens. Hammond lies on an articulated ironing board that, we learn, may or may not pose a risk to his penis (Clarkson suggests it is probably too small to be a concern). May drives a car made of washing machines, while Jeremy sits on a thrusting dragster of fridges and food blenders.
"Professor Stephen Hawking would have been proud to have made this," he shouts. "But then Stephen Hawking would struggle to make a balloon animal." A few gasps break out amid the laughter in the crowd. "I don't work for the BBC any more," Clarkson responds. "I can say what I want!" Everyone cheers.
Gary Edgar and his son, Jack, from Ballymoney, wear matching BMW jackets. (There are more father-and-son pairings here than perhaps at any football match – and fewer women.) "Jack said that if Clarkson wasn't going to be here, he didn't want to come," Edgar says. What is it about the 55-year-old Chipping Norton millionaire that appeals to a 14-year-old lad from Northern Ireland? "I don't know, it's just his humour is very good," Jack says. "He's really funny."
Things you never knew about Top Gear

Show all 14
"Clarkson's a petrolhead," his father adds. "He goes out in cars that we will never be able to afford and drives them to within an inch of their life. Jack loves that – the more tyre smoke the better."
Young Jack is not disappointed. Smoke regularly fills the arena, not least when a platinum blonde in a leather leotard with chrome breastplates fires flame-throwers at two black Porsches as they circle her. The cars, now fully ablaze, continue to zoom around her, leaving Back to the Future-style flames in their tracks.
Access unlimited streaming of movies and TV shows with Amazon Prime Video Sign up now for a 30-day free trial
Sign up
"Now sit back and enjoy some automotive pornography," Hammond says later. A dozen supercars roll on to the floor as slowly as they can, like drugged catwalk models. The lights dim, the music quietens, and people whistle at their favourite vehicles. The presenters then have a laboured debate about which car they would most like to take home.
"Tragically, I have one of these on order," May says, drooling over a Ferrari 458 Speciale (£210,000 plus £6,000, the cost of a Dacia Sandero hatchback, for a stripe down the middle). "Mate, you're going to need to get a job," Clarkson tells him.
Unemployment innuendo peppers the show, along with nods to Clarkson's earlier scrapes. Before a drifting competition, to see who can do the best skids, Hammond ask Clarkson: "Did you remember to check the numberplate on your car?" A camera throws it on to the big screen: M394 VAJ. "You know I don't do that," Clarkson replies. "But it does describe the driver," offers Hammond, who is 45.
The crowd loves this stuff. There is a reason for Top Gear's huge success and its refusal to die. One young couple, students from Belfast, had bought tickets after the "fracas", drawn as they were to the controversy. "They say things they shouldn't and don't always get away with it," Ross Patton, 20, says. "But when they do it's worth it – everything is too PC these days."
After a game of football played in Suzuki Swifts, Clarkson ends the show. "I think I'm right in saying we certainly enjoyed being back together again," he says before apologising for the absence of a stunt cyclist who was injured in rehearsals (a press officer makes it clear that neither Clarkson nor any food played any part in the accident).
As the crowd leaves, buzzing, "Thunderstruck" by AC/DC bellows out, and Clarkson, Hammond and May exit into the wings.
Register for free to continue reading
Registration is a free and easy way to support our truly independent journalism
By registering, you will also enjoy limited access to Premium articles, exclusive newsletters, commenting, and virtual events with our leading journalists
Already have an account? sign in
Join our new commenting forum
Join thought-provoking conversations, follow other Independent readers and see their replies