Coronation Street, ITV - TV review: This soap is streets ahead when it comes to the real world
The Gods of the Cobbles have chosen to visit mental illness on Steve McDonald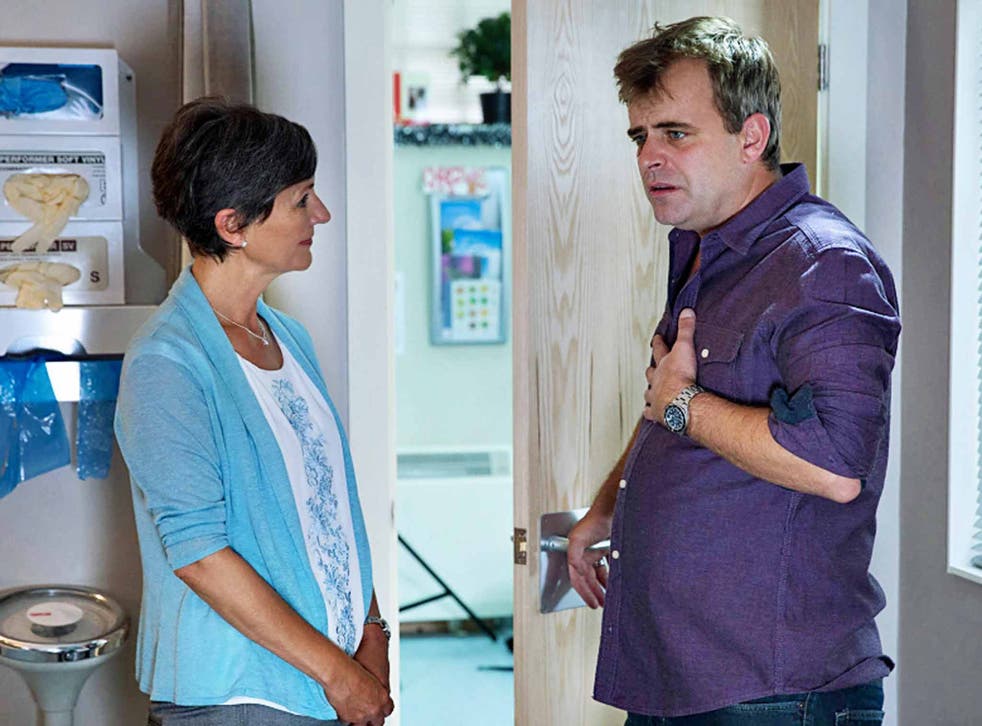 Steve McDonald's depression diagnosis has been a controversial storyline for Coronation Street (ITV), and not for the reasons that soaps usually invite controversy. Linda's rape in EastEnders, ketamine addiction on Emmerdale and the right-to-die debate surrounding Hayley Cropper on Corrie earlier this year, have all got the nation talking – that's what soaps are supposed to do – but depression just doesn't lend itself to sensational telly in quite the same way.
It's yet more evidence of Corrie's superiority, then, that the Gods of the Cobbles have chosen to visit mental illness on Steve McDonald (Simon Gregson), ordinary bloke next door, Weatherfield wit and winner of Best Comedy Performance at this year's British Soap Awards. Viewers like Steve because he's funny; depression isn't very funny.
It's a risky strategy, but it's also brilliant, because Steve is exactly the sort of laugh-a-minute lad who scoffs at the idea of seeking professional help for a mental health problem. The storyline was first hinted at a few months back, but it's taken until now for Steve to accept a diagnosis more specific than "being a useless article". A lesser soap might have left it there, reassuring viewers that help is available at their GP, but Steve's story has gone on to remind us of a further heartbreak, the struggle of friends and family to be supportive about a condition they can't understand. Steve's hopes that his mum, at least, would have some sympathy were dashed when she put his behaviour down to the male menopause: "We'd all love to go gallivanting off every time we felt like it, but some of us can't drop everything, we've got responsibilities!"
That's one reason why Coronation Street is currently head and shoulders above every other soap opera, and many so-called "serious dramas" too. Another is how the writers dust their scripts with pop culture references like flour on a barm cake. Learning about what the Street's residents are listening to, reading and watching on telly is not only amusing, but also very revealing of character. Mary says her mum is always getting confused with Ann Widdecombe "It's a nightmare to go shopping with her. People criticise her politics, her dancing..." Audrey requested that Gail return "the Maeve Binchy that I lent you" and Emily Bishop complained to Rita that she "couldn't get past the shower scene" in Netflix prison drama Orange Is the New Black. Persevere, Emily. It really picks up in season two.
Register for free to continue reading
Registration is a free and easy way to support our truly independent journalism
By registering, you will also enjoy limited access to Premium articles, exclusive newsletters, commenting, and virtual events with our leading journalists
Already have an account? sign in
Register for free to continue reading
Registration is a free and easy way to support our truly independent journalism
By registering, you will also enjoy limited access to Premium articles, exclusive newsletters, commenting, and virtual events with our leading journalists
Already have an account? sign in
Join our new commenting forum
Join thought-provoking conversations, follow other Independent readers and see their replies