Coronation Street, TV review: Hayley and Roy bring the right to die to life with due nuance
Ellen E. Jones
Monday 20 January 2014 22:27 Comments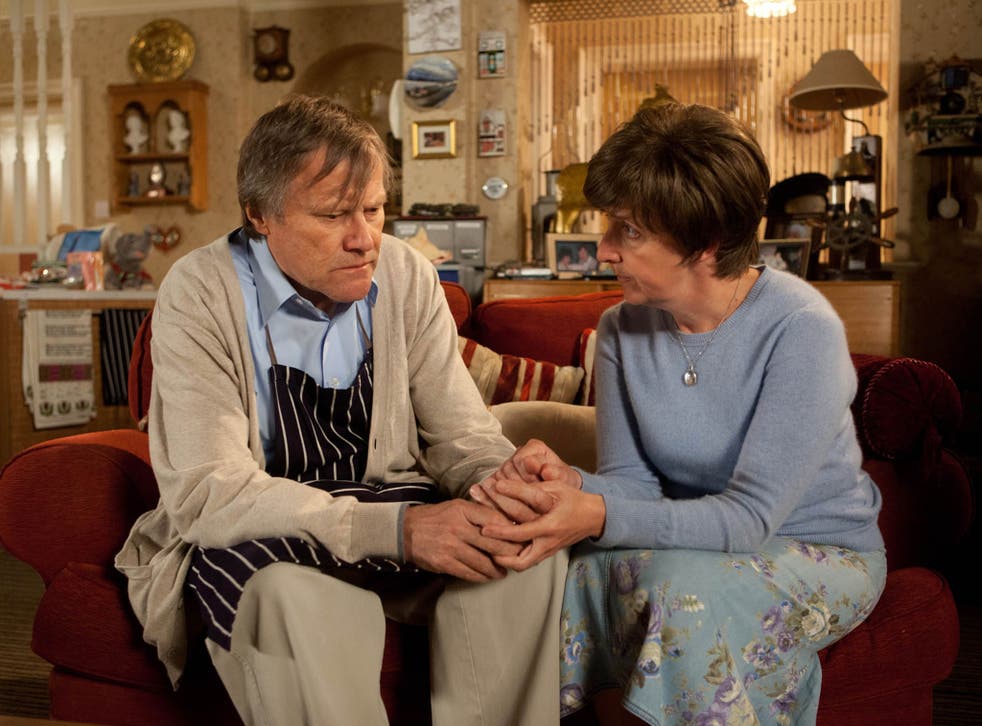 Actress Julie Hesmondhalgh was only meant to work on Coronation Street for two months. Her character was intended as little more than a gimmick to help the Manchester-based soap opera compete in the ratings battle with then-dominant EastEnders. Fifteen years later, her character's story has finally come to a close, and with it, one of soap's most enduring and touching romances: that of oddball Roy and his kind-hearted wife, Hayley.
When Hayley Patterson first arrived in Weatherfield in January 1998, her most dramatic scenes all hinged around the fact that she'd been born male. Hayley (née Harold) was the first transgender character in a British soap opera, but it was six years before the Gender Recognition Act (2004) effectively legalised marriage for people in relationships like Roy and Hayley's. They made it official in 2010. It's a testament to changing social attitudes and the power of soap operas to bring about the change that by last night, Hayley's birth gender had long since ceased to be relevant. In fact, it didn't warrant a single mention.
Instead, Hayley's last moments were spent saying her goodbyes and her thank-yous, while attempting to assuage the grief of her loved ones. She had a last cuppa with old friend Carla from Underworld, last cuddles with her surrogate children Fiz, Tyrone and Chesney and made sure Roy's best shirt was ironed, ready for the funeral. Only Roy – and of course us, the viewers – knows quite how close the end was, a dramatic irony which made these tear-jerking scenes even sadder.
The stars of long-running soaps have a way of getting to us like no other fictional characters. In some ways, we know them better than we know our friends. After witnessing Hayley overcome trials including a failed adoption, Tracy Barlow's scheming and the discovery of a son she never knew existed – saying goodbye was always going to be emotional. This episode could easily have been just a sentimental weep-a-thon, but subtle performances, particularly from David Neilson as Roy, made for a more emotionally complex drama.
Confirmed atheist Roy never did overcome his objections to Hayley's decision to take her own life when faced with terminal cancer, despite her efforts to comfort him. "I'll never leave you, Roy Cropper," she told him last night.
Corrie's producers had always insisted this storyline would explore the issues of the right-to-die debate while remaining neutral. Their real achievement was managing this without compromising the emotional truth of two much-loved characters.
With characteristic kindness, Hayley had tried to orchestrate the perfect ending, but her decision to die looked neither easy nor unambiguously noble.
As she eventually conceded: "Maybe there are no right words."
Register for free to continue reading
Registration is a free and easy way to support our truly independent journalism
By registering, you will also enjoy limited access to Premium articles, exclusive newsletters, commenting, and virtual events with our leading journalists
Already have an account? sign in
Join our new commenting forum
Join thought-provoking conversations, follow other Independent readers and see their replies