Downton Abbey Christmas special 2014, review: Love is everywhere, actually
The older generation are getting hot under the collar this Christmas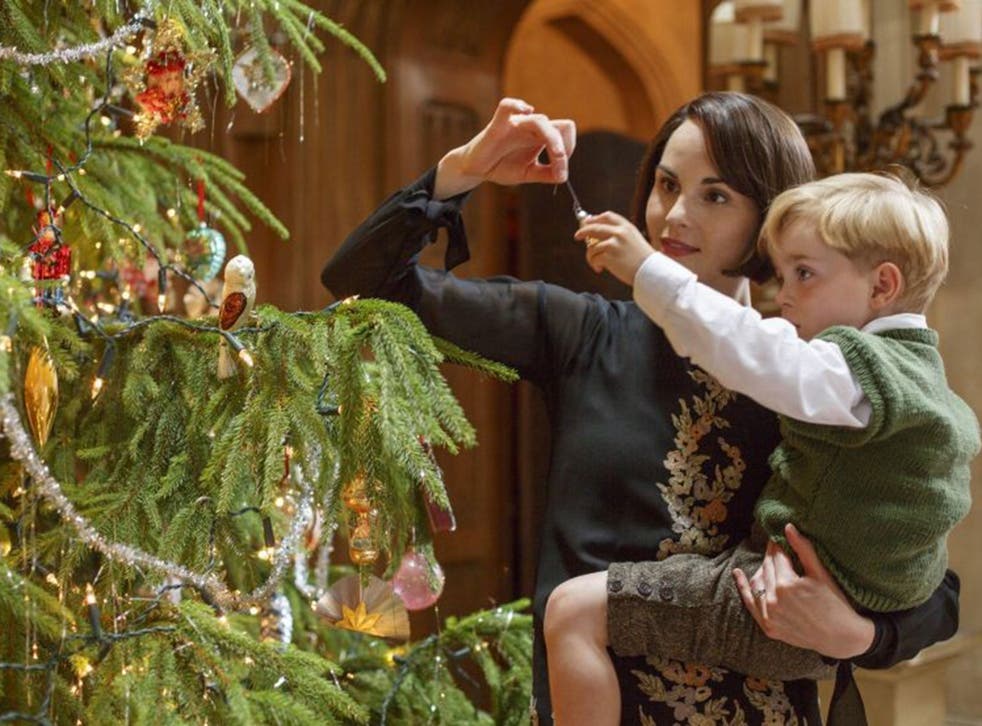 The scintillating tension between Lady Mary and new character Henry Talbot (a devastating Matthew Goode, Dancing on the Edge) quite makes up for this otherwise rather bloated Christmas at Downton.
Or should that be Christmas at Brancaster Castle, Northumberland where the Grantham family is staying with Lady Rose's in-laws the Sinderbys for some "lickety-spit" grouse shooting.
And it is shock revelations all around: we find out about the hypocritical Lord Sinderby's bit-on-the-side and love-child; Anna's childhood run-in with her stepfather and a knife; that both Lord Grantham and Tom know Marigold is Lady Edith's child; the Dowager's racy past and planned elopement with Prince Curagin; not to mention what transpires between Mrs Hughes and Carson (more on which later).
Downton Abbey Christmas Special

Show all 10
This whistle-stop tour through the upstairs/downstairs lives of our favourite costume soap opera (thank you, Julian Fellowes) is exhausting — and only really gets going about an hour in. There are more complicated and confusing subplots than in an episode of Game of Thrones - which is quite a feat.
Nevertheless, love is gratifyingly in the air for pretty much everyone: Mary has her new suitor Mr Talbot. Edith seems less miserable than usual and is even rather taken with the agent at Brancaster. Mr Mosely and Mrs Baxter, who have turned detective in a bid to save the Bates', inch towards the union that everyone knows is coming. And Lord Merton and Isabel get passionate over her decision to cease their relationship because his children don't approve.
And while the Dowager is rattled to come face-to-face with the erstwhile (and extremely unpleasant) Princess Curagin and finally puts the Prince in his place as regards his feelings towards her, she does so with no small enjoyment. "I am sad to say I shall never again receive an immoral proposition from a man," the Dowager sighs afterwards. "Was I so wrong to savour it?"
A drunk Lord Grantham embarrasses everyone by letting his stiff upper lip soften so much he practically sobs into Branson's coat-tails and begs him not to leave for New York. There's also tears shed for Lady Sybil as Branson leads Ladies Mary and Edith in tribute to his late wife while preparing the children's Christmas stockings. But despite the dark themes of Anna's imprisonment, Bates' attempt to clear her name by muddying his own, and poor Lord Grantham's ulcer, overall things are very jolly in Downton this year.
Elsewhere Barrow's plotting and scheming gets a boost from Lady Mary. We are introduced to Lord Sinderby's snooty butler Mr Stole, a man who looks like he has a bad smell under his nose, who won't give the time of day to ex-servant-turned-family-member Branson, "always knows better" and makes one long for cuddly Carson. In the Dower house the ongoing spat between Sprat and Denke reaches an implausible level of childishness. But as usual, Maggie Smith's Dowager Countess needs no comedic foils as Fellowes gives her all the best lines anyway.
And while the sizzling - if only briefly played out - chemistry between Lady Mary and Mr Talbot has the potential to rival that of Colin Firth and Jennifer Ehle in Pride and Prejudice, it is another coupling totally devoid of sizzle that really provides the Christmas cheer. When Mrs Hughes receives a surprise proposal of marriage from Mr Carson she gives the most back-handed acceptance ever to grace our screens, saying: "Of course I'll marry you, you old booby. I thought you'd never ask."
The hopping from subplot to subplot might be redolent of Love, Actually, but at least there were no Christmas clangers like the demise of lovely Matthew Grantham to spoil the festivities this year. But with so many loose ends tied up, what can we expect of the next series? Lots of weddings and probably more babies too. How nice.
Join our new commenting forum
Join thought-provoking conversations, follow other Independent readers and see their replies