Empire, E4, review: Are British viewers ready for a 'black Dynasty meets King Lear'?
Are British viewers ready for a 'black Dynasty meets King Lear'?
Chris Bennion
Wednesday 29 April 2015 08:19 Comments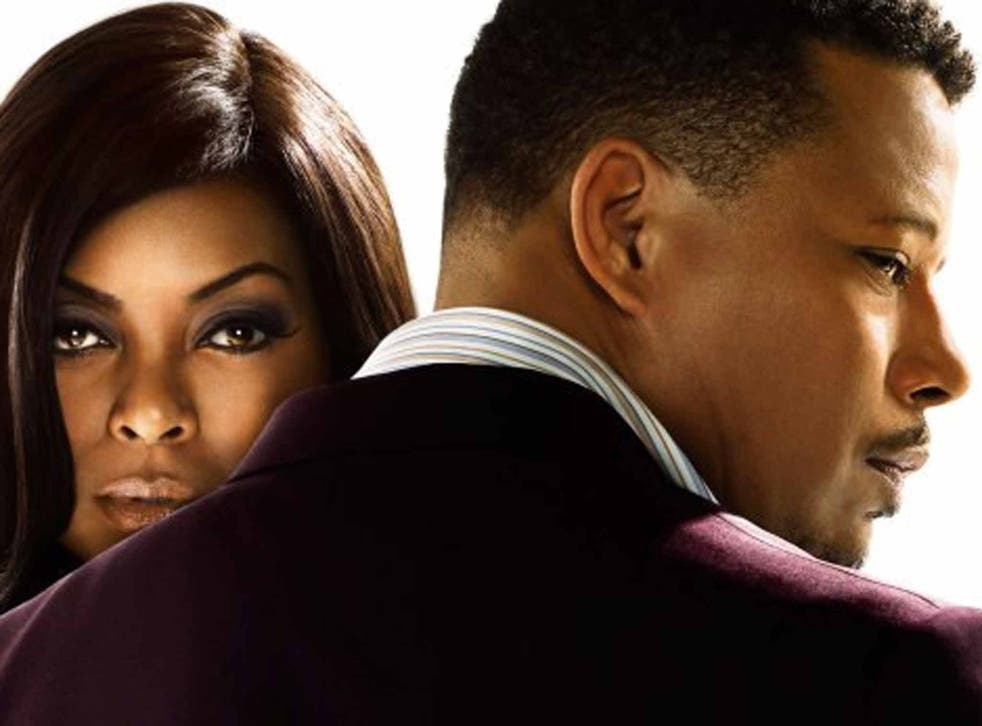 Splashing over the Atlantic on a frothy tsunami of hype, ratings and Cristal, Fox's bling-tastic Empire has emerged on E4. But are British viewers ready for what its creators are calling 'the black Dynasty' mixed with 'King Lear', and what I'm calling 'a jolly R&B music video' mixed with 'dialogue so ripe it could blind a horse'.
Empire revolves around Terrence Howard's mega loaded music label boss Lucious Lyon as he sets into action some no-holds-barred sibling rivalry by announcing to his three sons that he will groom only one of them for succession. 'What is this, King Lear now?' pipes up one, just in case we don't get the reference. It's a bit like King Lear, ok guys?
Except it's not. At all. Still, Michelle Obama apparently loves it and in upcoming episodes you'll be able to enjoy the acting talents of Naomi Campbell, Courtney Love, Snoop Dogg and Cuba Gooding Jnr, among others.
Empire Series One in pictures

Show all 6
Battling for their father's attentions and, more importantly, his music label are brothers Andre (Trai Byers), Jamal (Jussie Smollett) and Hakeem (Bryshere Y. Gray), three handsome young chaps with, conveniently, wardrobes that help us remember what their personalities are like.
Andre, the sensible business-minded one who went to university, always wears a suit, so we know he's all business. Sensitive, gay (more on that below) singer-songwriter Jamal wears sensitive singer-songwriter jumpers and bad boy rapper Hakeem dresses like a bad boy rapper. See? Easy.
Empire's Goneril (it's just like King Lear, remember!) arrives in the form of human juggernaut Cookie (Taraji P. Henson), who's just served 17 years in the slammer and wants what's hers. Cookie is mother, rather than sister, to the three brothers and believes that half the business is rightfully hers as it was her drug money that set the thing up in the first place. Lucious, who filed for divorce while Cookie was still behind bars (just like King Lear), isn't keen on this. There's going to be war. We know this because Cookie says it.
This is a show that could well become a cult hit here in Blighty and there's no doubt that Cookie's acerbic turns of phrase and frankly humungous earrings (Pat Butcher, you have nothing on this woman) will prove popular. She's like Cersei Lannister trapped inside Mary J Blige with a side order of Peggy Mitchell, and she's every bit as terrifying as that sounds.
The characters are at times crudely drawn and lord knows none of this is subtle but one intriguing subplot is the sexuality of Jamal. Reviled by his father (one shocking flashback saw Lucious literally throw his young son in the trash for parading about in high heels – 'he's rotten') Jamal eventually turns to his mother for support. Not that she's much better, with 'stupid cissy' and 'I'm going to show you a faggot really can run this company' being two of the nicer things she said about her son.
Shakespeare it ain't (sorry, guys) but if you like your flavours bold, Empire might just hit the spot.
Register for free to continue reading
Registration is a free and easy way to support our truly independent journalism
By registering, you will also enjoy limited access to Premium articles, exclusive newsletters, commenting, and virtual events with our leading journalists
Already have an account? sign in
Join our new commenting forum
Join thought-provoking conversations, follow other Independent readers and see their replies