Endeavour series 2, episode 3 - TV review
A strangler on the loose, lost love from the past and a decidedly Hitchcock homage, it was a different kind of episode - in a good way
Neela Debnath
Monday 14 April 2014 00:26 Comments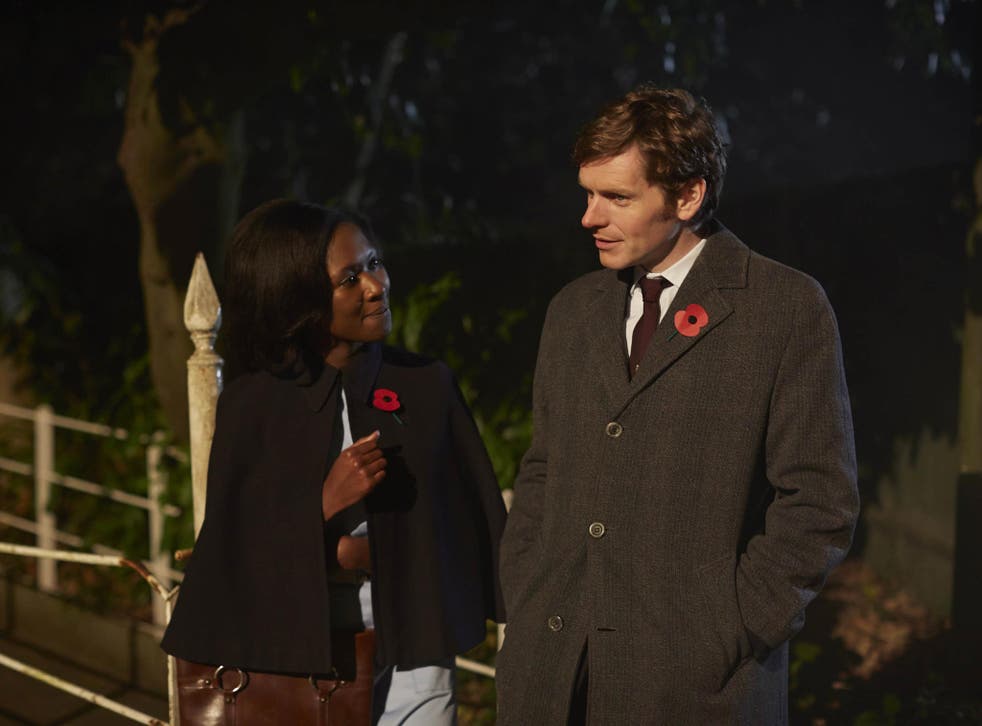 Endeavour took a detour this week. There were of course the murders - and we'll get to that - but the focus turned to DI Thursday and his lost love from the War.
It was a tragic story that showed a different side to the usually straitlaced detective, adding a new dimension to his character, and away from all the crime-solving.
Roger Allam and Cecile Paoli played the fated lovers beautifully, capturing the complexity of their affair.
Although how Thursday hadn't bumped into Luisa Armstrong before is a mystery in itself. Oxford must be bigger than we thought.
Despite the bouffant hairdos and thick black-rimmed glasses, Endeavour has always felt strangely contemporary. So this week's references to the War helped to throw the episode back into the past again.
Speaking of love, Morse and Monica's blossoming romance finally flowered. The pair kissed and ended up sleeping together soon after their first date - it is the sexual revolution of the swinging Sixties, after all.
Perhaps the most interesting thing is that Monica's race does not really play a part in the story - it's incidental.
According to the show's producer, Russell Lewis, who also penned this episode, Monica is a second generation immigrant and is supposed to reflect the changing times of the era.
For a television series set in the Sixties to include a character of a different race as the central love interest and leave aside the race politics is a very forward-thinking and a positive move.
Access unlimited streaming of movies and TV shows with Amazon Prime Video Sign up now for a 30-day free trial
Sign up
Endeavour should be lauded for its decision to cast Shvorne Marks and make the conscious choice for Monica's story to be about love between a man and a woman first and foremost.
Actors from ethnic minorities, like Lenny Henry, have been campaigning for more incidental roles for those of different races for a while, so could this be the start of more of the same on British TV?
As to the murder itself, it appears that Lewis has written a love letter to Alfred Hitchcock via "Sway"'. There was a character called Norman, shots of a stuffed crow, along with the icy Hitchcock blonde and several red herrings.
There were also a number of nods to Frenzy, which is considered to be Hitchcock's last great film, in particular the strangling of female victims and the framing of an innocent man.
While the murder mystery itself wasn't all that memorable, it served as a nice homage to the British director.
As a whole "Sway" was a welcome deviation from the bodies and offered some excellent character development that builds on the world of Inspector Morse.
Register for free to continue reading
Registration is a free and easy way to support our truly independent journalism
By registering, you will also enjoy limited access to Premium articles, exclusive newsletters, commenting, and virtual events with our leading journalists
Already have an account? sign in
Join our new commenting forum
Join thought-provoking conversations, follow other Independent readers and see their replies