Great British Bake Off final 2014, review: Nancy Birtwhistle's cockiness is well-founded as 'Queen of Consistency' is crowned champion
Richard had seemed like a 'choux-in', but the 60-year-old grandmother rose above the competition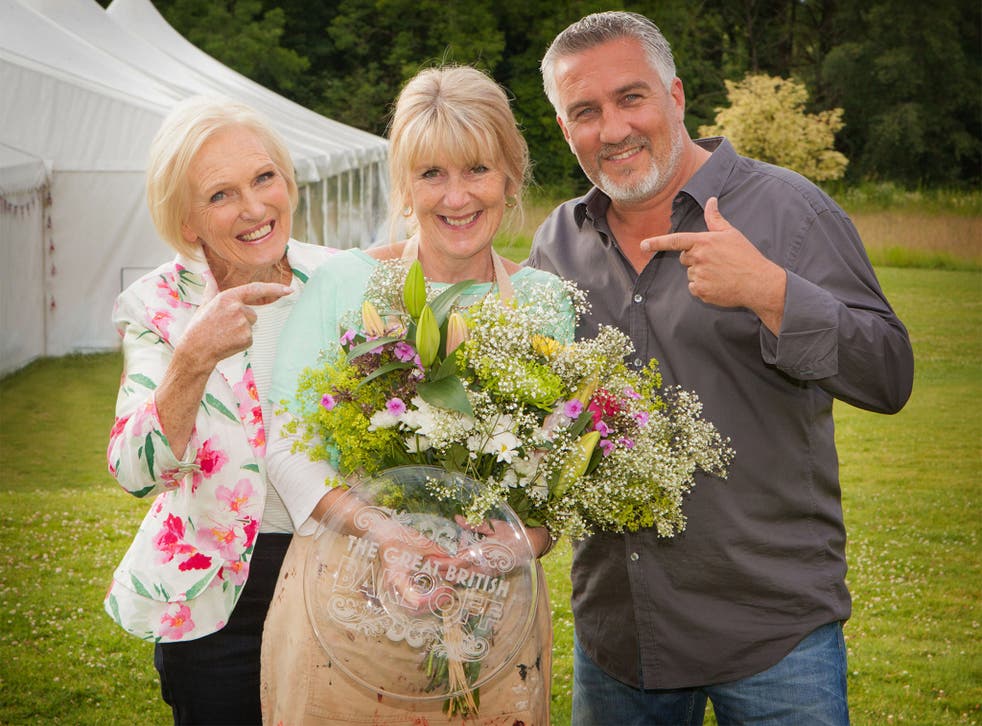 Builder-baker Richard Burr was the media-friendly bookies' favourite, but ultimately it was 60-year-old grandmother Nancy Birtwhistle who won the Great British Bake Off's fifth series. A victory, not just for Nancy, but for all traditionalists who've stood by and watched as the kitchen-come-lately "creatives" stole their baking glory.
It was also a demonstration of how the GBBO competition remains thrillingly open right to the end; as Paul Hollywood reminded us, he and Mary Berry do not take past successes into account when selecting their winner.
Things began going badly for Richard right from the off, when he opted to make a humble pain au lait in the croissant-y things challenge (also known as 'Viennoiserie'). Richard had to have his pronunciation corrected by co-presenter Mel Giedroyc ("Sorry, I speak French a bit London") and his reminiscence of childhood holidays in France failed to soften Hollywood's piercing gaze. "This is very simple. Too simple maybe?" was his damning comment for Richard. Similar scrutiny left fellow finalist Nancy unfazed. "I'm not putting you off am I?" said Hollywood as he hovered about half a cm from her rolling pin. "No, not at all," she came back, quick as a flash, "You're trying to learn from me aren't you?"
Nancy's cockiness was well-founded. In an ingenious and surprise return to basics, the technical round required finalists to produce 12 mini versions of three classics: the Victoria sandwich, the tarte au citron and the scone. It was the first time contestants had been asked to complete three different bakes in one two hour-challenge and a total gift for 'Queen of Consistency' Nancy. While the minimal instructions caused the boys to panic and improvise, her years of experience told in 3 x 12 mouthfuls of near-perfection.
Once Richard had seemed like a choux-in (sorry, but GBBO brings out the desperate pun-pest in all of us). By the eve of the showstopper round he'd been relegated to the status of an outside bet. "How the mighty fall," mused Hollywood the Heartless. "Anyone can win, still... but it's more likely to be Nancy or Luis."
Their task - to design and create a personally meaningful pièce montée centrepiece - should have favoured the skills of a construction worker like Richard and graphic designer like Luis. If only Luis had take up Giedroyc's suggestion to build a biscuit version of Manchester's Hacienda nightclub circa 1989, he might have edged it. As it was Nancy's 'Red Windmill' with fully-functional caramel sails was - like everything else that came out of her oven - unbeatable perfection.
Next week, Wednesday nights will go from nice to nasty when The Apprentice moves into the BBC's reality-contest slot, but for now we can still enjoy the warm glow of GBBO's fifth series.
The big move to BBC One paid off, with better-than-ever ratings and a bumper batch of entrants. Ultimately, even the week four #bingate scandal served only to underscore the show's reputation for fair-play; both Iain and his erstwhile nemesis Diana, were among the smiling former contestants who returned to the tent to congratulate the winner. And as for those viewers who complained the show had been sullied with smutty innuendo? They can lick my spoon.
Register for free to continue reading
Registration is a free and easy way to support our truly independent journalism
By registering, you will also enjoy limited access to Premium articles, exclusive newsletters, commenting, and virtual events with our leading journalists
Already have an account? sign in
Register for free to continue reading
Registration is a free and easy way to support our truly independent journalism
By registering, you will also enjoy limited access to Premium articles, exclusive newsletters, commenting, and virtual events with our leading journalists
Already have an account? sign in
Join our new commenting forum
Join thought-provoking conversations, follow other Independent readers and see their replies